French Open Tennis: When it's good to see red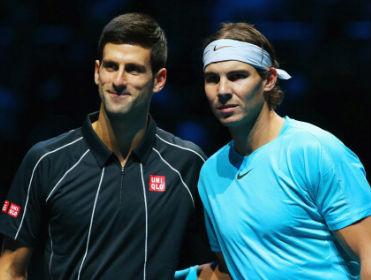 Rafa Nadal is king of the clay court
The distinct red clay at the French Open can present some interesting opportunities. Peter Webb explains...
"If you want to open a position to trade out at the French Open, a competitive women's match would appear to fit the bill."
We are currently embedded into the first week of the French Open. It's a tournament that is played on distinctive red clay, and if you want to bet or trade on this seriously, then it's important to understand the significance of the surface at this venue.
Research by the ATP in 1992 showed that the average length of a point on the grass of Wimbledon was just 2.7 seconds versus 8.2 seconds on Clay. To understand why this is the case, you need to look at the return of serve.
In the men's game, points won on return reach around 40% on a clay surface, but only 34.7% on grass. Basically, it's harder to return a serve on grass as a good server is quite likely to win a point. For the women's game things are less obvious, clay sees a 46.4% return of server, versus 42% on grass. So there is still a bias, but not so much. Overall though you can conclude that artificial courts tend to produce slower play and higher bounce.
So, if you want to open a position to trade out at the French Open, a competitive women's match would appear to fit the bill. It's also more likely here that a favourite losing the first set stands a better chance of coming back into the match. If you dig into the stats of the four grand slams you also see that if the favourite wins the first set at the French Open, you get the highest percentage chance of the outsider leading at some point in the rest of the match. It's still quite a small percentage at 30%, but it's still a variation generated by the clay.
Figuring out what a competitive match is, is easy; just look at the odds. As the starting price of the favourite approaches 2.01/1 the match is, obviously more competitive. Because there are only two outcomes on Tennis then the other player must also be near, but slightly over, 2.01/1 indicating the market can't split them.
To give you some comparison; laying a player a 1.51/2 will allow you to cash out at odds of 3.02/1 48% of the time, netting a £5 profit in the process. If you lay a player at 1.21/5 you will only be able to trade out for a profit 50% of the time by trading out at 1.51/2 for a £2 gain, much less profitable.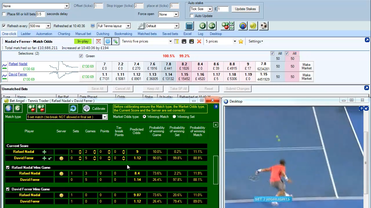 (Click image to enlarge)
Of course knowing the odds to get in and out at is nice but how to you achieve this? Bet Angel contains a useful tool called 'Tennis Trader'. Point this neat tool at the market and it will project forward the score and odds to allow you to understand what need to happen in a market to reach your target odds. From there you can watch the match and decide if will play out that way and trade appropriately.
Download a free trial of Bet Angel today!
***
For a selection of Betting Apps for Betfair.com please see the Betfair App Directory.