Tip of the month: Break your leg
News

/ Peter Jepsen / 11 January 2010 / Leave a comment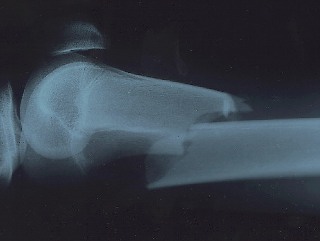 I had a lot of wishes for this years Christmas - but getting injured wasn't one of them. Even so, I broke my leg at the start of December. Just perfect for the Christmas holiday, New Year and all the parties surrounding that.
So what are you physically capable of, when you're tied to two crutches? Not much to be honest. But lying in your bed, with your laptop, playing poker, seems like a good way to spend the time!
Fortunately, Betfair launched a race for me and the 3 other pros, John, Sorel and Annette, where we had to compete against each other on who would finish in the top of the monthly high stakes tournament leaderboard for December.
It seemed like it was meant to be - and the rest of the team wouldn't have a clue what was gonna hit them.
Sorel and Annette were busy with numerous live tourneys, so they weren't hard to beat, but John "Gipsy" Tabatabai, proved to be a much tougher opponent. At first our progress on the leaderboard seemed to go hand in hand with one another. If he made a good result Friday, I'd catch up Saturday and so on.
We were friendly about it and none of us wanted to admit that we were anywhere near serious about it. After 2½ week, we were completely tied, after I had been in the lead for quite a while. It dawned to me that he was definately gonna go for my throat on this.
I approached him on MSN, to discuss a possible truce. Well at least, this was what I told him. Really, I wanted to know how much he was planning to play during Christmas, and give him the impression that I wasn't going to play at all - and that we could make some kind of deal.
Long story short - it worked out. He didn't play from the 21st till the 27th during which time, I gained substantiel lead, that was impossible to beat, by the time he returned to playing.
The grand 1st prize was mine. 10% of all the Betfair.com stocks. Well, not excactly, but I was happy :)
On top of this, I had a really, really good December at the pokertables - so it seems that breaking my leg wasn't a disaster after all. I guess it's true that something good always comes out of something bad.
More Peter Jepsen
Amsterdam's finest.... swine flu(!)
Rocket Science
Badbeat San Remo
Catch Peter on the Betfair Cash Tables
More from Betfair Poker blog
Euros ditch the dollar in search of safe online poker sites