The Betfair Poker Interview: Mike Johnson and Adam Schwartz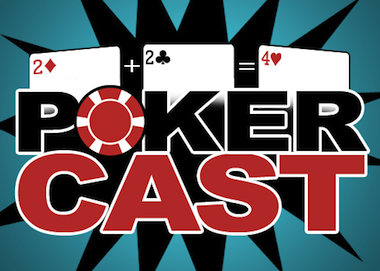 Mike Johnson and Adam Schwartz have been hosting the Two Plus Two Pokercast since 2008, and poker podcasting since 2005.
Not long ago I was listening to one of my favorite poker podcasts, the Two Plus Two Pokercast hosted by Mike Johnson and Adam Schwartz, when I heard them mention they had just celebrated their eighth anniversary producing shows together. I remembered having listened to their previous podcast -- called "Rounders, the Poker Show" -- not too long after they had first gone on the air, and marveled a little to think not only had they been producing shows essentially without interruption ever since, but I still enjoyed listening as much as I did when I first discovered them. I thought it would be interesting to speak with Mike and Adam about their poker podcasting odyssey, and so asked them if they'd be willing to chat about their experiences. They were amenable, and not long ago -- just as they were preparing to record yet another episode, in fact -- we talked about their eight-plus years behind the microphones. Short-Stacked Shamus:  So I heard you say you had reached your eighth anniversary as podcasters. Do you know the exact date of the first "Rounders, The Poker Show" podcast, the earlier version of what became the "Two Plus Two Pokercast"? Mike Johnson:  Yeah, it was April 17, 2005. During the previous NHL lockout year, when they cancelled the entire season. SSS:  I believe I picked up the show somewhere around early 2006.  Adam Schwartz:  You want all those hours back? SSS:  Haha, no way! Tell about how that first version of the show got started. MJ:  I was already working for a Vancouver AM radio station doing a weekly talk show about hockey, and with the lockout that year we were kind of running out of hockey to talk about. Meanwhile poker had started to take over a lot of television programming in place of the missing hockey games, and so sports radio decided they would try to do the same thing. I went to them and said I had some friends who were players and I was starting to get into poker myself, and that's how a weekly poker show every Sunday night at 11 p.m. first began. I actually hadn't known Adam for more than about a year then, but he was anxious to get the word out for his new rakeback venture, and he thought the show could be a vehicle to promote that. So he had ulterior motives, and so did I because I didn't want to talk about the lockout anymore and I was pretty excited to talk about poker. SSS:  Those first episodes were just over the radio and not online, correct? AS:  That's right. Early on when we were doing the show, somebody emailed us perhaps a month or two after we'd begun and said we needed to podcast the show. I remember I had no idea what that meant. I had to Google what a "podcast" was! MJ:  The CBC up here in Canada had an online network called Radio 3, and they were one of the first in the world to put their station online. We had a bunch of buddies who worked there, and they encouraged us to start podcasting our show early on. It didn't take long at all before we were having more people listening online than in Vancouver. SSS:  My memory of "Rounders, The Poker Show" show was that episodes were primarily built around interviews, whereas the "Two Plus Two Pokercast" has opened up the format a bit. Am I remembering that correctly? MJ:  Yeah, we started at two hours then ended up cutting back to one hour, and with commercials that would cut down the flexibility somewhat when it came to the format. It was still an AM talk show that was just being redistributed as a podcast, really.  I don't think it ever truly became a podcast until we moved to 2+2, although there was a short period at the end of 2007 when we'd severed ties with the radio station and were, in fact, doing the show as a podcast only as we readied to make the move. So that's when we started doing longer shows and a more freeflowing format. SSS:  How did that move over to 2+2 happen (at the start of 2008)? AS:  I had been one of the first members on 2+2 from way back. I used to post a lot, both to solicit questions for the guest we were having on that week as well as to draw attention to the show a little. Nobody really cared about my advertising the show like that, as I was a big contributor to the site and posted in the strategy forums a lot. But eventually I guess Mason (Malmuth) got tired of it, and one day he banned me! MJ:  Adam got Negreanu'd! AS:  When that happened I was just about to go to Las Vegas for some reason, and when I got there I went over to the 2+2 offices to meet up with Mat (Sklansky) and Mason and try to find out why I got banned. I went in and we ended up going to lunch and there I just kind of said "Why don't we bring the show to Two Plus Two?" At the time they were starting to think about getting into some sort of streaming TV station or something which never quite worked out, but they thought a podcast might fit with this whole new "interactive" venture. MJ:  Yeah, Mason was setting up a separate company from the publishing called Two Plus Two Interactive, and they needed content for it. SSS:  I recall some of that story from the very first 2+2 show (on January 2, 2008).  Mason was your first guest. MJ:  I remember for that first show being kind of intimidated to talk to that audience (of 2+2 posters), both because they're such a savvy crowd and very knowledgeable about the game and because of how critical they are of so many things. Even though we'd done the show for more than two years and I'd been doing radio for a long time, talking to that particular audience was actually quite intimidating. And we knew we couldn't just keep doing the same thing, but had to take that audience into consideration. SSS:  What's a favorite moment, or perhaps most unusual interview from the many years of podcasts? AS:  Well, it's always fun to make fun of your co-host, so one moment comes to mind. We once did an interview with Jeffrey Pollack when he first came over from NASCAR to be the WSOP Commissioner. People were wondering how he'd do coming from a non-poker background. Mike asked him a question where he started out saying something like "Up here in Canada we are kind of wary of anyone coming over from a different sport to run a sport that we love...." Of course, he was making reference to Gary Bettman coming over to be the NHL commissioner after working in the NBA, and kind of screwing up the NHL in a lot of Canadians' opinions. And Jeffrey goes, "Gary Bettman's my brother." SSS:  Haha, I remember that. He's his half-brother, right? AS:  Right, right... half-brother. And I literally lost it laughing out loud because the look on Mike's face when he realized he'd put his foot in his mouth right there was pretty priceless. MJ:  There was also the time we interviewed Courtney Friel (hostess for the World Poker Tour's fourth season), and I called her Shana Hiatt twice during the interview.   AS:  That was a good one, too! The Two Plus Two Pokercast crew interviewing Padraig Parkinson at the Irish Open in 2012 MJ:  When I think of memorable moments I think about how our show has been around for so long now, it's almost evolved into a kind of history of online poker. I mean we cover the WSOP and live tournaments and we certainly spend a lot of time talking to live pros. But most of the biggest stories in poker have come from online, and we've been there for a lot of its history -- with the different sites coming and going, the UIGEA, the Neteller fiasco, the Absolute Poker and UB scandals, right up to Black Friday and everything else. And when you look back you see that every few months or so, we've had interviews with key people in all of those events.  SSS:  That's true, when it comes to covering these stories over the last eight-plus years of online poker, there really aren't that many resources like your show. You can find information here and there, but the record is so fragmented. But you're right, your show has been there all along to report on all of it. MJ:  That's the beauty of a podcast, too -- it's all archived. Any listener can go back and go through those different eras. It's interesting to go back and see who we talked to in 2005 and during those early years, for instance, and realize now a lot of them are long gone from the scene. Meanwhile, it's also interesting to go back and see stars emerge over time.  I mean when we started the show no one knew who "ElkY" was, right? Or Tom Dwan or "Jungleman" or Viktor Blom. I mean when we had Antonio Esfandiari on the show for the first time, he was literally a magician! And now he's one of the five most known poker players on the planet. SSS:  And having been there for that history, possessing that sort of contextual knowledge is valuable, too, when it comes to reporting new events. When someone or something new does emerge, you guys have been around long enough to be able to put that new player or story in context. MJ:  Yeah, like when we saw Greg Merson make his run in the WSOP last year, we definitely have the ability to look back and say, "I remember when we interviewed Jeff Madsen (in 2006) when he won two bracelets and nearly a third within 10 days," and so on. So yeah, we can compare today's players to what we've seen over the last eight years. SSS:  I'd definitely say you guys are important contributors when it comes to reporting on poker. What are your thoughts concerning the so-called "poker media" and how the game gets covered, generally speaking? MJ:  Well, there's always that issue when it comes to poker media with the way advertisers tend to drive the reporting and thus create potential conflicts. It's not like other kinds of media since in poker a lot of times the subject of your story is also often the company that advertises with you. But on the flip side, there's such great passion among the poker media for the game, because 95% of them are players themselves and so have a unique relationship with the subject they cover. AS:  Yeah, I would say the quality of poker media has gotten a lot better over the years. I think it is due in part to places like 2+2 and other forums that keep people who report on poker honest. You can't pull the wool over somebody's eyes when a large part of the community goes to the forums and posts their response. So if you are writing an article or doing a show and are just catering to a sponsor, you'll get called out pretty quickly and won't get much respect or much traffic. SSS:  What are your plans going forward with the show? AS:  We definitely will be continuing the show for the foreseeable future. We're just coming through a busy period here, with Mike working 50-60 hours a week at his business and just having a second child. We want to cut down the length of the shows a bit, which would cut down some on the prep and so forth. So the structure might change a little bit, but we're not going anywhere. SSS:  Eight years is certainly an achievement.  MJ:  It would be interesting to calculate the number of poker podcasts that have come and gone since we did our first show. It's probably 500 or so. It's definitely a commitment. A lot of people like the idea of doing a podcast, but to be dedicated to the audience and do a show every week, and to line up guests and do the research to cover stories from all angles -- that's where it gets hard for a lot of people.   That's probably the one thing we take the most pride in -- to have listeners who have been loyal to the show and who appreciate what we've done over all of these years. And that makes it easy for us to be loyal to the audience, too.  Much thanks to Mike Johnson and Adam Schwartz for taking the time. Check out the latest episode of Two Plus Two Pokercast by clicking here, and check out those archives dating all of the way back to January 2008.  Join Betfair Poker Now.
"It would be interesting to calculate the number of poker podcasts that have come and gone since we did our first show. It's probably 500 or so. A lot of people like the idea of doing a podcast, but to be dedicated to the audience and do a show every week, and to line up guests and do the research to cover stories from all angles -- that's where it gets hard for a lot of people."
Discover the latest articles
Read past articles