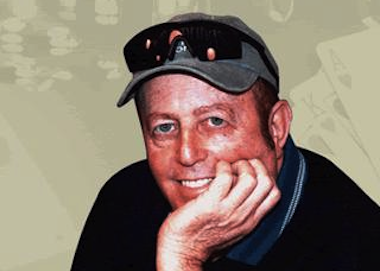 Noted poker author and friend to many Lou Krieger
The poker world lost a great friend this week when writer, editor, podcaster, and player Lou Krieger passed away. Besides authoring or co-authoring 11 poker books and hundreds of columns for a variety of publications and sites, Krieger helped bring together and support countless poker players and writers as a true ambassador both for the game and for those who loved to play and study it. Krieger's family posted a notice late Monday evening to announce he had succumbed in his battle against cancer, having "fought courageously to the end with the same pride and dignity that carried him through his life." Born and raised in Brooklyn, Krieger often told the story of having learned about poker as a child when he was allowed to watch his father's weekly game conducted at the kitchen table. Thus began a lifelong fascination with the game, with the adult Krieger eventually relocating to the west coast and becoming a player specializing in fixed limit hold'em.   Krieger began contributing columns to Card Player not long after that publication first began to be published and placed in card rooms, and thereafter would author strategy columns for numerous print and online outlets. He also recently served as the editor of Poker Player Newspaper for five years where he also wrote a regular column. Krieger's first book, Hold'em Excellence: From Beginner to Winner, appeared in 1995, and was followed two years later by More Hold'em Excellence: A Winner for Life. Krieger was then recruited to co-author Poker for Dummies with Richard D. Harroch the first edition of which appeared in 2000. For many players these titles became their first poker books, initiating them into greater study of the game, with Poker for Dummies eventually becoming one of the best-selling poker strategy books ever published. I interviewed Krieger for Betfair Poker a couple of years ago, and among the topics we discussed was his having positioned himself somewhat fortuitously as a poker writer when the poker "boom" hit in 2003. Suddenly "every publisher and his brother wanted a poker book written," Krieger explained, and since he was "a known quantity" he was called upon to author several more titles over the next few years.   It was during this period Krieger began hosting what would become one of the longest-running poker podcasts, "Keep Flopping Aces," a weekly show that began on Hold'em Radio, moved over to the Rounders Radio site for a while, and then eventually resurfaced on Hold'em Radio where he continued to produce shows right up until last week. There Krieger and his co-hosts -- first Amy Calistri, then Shari Geller -- interviewed players, industry figures, members of the poker media, and others. Krieger's friend WSOP Media Director Nolan Dalla was a frequent guest on "Keep Flopping Aces," and this week on his personal blog Dalla wrote a remembrance of Krieger in which Dalla discussed one of the reasons why Krieger was so well suited to host such a show. "He was able to converse with just about anyone, on virtually any subject, and was able to make those around him feel as though they were both heard and respected -- sadly characteristics increasingly rare in society," writes Dalla. "If listening is an art form, then Lou was our Michelangelo.  He was the best listener I have ever met."  Last night came a special episode of "Keep Flopping Aces" featuring numerous guests and contributors sharing their thoughts and memories of Krieger. On the show Greg Raymer, Rich Muny, Earl Burton, Paul McGuire, Haley Hintze, Nolan Dalla, Mike Caro, Amy Calistri, and others discussed Krieger's important contributions to poker strategy, his love of the game, and his energizing influence on others also interested in poker and the culture surrounding the game. One theme that emerged on that show was Krieger's tremendous and consistent support of other poker writers. Not only did he often provide encouragement to other strategy authors and members of the poker media, but in many cases he would help writers find outlets for their work, too, even offering assignments when possible (such as in his role as editor of Poker Player Newspaper). And for those of us fortunate enough to have collaborated with Krieger, his feedback and advice was unfailingly insightful and inspiring. Though a limit hold'em specialist, Krieger was well-versed in all of poker variants and wrote at length about many different games. Among his later books was Mastering Omaha/8 Poker, co-authored with Mark Tenner, a new edition of which appeared in 2011.  Reviewed here, the book remains a core strategic text for Omaha/8 players. But Krieger also well understood poker's place in the larger scheme of things, often remarking on the connection between succeeding in poker and succeeding away from the tables, too.  "Every poker writer worth his salt has made the observation that the lessons of poker are the lessons of life," Krieger maintained. "The reverse is true too. The very skills that make some people so successful in life can be applied to poker just as easily. After all, the vast majority of players have a life away form the poker table, and if better poker skills make you a better performer in the real world, so much the better." With Krieger's passing, the poker world has lost a true supporter and important contributor. I'm just one of many grateful to have known him and benefited from his instruction, advice, and generosity. Those wishing to send condolences to the family can do so by mailing them to P.O. Box 1441, Palm Springs, CA, 92263-1441, USA. Join Betfair Poker Now.
"Every poker writer worth his salt has made the observation that the lessons of poker are the lessons of life," Krieger maintained. "The reverse is true too.  The very skills that make some people so successful in life can be applied to poker just as easily."