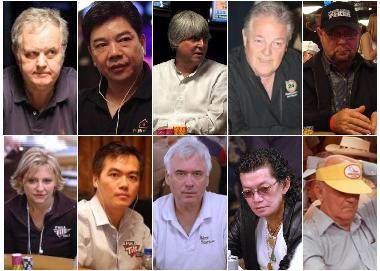 The 10 finalists for the 2012 Poker Hall of Fame
This week the World Series of Poker announced the 10 finalists for the 2012 Poker Hall of Fame, a list that includes some repeat nominees but also several making their first-ever ballots. Jennifer Harman-Traniello, John Juanda, Tom McEvoy, and Scotty Nguyen all return as nominees again this year. Meanwhile, Chris Björin, David Chiu, Eric Drache, Thor Hansen, George Hardie, and Brian "Sailor" Roberts round out the 2012 ballot, each making his first appearance since the new voting process began four years ago. Following a period during which the public could submit nominations via the WSOP website, the Poker Hall of Fame Governing Council went through those nominated to select 10 finalists for this year's Poker Hall of Fame class. Next week ballots will be sent to the 18 current living Poker Hall of Famers plus an 18-person panel of poker media, and those 36 will together choose no more than two of the finalists to join the select group of 42 already in the Poker Hall of Fame. For the third time I have been given the honor of participating in the process as one of the voting media, and once again I have a difficult choice before me. Here are the criteria according to which I am to evaluate the candidates: * A player must have played poker against acknowledged top competition * Played for high stakes * Played consistently well, gaining the respect of peers * Stood the test of time * Or, for non-players, contributed to the overall growth and success of the game of poker, with indelible positive and lasting results By the way, one other criteria for induction is for a candidate to be at least 40 years old, a restriction that prevents players like Phil Ivey or Daniel Negreanu from being considered quite yet. Last year Barry Greenstein and Linda Johnson were voted in as the class of 2011. On my ballot I will be able to vote for up to three of the nominees, distributing 10 points among my choices. The WSOP will then tally the votes from everyone and only the top two point-getters will be enshrined. Here's a quick rundown of the 10 nominees for this year's class: Chris Björin is a long-time fixture at the WSOP where his accomplishments have been extensive. The Swedish pro now residing in London owns two bracelets a whopping 65 cashes at the Series, a total placing him in the top five all-time. In a career extending back to the late 1980s, the 64-year-old Björin has earned over $5.2 million in tourney cashes, topping the list for all Swedish players and placing him in the top 15 among Europeans in tourney winnings. David Chiu likewise brings an impressive list of tourney results to help back his candidacy, having won four WSOP bracelets plus a WPT World Championship in 2008. Those wins plus numerous other cashes since 1996 bring the 52-year-old Chinese-American's overall tourney winnings over $7.4 million. Eric Drache's nomination comes mostly thanks to his significant contributions to the poker world as a tournament director, cardroom manager, and overall innovator. Drache served as TD for the WSOP during its formative years in the 1970s, and he's credited with having introduced satellites as a method of increasing player participation. He's also an accomplished player, especially in seven-card stud, making five WSOP final tables in 7CS including three runner-up finishes. Thor Hansen arrives to this year's ballot with a résumé resembling Bjorin's -- two WSOP bracelets, 47 WSOP cashes, over $2.9 million in tourney winnings, and status as an important figure in poker in Europe and Scandinavia. Originally from Oslo, the well-liked 65-year-old is sometimes called the "Godfather" of Norwegian poker, and has extensive cash game experience and results to go along with his tourney success. George Hardie is probably the least familiar name to many appearing on this year's list of nominees. Hardie was an important figure in the burgeoning poker scene in California during the 1980s where he ran the Bicycle Club in Bell Gardens, at the time the largest card club not just in L.A. but one of the largest in the world. As a player Hardie has a few scores of note, including a ninth-place finish in the 1989 WSOP Main Event. Jennifer Harman-Traniello returns to the ballot for a second-straight year, this time as the lone female nominee. In addition to being a long-time high-stakes cash game player, Harman-Traniello has the distinction of being the first woman ever to win two WSOP bracelets in "open" events (a feat only equaled this year by Vanessa Selbst). She has 26 WSOP cashes totaling close to $1 million, and more than $2.6 million in tourney winnings overall. John Juanda is also back on the ballot for a second year in a row. Last year he earned his nomination for having won five WSOP bracelets and nearly $12 million in tourney winnings overall. Over the past year the 41-year-old has a few more results to boast of, including a nifty $1.6 million-plus score for finishing fifth in that "Super High Roller" event in Macau just a couple of weeks ago. Tom McEvoy, meanwhile, has appeared on Poker Hall of Fame ballots all four years since the current process was introduced. The 67-year-old won the 1983 WSOP Main Event, the first ever to do so as a satellite winner, then went on to grab three more bracelets and close to $3 million in tourney earnings over the last three decades. McEvoy has also authored or co-authored numerous poker strategy texts. Scotty Nguyen has also landed a spot on the ballot each year since 2009. Like McEvoy, Nguyen has a WSOP Main Event title, winning in 1998. Nguyen has five WSOP bracelets altogether, a WPT title, and more than $11.6 million in career tournament earnings, currently good for 11th on the all-time money list. Brian "Sailor" Roberts rounds out this year's ballot as the only posthumous nominee, having passed away in 1995. Roberts is best known for having formed part of the legendary traveling triumvirate of poker players with Doyle Brunson and the late "Amarillo Slim" Preston who "faded the white line" during the '50s and '60s. Like those two, Roberts would make his mark during the early years of the WSOP in the '70s as well, winning a couple of bracelets including the Main Event in 1975. Unlike the others, his name was added to the ballot as a write-in candidate suggested by a living Poker Hall of Famer. As I say, I am faced with a not-so-simple challenge deciding how to cast my vote -- perhaps even more so this year as there are several clearly worthy candidates among the finalists. Voting ends on September 30, and I imagine we will be hearing the results not longer after that. Which of these 10 do you think most deserves to be inducted into the 2012 Poker Hall of Fame? Join Betfair Poker Now.
Both Tom McEvoy and Scotty Nguyen have appeared on finalists' ballots all four years since the Poker Hall of Fame voting process was introduced in 2009. Jennifer Harman-Traniello and John Juanda make their second appearance on ballots this year, while the other six nominees are all first-timers.