The Masters 2020: Major championship form guide ahead of the Augusta showpiece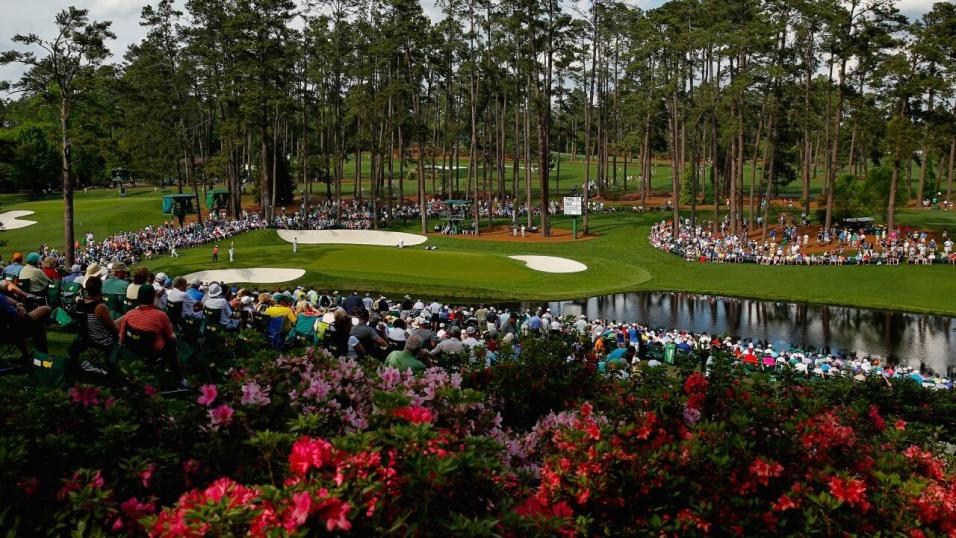 The par-three 16th at Augusta National
The US have dominated the Majors in recent years, so will an American golfer be the best bet to win the 2020 Masters? Check out our Major Championship form guide, compiled by Andy Swales...
"Victories by Collin Morikawa (PGA Championship) and Bryson DeChambeau (US Open) took the sequence of American successes in US-based majors to 10 in a row."
Despite the re-shuffling of the golfing calendar, one thing has remained consistent in 2020: American pros continue to dominate major championships staged on home soil.
Victories by Collin Morikawa (PGA Championship) and Bryson DeChambeau (US Open) took the sequence of American successes in US-based majors to 10 in a row.
Not since the mid-1970s, when American golfers truly controlled the destiny of the big four titles - with the exception of South African maestro Gary Player - has there been a run of this nature.
From Hale Irwin's US Open success of 1974, through to Lanny Wadkins winning the PGA Championship three years later, Americans claimed 11 straight majors on US soil.
The most recent victory by a non-American was Sergio Garcia who won at Augusta in April 2017.
And there appears to be a strong likelihood that November's Masters will follow the same pattern.
US strength in depth
As things stand right now, 11 of the world's top 14 golfers are American, with the exceptions being Jon Rahm, Rory McIlroy and Tyrrell Hatton.
Rahm and Hatton are currently in excellent shape, and while the former posted top-10s at Augusta in both 2018 and 2019, the latter's highest finish from three previous visits to the Masters is tied-44th.
Although McIlroy cannot be ruled out from winning the one major title he is yet to get his hands on, his recent form has been below par by career standards - however, everything is relative!
Check out the latest betting ahead of the forthcoming Masters
As for in-form Americans, these include Dustin Johnson, DeChambeau, Xander Schauffele, Patrick Reed, Matthew Wolff and Patrick Cantlay.
One home player who isn't part of this group is Brooks Koepka who started the year at No 1 in the world, and is now at 12.
The 30-year-old four-time major winner missed nine weeks late summer/early autumn because of injury, and returned at Shadow Creek to finish T28.
But similar to McIlroy, Koepka remains a contender for Augusta where he was joint runner-up in 2019.
Last decade
The stats tell us that eight of the last 10 Masters' winners were ranked 16 or better going into the tournament and, since the start of 2010, Augusta is the only major not to crown a champion ranked higher than 30.
Regarding those just outside this top group, and who tend to perform well in majors, read the names Tony Finau, Hideki Matsuyama and Louis Oosthuizen.
Finau has only won once on the PGA Tour, yet hasn't been outside the world's top 20 since August 2018.
His remarkable level of consistency is reflected in his form at the majors which yields seven top-10s from his last 10 outings.
Oosthuizen is another anomaly. His only official victory on the PGA Tour came at St Andrews in 2010 - when he won The Open Championship - yet he has finished runner-up in four other majors.
To check out form in recent majors, see the table at base of page, and also click on the link to view Scoring Ratings in The Big Four events since the start of 2017.
Major Stats
Scoring Rating for the Majors (from 1/1/17)
Rating...Player (Rounds)
3.14: Brooks Koepka (48)
1.97: Rickie Fowler (54
1.92: Tony Finau (46)
1.85: Dustin Johnson (48)
1.76: Hideki Matsuyama (52)
1.71: Xander Schauffele (50)
1.65: Rory McIlroy (50)
1.59: Francesco Molinari (44)
1.53: Justin Thomas (46)
1.51: Webb Simpson (54)
1.51: Jordan Spieth (52)
Min. No. Of Rounds = 12
Click here to view Full List of Scoring Ratings (and explanation) for the Major Championships (since January 1st, 2017)
Twitter: Andy Swales@GolfStatsAlive
Last 10 Major Championships
| Player | 20 US | 20 PG | 19 BO | 19 US | 19 PG | 19 UM | 18 PG | 18 BO | 18 US | 18 UM |
| --- | --- | --- | --- | --- | --- | --- | --- | --- | --- | --- |
| Dustin Johnson | 6 | 2 | 51 | 35 | 2 | 2 | 27 | MC | 3 | 10 |
| Jon Rahm | 23 | 13 | 11 | 3 | MC | 9 | 4 | MC | MC | 4 |
| Justin Thomas | 8 | 37 | 11 | MC | | 12 | 6 | MC | 25 | 17 |
| Collin Morikawa | MC | 1 | | 35 | | | | | | |
| Rory McIlroy | 8 | 33 | MC | 9 | 8 | 21 | 50 | 2 | MC | 5 |
| Bryson DeChambeau | 1 | 4 | MC | 35 | MC | 29 | MC | 51 | 25 | 38 |
| Xander Schauffele | 5 | 10 | 41 | 3 | 16 | 2 | 35 | 2 | 6 | 50 |
| Webb Simpson | 8 | 37 | 30 | 16 | 29 | 5 | 19 | 12 | 10 | 20 |
| Tyrrell Hatton | MC | MC | 6 | 21 | 48 | 56 | 10 | 51 | 6 | 44 |
| Patrick Reed | 13 | 13 | 10 | 32 | MC | 36 | MC | 28 | 4 | 1 |
| Brooks Koepka | | 29 | 4 | 2 | 1 | 2 | 1 | 39 | 1 | |
| Matthew Wolff | 2 | 4 | | | | | | | | |
| Patrick Cantlay | 43 | 43 | 41 | 21 | 3 | 9 | 27 | 12 | 45 | MC |
| Adam Scott | 38 | 22 | MC | 7 | 8 | 18 | 3 | 17 | MC | 32 |
| Tommy Fleetwood | MC | 29 | 2 | 65 | 48 | 36 | 35 | 12 | 2 | 17 |
| Tony Finau | 8 | 4 | 3 | MC | 64 | 5 | 42 | 9 | 5 | 10 |
| Louis Oosthuizen | 3 | 33 | 20 | 7 | 60 | 29 | | 28 | 16 | 12 |
| Matthew Fitzpatrick | MC | MC | 20 | 12 | 41 | 21 | MC | MC | 12 | 38 |
| Hideki Matsuyama | 17 | 22 | MC | 21 | 16 | 32 | 35 | MC | 16 | 19 |
| Abraham Ancer | 56 | 43 | MC | 49 | 16 | | | MC | | |
| Paul Casey | 17 | 2 | 57 | 21 | 29 | MC | MC | 51 | 16 | 15 |
| Sung Jae Im | 22 | MC | MC | | MC | | 42 | | MC | |
| Justin Rose | MC | 9 | 20 | 3 | 29 | MC | 19 | 2 | 10 | 12 |
| Jason Kokrak | 17 | MC | 32 | | 23 | | 19 | MC | | |
| Marc Leishman | MC | MC | MC | 35 | MC | 49 | 71 | 60 | 45 | 9 |
| Tiger Woods | MC | 37 | MC | 21 | MC | 1 | 2 | 6 | MC | 32 |
| Matt Kuchar | MC | MC | 41 | 16 | 8 | 12 | MC | 9 | MC | 28 |
| Gary Woodland | MC | 58 | MC | 1 | 8 | 32 | 6 | 67 | 36 | MC |
| Shane Lowry | 43 | 66 | 1 | 28 | 8 | MC | 12 | MC | MC | |
| Scottie Scheffler | | 4 | | MC | | | | | | |
| Kevin Kisner | MC | 19 | 30 | 49 | MC | 21 | 12 | 2 | MC | 28 |
| Bernd Wiesberger | 43 | 43 | 32 | 76 | | | | | | 24 |
| Victor Perez | MC | 22 | | | | | | | | |
| Billy Horschel | 38 | 43 | MC | 32 | 23 | 56 | 35 | | | MC |
| Kevin Na | MC | MC | | MC | MC | 46 | 19 | 51 | | |
| Sergio Garcia | MC | MC | 67 | 52 | MC | MC | MC | MC | MC | MC |
| Brendon Todd | 23 | 17 | | MC | | | | | | |
| Lee Westwood | 13 | | 4 | | MC | | | 61 | | |
| Jason Day | 38 | 4 | MC | 21 | 23 | 5 | 19 | 17 | MC | 20 |
| Joaquin Niemann | 23 | MC | MC | | MC | | 71 | | | MC |
| Rickie Fowler | 49 | MC | 6 | 43 | 36 | 9 | 12 | 28 | 20 | 2 |
| Matt Wallace | 43 | 77 | 51 | 12 | 3 | MC | 19 | MC | MC | |
| Chez Reavie | MC | 75 | MC | 3 | 14 | | 12 | MC | MC | 53 |
| Ian Poulter | MC | 22 | MC | MC | MC | 12 | 31 | MC | 25 | 44 |
| Erik van Rooyen | 23 | 51 | 20 | 43 | 8 | | | 17 | | |
| Cameron Smith | 38 | 43 | 20 | 72 | 64 | 51 | 56 | 78 | MC | 5 |
| Henrik Stenson | MC | MC | 20 | 9 | 48 | 36 | MC | 35 | 6 | 5 |
| Danny Willett | MC | MC | 6 | 12 | 41 | MC | MC | 24 | MC | MC |
| Bubba Watson | 31 | 71 | 51 | MC | MC | 12 | MC | MC | MC | 5 |
| Christiaan Bezuidenhout | 55 | MC | MC | | | | | | | |
| Phil Mickelson | MC | 71 | MC | 52 | 71 | 18 | MC | 24 | 48 | 36 |
| Lanto Griffin | 43 | 19 | | | | | | | MC | |
| JT Poston | MC | 75 | | | 60 | | | | | |
| Byeong Hun An | MC | 22 | 32 | 16 | MC | | 56 | 51 | 67 | |
| Sebastian Munoz | 59 | MC | | | | | | | MC | |
| Jazz Janewattananond | MC | MC | MC | | 14 | | | MC | | |
| Graeme McDowell | MC | MC | 57 | 16 | 29 | | | | MC | |
| Adam Hadwin | 54 | 58 | 57 | | 29 | | MC | 35 | MC | 24 |
| Shugo Imahira | 61 | | MC | MC | MC | MC | MC | | | |
| Sung Kang | MC | 79 | | | 7 | | | | | |
| Corey Conners | MC | MC | MC | | 64 | 46 | | | | |
| Jordan Spieth | MC | 71 | 20 | 65 | 3 | 21 | 12 | 9 | MC | 3 |
| Rafael Cabrera-Bello | 23 | MC | MC | 65 | 71 | 36 | 10 | 74 | 36 | 38 |
| Cameron Champ | MC | 10 | | | 54 | | | | | |
| Francesco Molinari | | | 11 | 16 | 48 | 5 | 6 | 1 | 25 | 20 |
| Brandt Snedeker | MC | 51 | MC | 77 | 16 | MC | 42 | MC | 48 | |
| Si Woo Kim | MC | 13 | MC | MC | MC | 21 | MC | 67 | MC | 24 |
| Max Homa | MC | MC | | | 64 | | | | | |
| Charles Howell | 30 | | | 52 | 41 | 32 | 71 | MC | 25 | |
| Dylan Frittelli | | 33 | 32 | | MC | | 31 | MC | MC | MC |
| Lucas Glover | 17 | MC | 20 | MC | 16 | | | | MC | |
| Nate Lashley | | 37 | MC | 28 | | | | | | |
| Nick Taylor | | MC | | 43 | | | | | | |
| Zach Johnson | 8 | MC | MC | 58 | 54 | 58 | 19 | 17 | 12 | 36 |
| Justin Harding | MC | | 41 | MC | 54 | 12 | MC | | | |
| Andrew Landry | | MC | | | | 46 | 50 | MC | | |
| Tyler Duncan | 34 | MC | | | | | | | 56 | |
| Andrew Putnam | Wd | MC | 32 | 43 | 78 | | 59 | | | |
| CT Pan | | MC | MC | MC | MC | | | | | |
| Charl Schwartzel | | 58 | | | | MC | 42 | MC | MC | MC |
| Jimmy Walker | MC | MC | MC | MC | 23 | 36 | 42 | MC | 56 | 20 |
| Fred Couples | | | | | | MC | | | | 38 |
| Vijay Singh | | | | | | MC | 78 | | | 49 |
| Yu Xin Lin | | | | | | | | MC | | MC |
| Trevor Immelman | | | | | | 51 | | | | MC |
| Bernhard Langer | | | | | | 62 | | 24 | | 38 |
| Lukas Michel | MC | | | | | | | | | |
| Mike Weir | | | | MC | | MC | | | | MC |
| Jose Maria Olazabal | | | | | | MC | | | | MC |
| Sandy Lyle | | | | | | MC | | MC | | MC |
| Larry Mize | | | | | | MC | | | | MC |
| James Sugrue | MC | | MC | | | | | | | |
| John Augenstein | MC | | | | | | | | | |
| Andy Ogletree | MC | | | | | | | | | |
| Abel Gallegos | | | | | | | | | | |
Discover the latest articles
Read past articles