The Punter's In-Play Blog: DJ shoots clear at Augusta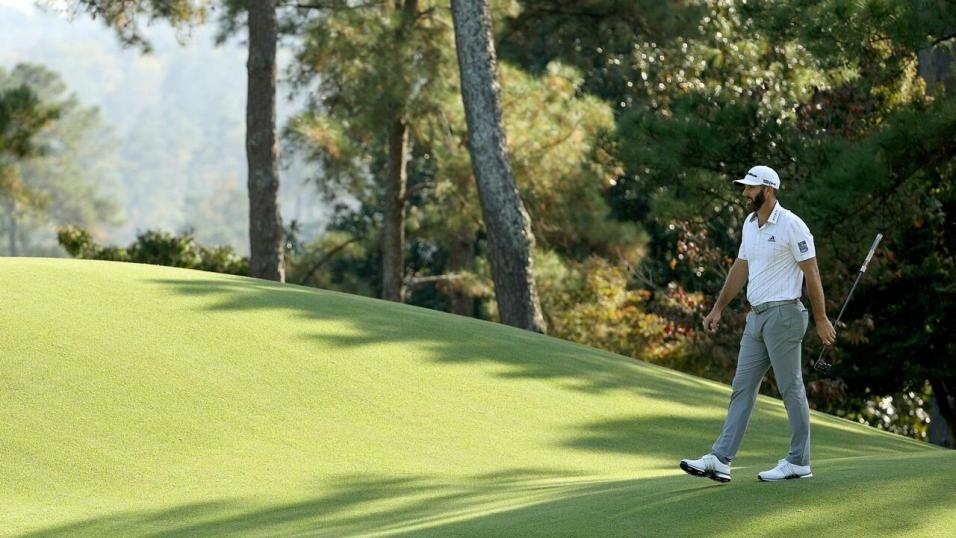 Dustin Johnson on the eighth green yesterday
With just one round to go at the US Masters, world number one, Dustin Johnson, has eased four strokes clear of the field but is he a safe conveyance at long odds-on?
"The last 30 Masters winners have been inside the top-five with a round to go and if that run is to continue, it's really difficult to see past the leader."
09:45- November 15, 2020
World number one, Dustin Johnson, played like the best player on the planet at Augusta yesterday - assuming command early on in round three of the US Masters with a tap-in eagle at the second and back-to-back birdies at three and four. He hit all 14 fairways and 16 greens in regulation in a brilliant bogey-free seven-under-par 65 and he's eased himself into a four-stroke lead. Here's the 54-hole leaderboard with prices to back at 9:40.
Dustin Johnson -16 1.422/5
Cameron Smith -12 17.5
Sungjae Im -12 18.017/1
Abraham Ancer -12 21.020/1
Dylan Frittelli -11 50.049/1
Justin Thomas -10 26.025/1
Jon Rahm -9 42.041/1
Patrick Reed -9 100.099/1
Sebastian Munoz -9 200.0199/1
Rory McIlroy -8 70.069/1
Brooks Koepka -8 85.084/1
Hideki Matsuyama -8 250.0249/1
Tommy Fleetwood -8 280.0279/1
-7 and 600.0599/1 bar
DJ's 16-under-par 54-hole total equals the US Masters record set by Jordan Spieth five years ago and he's the sixth player to reach 14-under-par or better through three rounds at Augusta. The previous five all won. That stat bodes well for the leader but there are plenty that don't...
This is the 12th time Johnson has held a clear lead through 54 holes and he's converted more often than not, going on to win on six occasions but he's led or been tied for the lead at a major championship four times previously without winning.
He led the US Open by three at Pebble Beach ten years ago but shot 82 in round four and he was tied at the top with a round to go at both the 2015 and 2018 US Opens before going on to finish second and third respectively. He also led the US PGA Championship at Harding Park by a stroke through 54 holes just three months ago but was caught and passed by Colin Morikawa. Although, it's fair to say he did little wrong that day. DJ's two-under-par 68 wasn't an awful effort and Morikawa was just outstanding that day.
On the PGA Tour since 1996, 53 players have led by four with a round to go in a 72-hole stroke play event and 39 went on to win. That's a strike-rate of 73.5% but that percentage takes a bit of a tumble if we look at the small number of 54-hole four-stroke leaders in major championships in that time.
Tiger Woods won the US Open by three having led by four in 2002 but Payne Stewart (1998) and Shane Lowry (2016) were both beaten in that major having led by the same margin. Lowry's redemption came in last year's Open Championship when, like Louis Oosthuizen ten years ago at St Andrews, he converted a four-stroke lead but Adam Scott was caught and passed by Ernie Els in the 2012 edition at Royal Lytham, having led by four. And finally, although Spieth went on to win a Green Jacket in 2015, having led by four, who can forget Rory McIlroy's infamous collapse here in 2011.
So, since 1996, we've seen eight players take a four-stroke lead into the final round of a major championship and half of them failed to convert.
That's not a great omen for DJ and nor is the fact that he was beaten at the WGC-HSBC Champions in Shanghai three years, having led by six through 54 holes. Seeing someone losing a lead that big is very rare but it wasn't the first time. Remember 1996 at Augusta when Greg Norman led the US Masters by half a dozen strokes before Nick Faldo went on to win by five!
Given all of the above, I certainly wouldn't put anyone off laying DJ at around 1.42/5 but having layed some of my in-play wager back yesterday at 1.9210/11, I'm sitting on the rest of my position for now. Some of those stats are quite damning and despite his brilliance, DJ is definitely capable of the odd brain fart but I still think he'll get it done today.
The last 30 Masters winners have been inside the top-five with a round to go and if that run is to continue, it's really difficult to see past the leader.
Sungjae Im is bidding to be the youngest overseas winner of the US Masters, as well as the first debutant winner since 1979 and Abraham Ancer is playing here for the first time too. And the latter hasn't even won on the PGA Tour yet. It would be quite something if either of them won.
Cameron Smith, who was one of me three Find Me a 100 Winner picks, is the correct second favourite this morning and he's the one most likely to stick with the leader. Smith has finished rounds one, two and three strongly so if he's still there or thereabouts with five to play he could be the one but I've also added a small bet on the man alone in fifth - Dylan Frittelli at 50.049/1.
South African's have a phenomenal record here and nobody's hitting it further than Dylan this week. It's often the case in scenarios like this that even if the clear leader falters, his closest challengers aren't the ones to capitalise and someone with fractionally less pressure comes through. If DJ fails, Frittelli might just be the man best positioned to exploit the situation.
It goes without saying that Justin Thomas is an obvious threat if the leader falters but his long game will need to be better than it's been so far this week. It's almost a given that he'll miss one or two too many fairways to allow him to shoot the immaculate round that's required and I don't see any value in him at only 26.025/1.
In summary, this is Johnson's to lose and I don't think he'll mess it up. He's playing beautifully and he has enough strokes in hand to get across the line. The first hole will be massively important as a birdie at the par five second is highly likely and if he stands on the fourth tee at level or better for the day it will be difficult to see him getting beat.
I hope he wins, and that's with a Cam Smith victory a far better outcome financially. The fact that a talent as incredible as DJ's has won only one major title doesn't quite sit right and he deserves a second and a first Green Jacket.
Watching Tiger Woods and DJ in the Butler's Cabin this evening would be a great way to finish the week but regardless of the outcome, I'll be back tomorrow with my De-Brief.
15:15- November 14, 2020
We've reached the halfway stage of the US Masters and there are ten players within a stroke at the top of the leaderboard and as was the case last year, there are 22 players within four. Here's the current leaderboard with prices to back at 15:10.
Dustin Johnson -9 5.49/2
Jon Rahm -9 5.59/2
Justin Thomas -9 7.06/1
Cameron Smith -9 28.027/1
Abraham Ancer -9 32.031/1
Patrick Cantlay -8 15.5
Hideki Matsuyama -8 17.5
Patrick Reed -8 17.5
Sungjae Im -8 46.045/1
C.T Pan -8 110.0109/1
Tommy Fleetwood -7 30.029/1
Justin Rose -7 36.035/1
Danny Willett -7 75.074/1
Louis Oosthuizen -6 60.059/1
Sebastian Munoz -6 170.0169/1
Dylan Frittelli -6 240.0239/1
Brooks Koepka -5 27.026/1
Tiger Woods -5 48.047/1
-5 and 75.074/1 bar
Patrick Reed was the big mover and shaker when they returned to the course to complete round two today. He made an inevitable bogey at 12 (was in big trouble overnight there) but he then birdied 13, 15 and 16. A bogey 17 saw him slip back into a tie for tenth but a birdie at 18 saw him squeeze back into a tie for sixth and the stats suggest that's bad news for all those on -7 and below.
As highlighted this morning, only eight winners in the entire history of the US Masters have been outside the top-ten at the halfway stage and Charl Schwartzel, who sat tied for 12th and six off the lead in 2011, is the only winner to achieve the feat since Jack Nicklaus way back in 1986. Given that stat, anyone positioned below CT Pan in the list above is really up against it
With the first three in the world rankings all tied for the lead, we could be set for one of the greatest ever renewals but predicting the outcome looks ultra-tough.
Having backed Dustin Johnson yesterday, and Cameron Smith before the off, I've got a couple in-the-mix and with the exception of the #OddsOnThat wager, my side bets (listed below) are all going well so I'm going to leave the event alone for now and see what the third round brings.
11:05- November 14, 2020
There are four players tied at the top of the US Masters leaderboard as we head into the weekend but whether that's going to be the case at the halfway stage of the tournament, we don't yet know.
After a lengthy weather delay on Thursday, it's going to be tonight at the earliest before the tournament has got back on schedule and with world number two, Jon Rahm, returning to Augusta with a five foot birdie putt at the 13th to join the four leaders, he's odds-on to be the 2nd Round Leader.
As I did yesterday, I'll endeavour to capture the leaderboard at the end of the round, with prices to back, but here's the current state of play with prices to back and, where applicable, position of players through round two, at 10:55.
Dustin Johnson -9 6.05/1
Justin Thomas -9 7.613/2
Cameron Smith -9 30.029/1
Abraham Ancer -9 38.037/1
Jon Rahm -8 4.84/1 (thru 12)
Patrick Cantlay -8 17.5
Hideki Matsuya -8 18.5 (thru 15)
Sungjae Im -8 48.047/1
Louis Oosthuizen -7 25.024/1 (thru 12)
Tommy Fleetwood -7 40.039/1
Justin Rose -7 42.041/1
Danny Willett -7 80.079/1
CT Pan -7 250.0249/1 (thru 16)
Xander Schauffele -6 24.023/1 (thru 12)
Patrick Reed -6 40.039/1 (thru 11)
Paul Casey -6 46.045/1 (thru 11)
Sebastian Munoz -6 220.0219/1
Dylan Frittelli -6 300.0299/1
Brooks Koepka -5 34.033/1
Selected others
Tiger Woods -4 48.047/1 (thru 10)
Rory McIlroy -3 65.064/1
-5 and 110.0109/1 bar
With as many as 13 players within two of the lead at present, this year's US Masters is just as open as last year's but a lot depends on how Rahm closes out his second round. The Spaniard, who's in search of his first major championship, has an opportunity to get to the front and even open up a slight gap but as Dustin Johnson showed yesterday, that's not easy to do.
The world number one opened up a three-stroke lead when he birdied the par five 13th (his fourth hole of the second round) and he was matched at a low of 2.3211/8 but back-to-back bogeys at 14 and 15 stopped him in his tracks and he lost his way a bit after that.
After a topsy-turvy second round, Justin Thomas is the current third favourite so we really couldn't have asked for anything better heading into the weekend. The three best players in the world, who are all in search of their first Green Jacket, are potentially set to fight out the finish but the value probably sits elsewhere.
As it stands, there are 21 players within four of the lead so it's going to be interesting to see where we are at the halfway stage and whether any records are broken. Through 36 holes last year there were 22 players within four strokes of the lead and that was the most congested the leaderboard had been at Augusta since 2012, when a record 23 were within four. It's unusual to see things so tight, and to see the leaderboard so cluttered again is very odd. We have to go back a long way to find other examples of so many players in-contention at halfway...
Back in 1966 and 1947, 20 players were within four of the lead at this stage so although it's the second year in-a-row it's been tight, it is unusual.
Looking at the halfway stats, given only eight winners in the entire history of the US Masters have been outside the top-ten at the halfway stage, we probably shouldn't be scanning too far down the leaderboard - especially when there's so much traffic to pass.
Tiger sat tied for sixth last year but trailed by only a stroke and Charl Schwartzel, in 2011, was the last man to win from outside the top-ten through 36 holes. And before that it was Jack Nicklaus in 1986.
It's really frustrating not to have the time to digest the halfway leaderboard properly and I will have another look once the second round's complete but the only one that stands out as a value play at this stage is England's Tommy Fleetwood.
Tommy definitely needs things to fall his way but a bunched finish tomorrow may just help him and he looks too big at 40.039/1 given he trails by just two strokes and given how beautifully he played yesterday. He has a bad habit of throwing in a poor third round but that's all in the price. He's no bigger than 28/1 on the High Street and that's a more realistic price.
Play gets back underway at 12:30 UK time.
15:25- November 13, 2020
The second round of the US Masters began before the first round had finished but here's a snapshot of the top-9 players before they began their second rounds, together with prices to back at 15:10. Sungjae Im and Justin Rose had one hole of round one to play at the time but they both parred the last.
Dustin Johnson -7 3.953/1
Paul Casey -7 26.025/1
Dylan Frittelli -7 50.049/1
Justin Thomas -6 7.413/2
Sungjae Im -6 12.011/1
Xander Schauffele -5 13.5
Webb Simpson -5 28.027/1
Justin Rose -5 40.039/1
Cameron Smith -5 48.047/1
-4 bar
Selected others
Tiger Woods -4 24.023/1
Hideki Matsuyama -4 34.033/1
Patrick Reed -4 34.033/1
Jon Rahm -3 17.5
Bryson DeChambeau -2 18.017/1
Brooks Koepka -2 34.033/1
These prices are changing rapidly so this is for information only.
As highlighted earlier, the plan was always to get DJ onside in-running but as he had a few dangerous holes to start with today I missed the price a bit. He was available at 8.415/2 before play and I've backed him at an average of a point lower. He's my only in-play bet so far.
09:50 - November 13, 2020
Day one of the US Masters may be over but we're a long way from the first round being complete. Following a weather delay of getting on for three hours yesterday morning, due to torrential rain and thunder, the final group still have 10 holes to play.
Paul Casey, who was one of my three Find Me a 100 Winner picks, as well as one of Matt Cooper's each-way selections, leads the tournament by two strokes after a seven-under-par 65 but for how long is debatable.
Casey is no bigger than 6/5 to be the first round leader on the high street but exchange layers have been keen to get him and he currently trades at around 2.47/5 having been around 2.89/5 first thing this morning.
Justin Thomas on -5 and currently playing the 11th is the man most likely to reel in Casey but he's hit a poor drive there and there are a number of candidates who could step. Three players are currently on four-under-par, four on -3 and half-a-dozen on -2. All have plenty of holes to play when they return to the course this morning and I suspect someone will at least tie with Casey.
Holes 10, 11 and 12 were the three toughest statistically yesterday but once through 12, the next four are all good birdie chances. And on the other side of the track, for those who started on the 10th, the par five second is the easiest on the course (averaged 4.49 yesterday) and holes three, four, eight and nine all also averaged below par.
Although it's not ideal having to restart your opening round this morning, I suspect those who started later yesterday, and are yet to finish their first rounds, are at a slight advantage. The course is only going to get harder from this point in as it dries out after the rain but it will play at it's easiest in the early part of today. Getting out there early and then getting your second round completed today has to be a plus and I wonder how many Casey will be trailing by when he kicks off his second round? I'd wager at least three or four.
It's hard to visualise exactly where we are in the tournament and to work out what a good first round score is at this stage. But I wouldn't want to have posted any less than 68. Those who shot four-under-par 68s yesterday are currently sitting tied for fifth but that may not even be in the top-ten once everyone's finished their second rounds and history tells us that could be too far back.
As highlighted in the In-Play Tactics section of the preview, since Mark O'Meara won from tied 25th and five off the lead in 1998, only Tiger Woods and Phil Mickelson have won the US Masters having sat outside the top-10 after round one.
That isn't good news for the likes of Jon Rahm and Tony Finau who are currently tied for 13th having finished their first rounds and I certainly wouldn't be in a rush to side with Bryson DeChambeau at 16.5, given he sits tied for 21st after fighting back from a poor start to shoot 70 yesterday.
With so many yet to complete their opening rounds on a soft course this morning, those in the house are only going to fall down the leaderboard and the value is probably out on the course.
The one I like as it stands is world number one, Dustin Johnson. He's currently playing the 10th (has hit a nice drive) so now probably isn't the time to jump onboard (10, 11 & 12 all tough holes) but I can see him picking up another couple of shots before the end of his round (currently on -3). He's the one I'm looking to back in-running when they return.
If you are planning to add to your portfolio before they restart, make sure you look at the masters.com leaderboard an click on individual players to check whereabouts any potential pick is at present. For example, Rickie Fowler looks a big price at 120.0119/1 given he's currently on -3 but he's having a mare on the 12th and he's about to drop at least two strokes.
If we get a chance to take a snapshot of the standings at the completion of round one I'll be back later today with that. I suspect that won't be feasible so, failing that, I'll return in the morning when hopefully things will be clearer.
Pre-Event Selection:
In-Play Picks:
Dustin Johnson @ 7.413/2
Tommy Fleetwood @ 40.039/1
Dustin Johnson layed @ 1.9210/11
Dylan Frittelli @ 50.049/1
Find Me a 100 Winner Selections:
Back Paul Casey 2u @ 110.0109/1
Place order to lay 10u @ 10.09/1
Back Paul Casey 3u Top-20 @ 3.55/2
Back Ian Poulter 1u @ 300.0299/1
Place order to lay 10u @ 16.015/1
Back Cameron Smith 1u @ 140.0139/1
Place order to lay 10u @ 10.09/1
Side Market Bets:
Berndt Wiesberger - Top 40 Finish @ 11/8
Hole In One on Sunday @ 6/4
Phil Mickelson - Top Lefty @ 9/4
Cameron Smith - Top Australian @ 3/1
#OddsOnThat - D Johnson Top 10 Finish, R McIlroy & T Finau Top 20 Finish (inc. ties) and D Willett & G Woodland both to Miss the Cut @30/1
*You can follow me on Twitter @SteveThePunter

New on Betting.Betfair – Betslip
You can now bet without leaving Betting.Betfair with our brand new on-site betslip for Exchange markets. You'll see the Exchange back and lay prices at the end of articles - simply login and place your bets as you would do on the main Exchange site
Discover the latest articles
Read past articles