The Punter's In-Play Blog: Talented leader vulnerable in Texas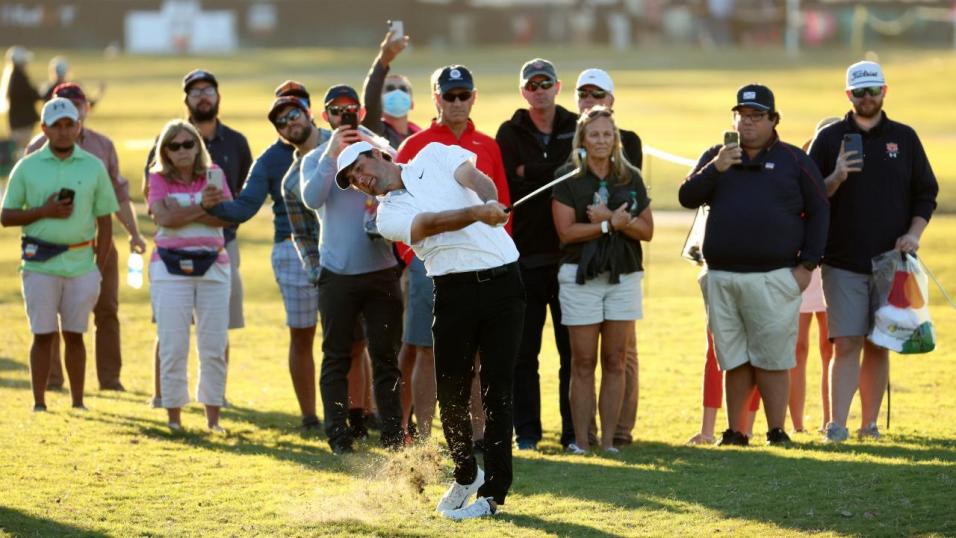 Scottie Scheffler in action during the third round in Texas
World number 21, Scottie Scheffler, has put himself in pole position to win for the first time on the PGA Tour at the Houston Open but is he value to do so at less than 5/2?
"I've not seen any evidence yet to suggest that Scheffler's someone to go to war with at odds-of less than 5/2 with such a narrow advantage."
10:40 - November 14, 2021
They've finally caught up in Texas after Thursday's weather delay and Scottie Scheffler shows the way. Here's the Houston Open 54-hole leaderboard with prices to back at 10:30.
Scottie Scheffler -7 3.412/5
Matthew Wolff -6 6.86/1
Jhonattan Vegas -6 9.89/1
Kramer Hickok -6 17.016/1
Kevin Tway -6 20.019/1
Martin Trainer -6 34.033/1
Jason Kokrak -5 14.013/1
Russell Henley -5 16.015/1
Luke List -5 23.022/1
Marc Leishman -4 30.029/1
Adam Long -4 55.054/1
Adam Schenk -4 60.059/1
Vincent Whaley -4 70.069/1
-3 and 80.079/1 bar
Having watched the third round of the Dubai Championship yesterday morning, observing the third round of the Houston Open last night was almost like viewing a different sport.
Every hole is a birdie chance at the Fire Course in Dubai, and we're heading for a winning score in the mid-20s under-par, but having dried out after Thursday's rain, every hole at Memorial Park is thwart with danger and the greens are rapid.
Scheffler leads on -7, thanks largely to a super-low 62 in round two before the course dried out, but he looks vulnerable given the conditions and given he's in search of his first title.
It's surely only a matter of time before the ridiculously gifted Ryder Cupper gets off the mark and playing in his home state clearly inspires him (finished runner-up at the WGC Match Play in Austin in March) but I've not seen any evidence yet to suggest he's someone to go to war with at odds-of less than 5/2 with such a narrow advantage.
There have been numerous occasions when he's threatened to follow up his two Korn Ferry Tour successes with a win on the PGA Tour and he put in a charge in round four in Mexico only last week (matched at a low of 6.05/1) but so far, it's eluded him. On such a congested leaderboard, with conditions still likely to be tough, even though the wind is forecasted to be much kinder today, I'm more than happy to swerve him.
Matthew Wolff is Scheffler's biggest danger according to the market and he'll be kicking himself that he's not going into round four in front. He was on a roll towards the end of the third round but following birdies at 13, 14 and 16, instead of going for the green on the drivable par four 17th, he laid up off the tee with an iron and found water with his approach from 130 yards out, leading to a double-bogey six!
The three-time PGA Tour winner, Jhonattan Vegas, who also trails by a stroke is the only other player trading at a single-figure price, but it's four years since he tasted success and the one I prefer at this stage is the man that headed the market this time yesterday - Jason Kokrak.
With still seven holes to play of his second round, and trailing by two strokes, Kokrak was trading at 5.95/1 overnight but he performed deplorably on return, playing those seven holes in seven-over-par! If he'd have thrown the towel in and drifted out of contention it would have been totally understandable, but he collected himself and shot four-under-par in round three. A score only bettered by Vincent Whaley.
Now trailing by just two, and clearly playing well, apart from yesterday morning's bizarre spell, I thought he was fairly-priced at 14.013/1. It took Kokrak 233 starts to get off the mark but the 36 year-old is a perfect example of a late bloomer after winning the CJ Cup just over a year ago and having won the Charles Schwab Challenge in Texas at the end of May, he's now in search of his third win in 29 starts.
The stats that came to the fore 12 months ago when Memorial Park was used for the first time in the modern era were Scrambling and Strokes Gained Tee-to-Green so the fact that Kramer Hickock ranks second for both metrics after three rounds is a positive for last year's unlucky loser at the Travelers Championship.
Kokrak and Hickock are both sporting alternatives to the market leaders but given how tough the course is playing, it would be no surprise to see an off the pace winner. The tournament is wide-open and chancing a chaser or two at huge odds could prove to be a good tactic so in addition to backing Kokrak and Hickock, I'm also happy to throw a few pounds at Cameron Tringale at a big price. Yet to win on the PGA Tour, and flaky in-contention, the talented Tringale will be much better suited to chasing (trails by four).
I'll be back tomorrow with the De-Brief.
18:30 - November 13, 2021
The Halfway leader and defending champion at the Dubai Championship, Antoine Rozner, stretched his lead to three with this brilliant eagle two at the third hole today.
Hole-out eagle @AntoineRozner!

Now leads by three.#AvivDubaiChampionship pic.twitter.com/KgBc0Ggjcn

? The European Tour (@EuropeanTour) November 13, 2021
The Frenchman was matched at a low of 2.245/4 but he gave both strokes back at the par five fifth and he finished the day trailing by a stroke, with the two players tied for second at halfway, JB Hansen and Francesco Laporta, easing past him with matching five-under-par 67s. Here's the 54-hole leaderboard with prices to back at 18:20.
J.B Hansen -19 4.1
Francesco Laporta -19 4.67/2
Antoine Rozner -18 5.95/1
Kalle Samooja -17 14.013/1
Tommy Fleetwood -16 11.521/2
Min Woo Lee -16 12.5
Bernd Wiesberger -15 25.024/1
Martin Kaymer -15 46.045/1
Jazz Janewattananond -15 65.064/1
-14 and 60.059/1 bar
Yet again, making headway in a low scoring desert golf event has proven difficult.
The first six with a round to go here were all inside the top-11 places and within four of the lead after round one and one of my two halfway plays, Min Woo Lee, is the only player currently inside the top-six that wasn't inside the top-five and ties after two rounds. He began round three in a tie for 11th and five off the lead. He's made up a few places, but he still trails by five.
When the scoring is as good as it is here, you must go super-low to make headway and/or receive help from the leaders.
Rozner sat tied for fifth, trailing by four, with a round to go last year when he won, and he shot an impressive eight-under-par 64 to win by two but he needed a bit of help.
The third-round leader, Andy Sullivan, finished poorly after trading at long odds-on and Matt Wallace, who began the final day sitting in second, two behind Sullivan, started the final round slowly, playing the first 11 holes in one-over-par. Like Sullivan, Ross Fisher, who began the day in third, failed to break 70, when the scoring average for the field was only 69.67, and the chasers will need the front four to stutter in much the same manner tomorrow.
I'm not so keen on the chances of Kalle Samooja in fourth. He's yet to win on the European Tour and he hasn't been brilliant in-contention, but it's very hard to separate the front three.
JB Hansen described his tee-to-green game today as "the best I've ever played" and if he'd have rolled a few more putts in today he'd be clear at the top. He's a winner on the European Tour, having won the Joburg Open almost exactly a year ago so he has that experience to pull on, whereas Matt Cooper's each-way fancy, Francesco Laporta, is yet to taste victory on the ET.
Rozner followed last year's victory with a win at the Qatar Masters and if forced to pick one of the front three at the prices, he'd be the one but defending a title is tough and that has to be taken into account.
Tommy Fleetwood started poorly today (as he did on Friday) but he rallied nicely and he must be a big danger. I may look to play him in-running if he starts slowly for the third day in-a-row as he's pretty good on the back nine. He's improved his score every day on holes 10-18, shooting 32, 31 and 30. If he's within touching distance, he could be worth backing as he makes the turn tomorrow at a juicy price, but other than that, I'm happy to sit on my hands for now.
My two in-play picks, Min Woo Lee and Bernd Wiesberger, are both close enough and they're certainly good enough if they get hot but I fancy one of the leading three will probably do enough.
10:20 - November 13, 2021
After the lengthy weather delay on day one, the second round of the Houston Open is still ongoing so it's not an easy event to assess this morning. Here's the latest standings with prices to back at 10:10 and holes played in round two where relevant.
Martin Trainer -10 16.5
Kevin Tway -9 11.521/2
Jason Kokrak -8 5.95/1 (Thru 11)
Adam Long -7 17.016/1
Scottie Scheffler -6 6.86/1
Adam Schenk -6 28.027/1
Kramer Hickok -6 36.035/1
-5 and 17.016/1 bar
Martin Trainer might be being overlooked here. The current leader has already won on the Latinamerica Tour, twice on the Korn Ferry Tour and once on the PGA Tour and 16.5 could be a little insulting.
He won the Puerto Rico Open nicely two years ago with a closing 67 to go from two behind with a round to go to three clear and he won the Price Cutter Charity Championship on the Korn Ferry Tour from the front in 2018, four months after winning the El Bosque Mexico Championship on the KF Tour.
Jason Kokrak heads the market and if he finishes off his second round nicely, he'll shortened up again but I'm more than happy to serve him and see what happens. I fancy the market is assuming progress and I'm not convinced there'll be any.
Having hit a high of

110.0

109/1

after a slow start, Ryder Cupper Scottie Scheffler has put himself in the frame with an excellent eight-under-par 62 in round two but he's yet to win on the PGA Tour and given he trails by four, he too looks too short.
This is a strange tournament and one I'm quite wary of. As many as five players are trading at less than 30.029/1, despite trailing by at least five strokes, and I'm happy to remain cautious. I've had a tiny bet on the leader at 16.5 but other than that, I'm happy to wait and see how things pan out today.
I'll be back later with a look at the Dubai Championship after three rounds.
16:20 - November 12, 2021
After a two and a half-hour weather delay on day one, Thursday afternoon's starters had to return to the course this morning to finish up their opening rounds at the Houston Open and they've only just finished so I'm going to leave the event alone for now.
There were no such issues in Dubai, where we've reached the halfway stage of the Dubai Championship on the European Tour, and the defending champ, Antoine Rozner, has hit the front. Here's the 36-hole leaderboard with prices to back at 16:10.
Antoine Rozner -15 5.49/2
J.B Hansen -14 7.613/2
Francesco Laporta -14 10.09/1
Kalle Samooja -13 18.017/1
Tommy Fleetwood -12 7.26/1
Paul Waring -12 36.035/1
Bernd Wiesberger -11 13.5
Dean Burmester -11 17.5
Sean Crocker -11 29.028/1
Robin Roussel -11 140.0139/1
Min Woo Lee -10 28.027/1
Sam Horsfield -10 36.035/1
-10 and 55.054/1 bar
I was quite tempted by the defending champ and halfway leader, Rozner. He's playing nicely and he's talking a good game too.
"Stay aggressive is the mindset, you have be aggressive over and over. I did that really well last year, obviously I can use that experience from last year and that's helping me."
Given he's no bigger than 7/2 on the High Street, odds of 5.49/2 are more than fair on the exchange but two things put me off - the fact that he's defending and the decidedly poor record of one-stroke 36-hole leaders on the European Tour of late.
Although we witnessed Viktor Hovland successfully defending in Mexico on the PGA Tour last week, it's not easy to do and he was the first to do so on that Tour since Brooks Koepka had gone back-to-back at the USPGA Championship in 2018 and 2019. Here on the European Tour, Bernd Wiesberger successfully defended the Made In Denmark title in May but that was slightly easier than a normal defence as the tournament wasn't staged last year and winning the same tournament twice in-a-row is rare.
Since the start of the century, single stroke 36-hole leaders have slightly better than a one in four strike rate on the European Tour but only one of the last 12 to lead by one at this stage have gone on to win (Kristoffer Broberg at the Dutch Open in September).
Despite those negatives, given how hard it is to make up ground in benign conditions in low scoring events, I wouldn't want to put anyone off the Frenchman, and given the strength of his immediate challengers, he's the one I like best of those positioned inside the top-six. We should probably be concentrating on the leading pack, but I can't get enthused about any of them.
Sitting tied for second and just one off the lead, the first-round leader, JB Hansen, looks short enough. He's yet to make a bogey this week and having won almost exactly a year ago at the Joburg Open, he does know how to get the job done on the European Tour, but he's not for me.
Matt Cooper's each-way pick, Francesco Laporta, has picked up from where he left off last week and he's alongside Hansen but I'm not convinced he's a great price now given he's still looking to get off the mark on the European Tour.
Alone in fourth, Kalle Samooja finished brilliantly today, birdying seven of his last eight holes but the 33-year-old Finn is also in search of that illusive first victory and he looks opposable.
Fleetwood is too short given his propensity to give up chance after chance and it takes a huge leap of faith to imagine Paul Waring winning given what's at stake. The 36-year old Englishman, who won the Nordea Masters three years ago, needs to win here to keep his playing privileges. That's pressure.
Rozner was four off the pace at this stage when he won here 12 months ago so the group sitting tied for seventh are certainly not out of it and the one I like is the prolific Austrian, Wiesberger. He threw away the European Masters with the pressure of Ryder Cup inclusion on the line in August but he's in search of his ninth title in as many years on Tour and he's a huge danger if the front lot faff about.
I've also thrown a few pounds at Min Woo Lee, who trails by five. He was in a similar position at this stage last week in Portugal before a poor third round put pay to his chances so I'm backing the Scottish Open winner in the hope that lightning doesn't strike twice.
I'll be back tomorrow with a look a the Houston Open at (hopefully) the halfway stage.
17:35 - November 11, 2021

After a two and half hour delay due to the threat of thunder in Texas, the first round of the Houston Open (previewed here) is now underway. But they're off and running without the defending champion, Carlos Ortiz, who's withdrawn before the start with a shoulder injury.

The course is playing soft after the early morning rain but it's holding up ok so far and at the time of writing, only 20 of the 66 players out on the course are under-par, with the 2017 winner, Russell Henley, showing the way alongside Talor Gooch on -3.
Over on the European Tour, Denmark's J.B Hansen shows the way at the Dubai Championship (previewed here) after a nine-under-par 63.
Last year's Joburg Open winner leads by two and if he goes on to win, he'll be doubling his European Tour tally almost a year to the day after he finally got off the mark at the age of 30.
Hansen leads by two over a bunch of four on -7, including last year's first and second, Antoine Rozner and Andy Sullivan, but the only player tied for second that began their opening round in the afternoon is England's Paul Waring.
The early starters enjoyed an advantage of a fraction over one stroke (1.02) but with the forecast suggesting the wind will rise slightly in the afternoon tomorrow, just as it did today, I suspect the draw will even itself out.
There's been money for Tommy Fleetwood after the round and I was tempted by him at 12.5 after his six-under-par 66 this morning but he's very hard to get across the line and I'm happy to leave him alone at two points shorter.
Hansen heads the market at

9.6

17/2

, demonstrating just how wide open the tournament is, and I'm more than happy to hang fire for now and see what tomorrow brings.
Dubai Championship Pre-Event Selections:
Sam Horsfield @ 38.037/1
Guido Migliozzi @ 70.069/1
Lucas Bjerregaard @ 80.079/1
In-Play Picks:
Bernd Wiesberger @ 13.5
Min Woo Lee @ 29.028/1
Houston Open Pre-Event Selections:
Sam Burns @ 20.019/1
Sungjae Im @ 29.028/1
In-Play Picks:
Martin Trainer @ 16.5
Jason Kokrak @ 14.013/1
Kramer Hickock @ 17.016/1
Cameron Tringale @ 80.079/1
Find Me a 100 Winner Selections:
Dubai Championship
Back 1.5 u Kristoffer Broberg @ 140.0139/1
Place order to lay 8u @ 10.09/1 & 10u @ 2.01/1
Houston Open
Back 1 ½ u Danny Willett @ 220.0219/1
Place order to lay 10u @ 10.09/1 & 10u @ 2.01/1
Back 1.5 u James Hahn @ 250.0249/1
Place order to lay 10u @ 10.09/1 & 10u @ 2.01/1
*You can follow me on Twitter @SteveThePunter
Discover the latest articles
Read past articles