The Punter's In-Play Blog: Meronk clinging on at Leopard Creek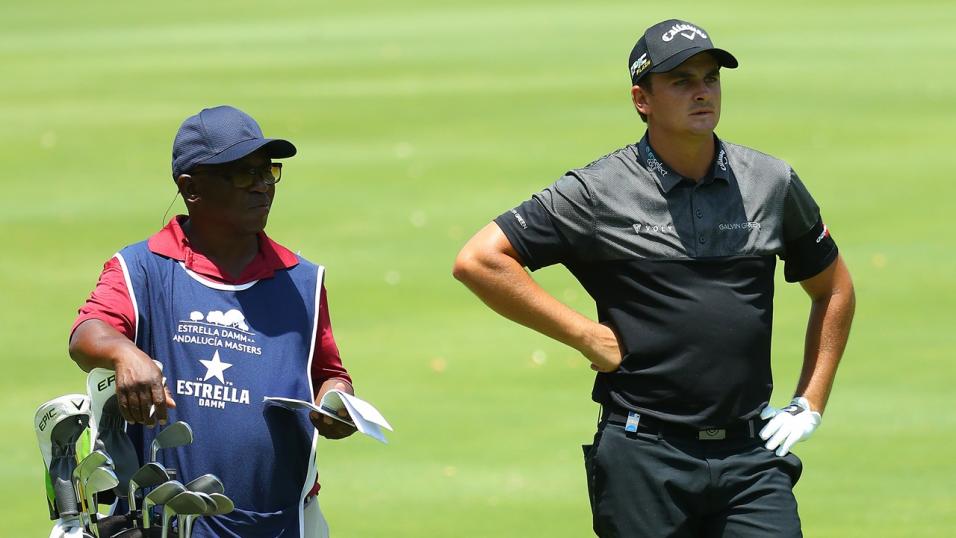 Christiaan Bezeidenhout - a big danger at Leopard Creek
Poland's Adrian Meronk still leads the Alfred Dunhill Championship but only by a stroke. Can he hang on tomorrow for a momentous victory?
"Looking at all 19 tournaments, four strokes is the most any winner has trailed by with a round to go and eight of the last ten winners were in front after three rounds. The two exceptions sat second and only one off the lead."
18:30 - November 28, 2020
After a dramatic second round at the Alfred Dunhill Championship at Leopard Creek, first and second leader, Adrian Meronk, still shows the way. Here's the 54-hole leaderboard with prices to back at 18:20.
Adrian Meronk -14 3.55/2
Jayden Trey Schaper -13 3.953/1
Christiaan Bezuidenhout -11 4.84/1
Adri Arnaus -10 12.011/1
Sean Crocker -10 18.5
JB Hansen -9 25.024/1
Calum Hill -9 36.035/1
-8 and 65.064/1 bar
Meronk was slow out of the traps today, playing the first four holes in two-over par, as last week's winner, JB Hansen, raced to three-under-par through six to lead by two. It was quite a turnaround and the Dane was matched at just 2.0421/20 as he threatened to build a healthy lead but a bogey at the tough eighth halted progress before an out-and-out disaster at the par four 11th saw Meronk back in front.
With the tee-up, the 11th hole was drivable today but Hansen hit a poor tee into the bush, way right of the green. He then hit an equally poor provisional left, that also found the rubbish, but when they found the first ball, it looked like he'd had a tremendous break. After taking a penalty drop Hansen played his third from the edge of someone's garden but instead of playing over the scrub and up on to the green, he duffed his shot completely, back into the bush! The catastrophe finally ended when he missed a short putt for a triple-bogey seven.
Meronk, who had picked up his first birdie of the day at the 10th, rolled in a lengthy birdie putt at the 11th while Hansen was having his meltdown so we witnessed a five-shot swing in one hole!
The Pole then hit a low of 2.226/5 as he made birdie at the par five 13th but he parred his way in after that and the big movers on the back-nine were the South African pairing of Christiaan Bezuidenhout and Jayden Trey Schaper. Bezuidenhout played the last eight holes in five-under-par and the 19-year sensation, Schaper, played the last four holes in four-under to set up a fascinating final round.
If Hansen's going to bounce back tomorrow and win his second event in-a-row, he's going to have to defy stats that really favour the leaders. Since 2001 (including four editions of the South Africa Tour Championship) we've had 19 different stroke play events at Leopard Creek and only one winner, Alvaro Quiros in 2006, has won from outside the front three places.
Looking at all 19 tournaments, four strokes is the most any winner has trailed by with a round to go and eight of the last ten winners were in front after three rounds. The two exceptions sat second and only one off the lead. Leopard Creek really does seem to suit the frontrunners.
It's clearly not that simple and with such an inexperienced pair in front, Bezuidenhout, who trails by three, looks a huge danger. Meronk has been in front a long while now and while he didn't do an awful lot wrong today, he certainly looks vulnerable.
Today was the first time I got to have a really good look at young Schaper and it was impossible not to be impressed. He's only small but he whacks it a country mile off the tee. And it's nearly always straight. He also putts beautifully and clearly has a huge future ahead of him but how will he react to playing in the final group on a Sunday? He admitted to being nervous on the range before play today so there's a chance he could get shaky tomorrow but it's impossible to know.
I'm going to have my fingers crossed for Meronk and that pre-event pick, Adri Arnaus, can get involved from four strokes back. I'm also going to hope Bezuidenhout starts slowly as he's the one I fear the most but from three back, he doesn't quite look worth siding with at less than 4/1.
With thunder in the forecast, play has been moved forward considerably and the leaders now tee-off at 6:15 UK time. Sky go live at seven.
20:10 - November 27, 2020
The second round of the Alfred Dunhill Championship at Leopard Creek hasn't quite finished, with bad light stopping play, but all the contenders are done and dusted so here's the leaderboard with prices to back at 20:05.
Adrian Meronk -13 3.9
JB Hansen -10 5.49/2
Richard Bland -10 8.88/1
Jayden Trey Shapher -8 17.016/1
Robin Roussel -8 40.039/1
Christiaan Bezuidenhout -7 9.08/1
Adri Arnous -7 17.016/1
Scott Jamieson -7 20.019/1
-6 and 32.031/1 bar
Overnight rain took the sting out of Leopard Creek and last week's winner, JB Hansen, raced to the clubhouse lead this morning, courtesy of an eight-under-par 64. The 30-year-old Dane was matched at a low of 4.1 after his round but he drifted out steadily throughout the afternoon as Adrian Meronk caught and past him.
The 27-year-old, who's the first Pole to play on the European Tour, has already been matched at a low of 2.68/5 but a bogey six at the par five finishing hole just took the sheen of what was a fabulous knock. The question is now, can he push on and become the first Pole to win on the European Tour? The stats certainly suggest he can...
There have been 19 72-hole tournaments staged at Leopard Creek since 2001 and only one winner, Garth Mulroy, in this event in 2011, who trailed by six, has been more than four strokes adrift at this stage and the seven winners since have all been in front.
The market suggests that pre-event picks, Adri Arnous and Wilco Nienaber, who trail by six and eight strokes respectively, are still in with a fair chance of winning but the stats suggest otherwise. As many as 15 winners have been inside the top-four places at this stage and 16 of the 19 were within just three strokes of the lead at halfway. Leopard Creek is not a course for off the pace winners and I'm happy to be onboard the leader.
If I wasn't already on Meronk, I'd be happy to take almost 3/1 but as I have already got him covered, I've now added Hansen to the portfolio at 5.39/2. There's a chance that the Dane's hot streak will come to a thundering halt at some point over the weekend and he must be running on adrenalin to some degree but he's clearly the biggest danger to Meronk.
19:10 - November 26, 2020
The first round of the Alfred Dunhill Championship at Leopard Creek has concluded so here's the 18-hole leaderboard with prices to back at 19:00.
Adrian Meronk -7 14.5
Robin Roussel -7 28.027/1
Scott Jamieson -6 10.09/1
Richard Bland -5 22.021/1
Gavin Green -4 21.020/1
Sebastian Garcia Rodriguez -4 100.099/1
Ockie Strydom -4 160.0159/1
Christiaan Bezuidenhout -3 11.010/1
-3 and 22.021/1 bar
After a score change on the 17th hole, from a bogey to a par, one of many score changes witnessed today, Christiaan Bezuidenhout is just headed in the market by Scott Jamieson, despite trailing by four after the opening round.
Bezuidenhout is in a large group of 16 players tied for eighth place that includes both of my Find Me a 100 Winner picks, David Horsey and Steven Brown, as well as Masahiro Kawamura, who was an honorary mention only, as he wasn't quite a big enough price to be a selection.
The well-supported pre-event favourite, Brandon Stone, is alongside one of my pre-event picks, Wilco Nienaber, in a tie for 35th on -1 and six off the lead, but the stats suggests they've both got their work cut out already...
As highlighted in the In-Play Tactics section of the preview, a fast start at Leopard Creek has been essential of late and six of the last seven winners were inside the top-four places after day one.
I've backed the two leaders, Adrian Meronk and Robin Roussel, modestly but the stats suggest they may be up against it too. Branden Grace, who won wire-to-wire in 2014, is the only first round leader to win here.
Both leaders are in search of their first European Tour titles but both tasted victory on the Challenge Tour last year so they're not complete novices and I prefer to back them than the two men immediately behind them on the leaderboard.
Scott Jamieson was a great shout by Dave Tindall in his First Round Leader column and Richard Bland is in cracking form but neither are players to go to war with over 72 holes. Jamieson has a great record in South Africa and his sole success came in the now defunct Nelson Mandela Championship there eight years ago but that was over only 36 holes after the event was badly affected by rain and Bland is yet to win anywhere.
None of the three players tied for fifth make any appeal so I'm just going to go with the front two and see what tomorrow brings.

Pre-Event Selections:
Wilco Nienaber @ 29.028/1
Adri Arnous @ 46.045/1 (added after the preview first published)
Jorge Campillo @ 65.064/1
Pablo Larrazabal @ 75.074/1
Find Me a 100 Winner picks:
Back David Horsey 1u @ 150.0149/1
Place order to lay 8u @ 10.09/1 & 10u @ 2.01/1
Back Steven Brown 1u @ 180.0179/1
Place order to lay 8u @ 12.011/1 & 10u @ 2.56/4
In-Play Picks:
Adrian Meronk @ 16.015/1
Robin Roussel @ 30.029/1
JB Hansen @ 5.39/2
*You can follow me on Twitter @SteveThePunter
New on Betting.Betfair – Betslip
You can now bet without leaving Betting.Betfair with our brand new on-site betslip for Exchange markets. You'll see the Exchange back and lay prices at the end of articles - simply login and place your bets as you would do on the main Exchange site