The Punter's In-Play Blog: Wallace looks home and hosed in Scotland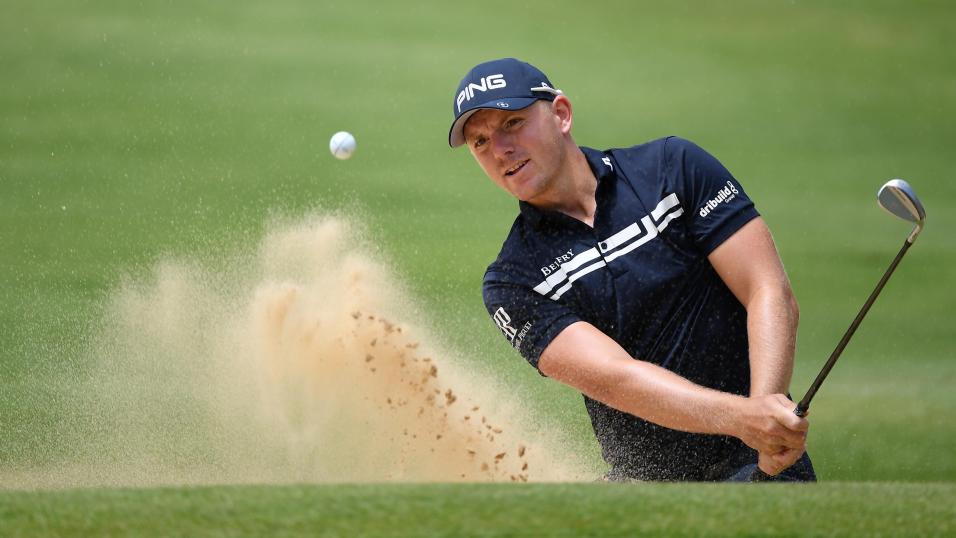 Matt Wallace - three clear at the Scottish Championship
Matt Wallace is three shots clear at the Scottish Championship and Russell Henley leads the CJ Cup by three. Both are hard to oppose according to Steve...
"Since 1996, 125 players have led a 72-hole European Tour event by three strokes and 87 of them went on to win. That equates to an impressive 70% and I can see Wallace making it 88 from 126."
9:15 - October 18, 2020
Matt Wallace has shot three strokes clear through 54 holes at the Scottish Championship and Russell Hanley holds the same advantage with a round to go at the CJ Cup. Here are the two leaderboards with prices to back at 9:00.
Matt Wallace -18 1.444/9
Garrick Porteous -15 12.011/1
Adrian Otaegui -14 12.5
Sean Crocker -13 26.025/1
Eddie Pepperell -12 26.025/1
Chris Paisley -12 60.059/1
Jonathan Caldwell -12 85.084/1
Aaron Rai -11 65.064/1
Adrien Saddier -11 180.0179/1
-10 and 200.0199/1 bar
Russell Henley -15 2.915/8
Xander Schauffele -12 4.94/1
Jason Kokrak -12 12.011/1
Lanto Griffin -12 16.015/1
Talor Gooch -12 18.017/1
Justin Thomas -10 12.011/1
Tyrrell Hatton -10 20.019/1
Jason Day -10 28.027/1
Colin Morikawa -9 46.045/1
-8 and 60.059/1 bar
Since 1996, 125 players have led a 72-hole European Tour event by three strokes and 87 of them went on to win. That equates to an impressive 70% and I can see Wallace making it 88 from 126.
Wallace doesn't have a brilliant record when leading or tied for the lead through three rounds. He led the Kenya Open on the Challenge Tour by a stroke back in 2017 but finished fourth behind Aaron Rai and he's led or been tied for the lead five times previously on the European Tour. He's converted the lead only twice.
Wallace won the Open De Portugal in 2017 by three strokes, having led by three with a round to go, and he won the Indian Open in a playoff, having been tied for the lead through 54 holes so he's certainly capable of getting the job done here and I wouldn't want to lay him given the pedigrees of his closest challengers...
Garrick Porteous won on the Challenge Tour three years ago but at 30, he's still looking to win for the first time on the European Tour and as stated yesterday, Adrian Otaegui is a two-time winner on the European Tour but he won the Paul Lawrie Match Play in 2017 and the Belgian knockout in 2018. They're two, now defunct, match play events, so he's still yet to win a stroke play tournament on the European Tour either.
Alone in fourth, 24-year-old American, Sean Crocker, is in search of his first tournament win and it's very hard to look passed the leader.
The three-stroke leader at the CJ Cup, is trading at a significantly bigger price than Wallace but it makes sense. Since 1996, 123 players have led a 72-hole PGA Tour event by three strokes and only 64 of them went on to win. In contrast to the European Tour, where the percentage of players successfully converting a three-stroke lead, equates to 70%, only 52% of the three-stroke leaders have gone on to win on the PGA Tour and the last two were both beaten.
Wallace was also the pre-tournament favourite in Scotland, whereas Henley began the CJ Cup trading at 140.0139/1, having been matched at a high of 170.0169/1. And where Wallace is being chased down by a group of players yet to win on the European Tour, Henley has the halfway leader and world number eight, Xander Schauffele in his wing mirror.
Henley has a fair record when leading or when tied for the lead through 54 holes. He converted two of three leads on the Korn Ferry Tour and this is the third time he's been in front on the PGA Tour with a round to go. He won the Sony Open by three, having been tied for the lead back in 2013 and a year later he was second at the Dell Technologies Championship, having led by a stroke through 54 holes. He's been drifting all morning and isn't far off 2/1 now and that looks big enough.
Schauffele is very much the big name amongst the four players tied for second but the one I quite like is Lanto Griffin. He won the Houston Open impressively last year and he looks a fair price at around 16.015/1 but I'm reluctant to get any further involved having seen very little of the event.
As always, I'll be watching the final rounds and looking to trade them if opportunities arise but after yesterday's awful in-play picks I'm going to leave both events alone for now. Pre-event picks, Eddie Pepperell and Jason Day still have very slight chances to win their respective events so I'll just cheer them on for now and I'll be back tomorrow with the De-brief.
8:15 - October 17, 2020
A sensational second round 64 has seen Xander Schauffele go three strokes clear of the field in the CJ Cup. Here's the 36-hole leaderboard with prices to back at 8:05.
Xander Schauffele -14 1.9420/21
Tyrrell Hatton -11 5.69/2
Russell Henley -10 17.5
Talor Gooch -9 46.045/1
Colin Morikawa -8 13.012/1
Jason Kokrak -8 44.043/1
Matthew Fitzpatrick -7 46.045/1
Justin Thomas -6 24.023/1
Hideki Matsuyama -6 46.045/1
-6 and 60.059/1 bar
Having already hit a low of 1.8810/11, Schauffele now trades at a shade of odds-on with two rounds still to play and that looks too short to me. The winning line is still a long way away and since 1996, 75 players have led a 72 hole stroke play event by three strokes and only 28 (37%) went on to win.
This is also the fourth time that Schauffele has led or co-led a PGA Tour event at halfway and he's nought from three so far, with all four of his PGA Tour titles to date coming from off the pace.
Laying the odds-on about Schauffele is the right thing to do given those stats but instead, I'm going to back the man in second, Tyrrell Hatton.
Once again, I've been guilty of overestimating the effects of fatigue re transatlantic travel and Hatton did OK yesterday when I thought he might be exhausted. He made three bogeys on the back-nine but following his opening 65, his four-under-par 68 in round two to keep him within three of Schauffele was an admirable effort and he's the big danger to the leader.
There are similarities to last week's win at Wentworth for Hatton too. He led there after round one before being passed by Matthew Fitzpatrick (again in-contention here) and Shane Lowry in round two but he kicked on again to win in style and given how well he's playing, I can see him doing it again.
Hatton looked a very fair price at 5.79/2 this morning and I've also had a small double on the Sportsbook with him and Aaron Rai. Both are being offered up at the industry-best of 4/1 and for the more cautious, with four places up for grabs, that looks a great each-way double. There's an obvious risk with both that fatigue and/or mental tiredness could kick in given both have recently won (last week for Hatton and two weeks ago for Rai) but both placing in the top-four at least looks highly likely.
20:15 - October 16, 2020
The Scottish Championship has reached the halfway stage. Here's the 36-hole leaderboard with prices to back at 20:00.
Matt Wallace -12 3.39/4
Adrian Otaegui -12 6.411/2
Aaron Rai -11 5.39/2
Adrien Saddier -10 25.024/1
Paul Waring -9 17.016/1
Padraig Harrington -9 23.022/1
Garrick Porteous -9 55.054/1
-8 and 32.031/1 bar
This is the sixth time that Wallace has led or been tied for the lead at halfway on the European Tour and his record isn't spectacular. He was five clear at the Open de Portugal in 2017 and he went on to win by three. That was the first of his four European Tour victories and he would have been nervous. And although he won easily enough, he shot 73 in round three, having opened up 63-66.
A few months later, he finished fourth at the Italian Open, having been tied for the lead through 36 holes and he led by a stroke at halfway at two events in 2018 and one in 2019, but he was beaten every time. There's a general perception that he's incredibly good in-contention but maybe he isn't as bombproof as most believe? He's still the very worthy favourite here though.
Adrian Otaegui is a two-time winner on the European Tour but he won the Paul Lawrie Match Play in 2017 and the Belgian knockout in 2018. They're two, now defunct, match play events, so he's still yet to win a stroke play tournament and he looks short enough to me given who leads alongside him and who sits alone in third.
Aaron Rai missed the cut last week after a decent start at Wentworth but that came a week after winning his first Rolex Series event - the Scottish Open - so the poor second round was certainly forgivable. This is a very similar test to the one encountered at the Renaissance Club two weeks ago and playing with the confidence that only a win can bring, I thought Rai was a fair price to go in again here at 5.49/2.
Xander Schauffele has started the second round of the CJ Cup in style and he's already been matched at a low of 2.526/4. That's currently live on Sky Sports and I'll take a look at the event in the morning, once they've reached the halfway stage.
11:10 - October 16, 2020
Following his impressive victory at Wentworth last week, even Tyrrell Hatton couldn't quite believe his blistering start to the CJ Cup yesterday and after his course record equalling seven-under-par 65 around Shadow Creek, he leads the CJ Cup by a stroke over Xander Schauffele and Russell Henley.
Hatton began the day by playing his first five holes in five-under-par, thanks in part to this hole out eagle two on the par four 12th.
But did he call backboard?@TyrrellHatton bounces it in from the fairway. #QuickHits pic.twitter.com/1LgtHTPw46

? PGA TOUR (@PGATOUR) October 15, 2020
As well as Hatton played yesterday, unsurprisingly, following Sunday's win and the travel involved to get to Vegas, he said after his round that he was struggling with jetlag and that has to be a worry.
"It's fair to say I'm pretty tired at the moment," Hatton said. "Still struggling a little bit with jet lag. As you can tell by my voice, picked up a little bit of a sore throat on the way over. Today was a long day. Very happy with my score, and I just need to try and get back to the hotel, have a good rest and hopefully sleep better than I did last night."
That's enough to put me off the Englishman and the only one of the market leaders that I was tempted by was Jon Rahm, who improved nicely as the day went on. And it seems there was a reason why...
"I took one week off of golf then tried to practice, but in Arizona most golf courses are overseeded. You can do some ball striking, but putting was challenging, most greens are slow," he said after his five-under-par 67 that sees him sit tied for fourth. "I think that was the hardest thing. That's probably why I missed so many on the front nine, I was so concerned about the speed more than anything. Once I had the feel, made it easier. It's nice to come back from a little break and put a solid round like today."
I was tempted by Rahm but looking at his wins, he usually creeps into events before pouncing on a Sunday and his record when within two of the lead after the opening day is surprisingly poor. Of his 11 wins to date on the European and PGA Tours, he's only been within two strokes after round one three times and on the last ten occasions he's led or been within two strokes he's not gone on to win. He's only broken 70 in round two on two of those ten occasions and that's certainly off-putting.
It's extremely unusual for me to get involved in three-ball betting as I find the research too time consuming but given those Rahm stats and the possibility of Tyrrell being tired, I've backed the other player in their three-ball, at an industry-best 13/5 with the Sportsbook.
Matthew Wolff, who was one of my pre-event picks, was bloody awful yesterday, shooting 80, and there's obvious a risk that he downs tools completely but given there's no cut in the CJ Cup, his aim must surely be a respectable finishing position. The tournament has gone now so he may just play with freedom today and I thought he was worth chancing.
I'm not in any hurry to get involved here. I'm not going to see much of the tournament tonight or tomorrow night so I'm happy to keep the majority of my powder dry for now but I did think Tyler Duncan was too big at 80.079/1.
His sole success to date came in the RSM Classic last November around another Tom Fazio designed course and he's no bigger than 50/1 on the High Street. He sits alongside Rahm in a tie for fourth.
Over at the Scottish Championship, I have now backed Brandon Stone this morning at 26.025/1, after Matt Wallace started slowly, but I may have jumped the gun. Wallace has just made back-to-back birdies to tie the lead and what he does for the remainder of his round will shape the market. I'll be back this evening with a look at that one at halfway.
19:30 - October 15, 2020
There wasn't a big differential between the AM-PM scores at the Scottish Championship today, with the afternoon starters averaging just 0.24 strokes less than those that began their rounds in the morning, but the scoring wasn't great first thing when the weather was at its coldest.
As the day warmed up fractionally, so did the scoring, but the chilly start didn't stop Adrian Otaegui. Playing in the second three-ball off the first tee, at 8:10, the Spaniard set off like a scolded cat, with birdies at his first three holes. He added another at the seventh to make the turn in four-under-par before ripping up the back-nine in six-under.
Otaegui's ten-under-par 62 was the best of the day by three strokes but the pre-event favourite, Matt Wallace, who began his opening round after lunch, looked like catching the Spaniard when he began his first round even faster.
Like Otaegui, Wallace birdied the first three holes but he also added an eagle at six and a birdie at eight. At six-under with still ten to play, he looked like he might finish the day in front but he picked up just one more stroke to end the day alongside South Africa's Bryce Easton in a tie for second.
Wallace and Otaegui dominate the market but it looks like a tournament to treat with caution. The likes of Aaron Rai (-6), Lee Westwood (-5) and pre-event pick, Eddie Pepperell (-4), have all started fairly well.
I'm tempted to back Brandon Stone at 25.024/1, who sits alongside Westwood and my other pre-event pick, Marc Warren, on -5 but I'm happy to wait and see what tomorrow brings.
Over at the CJ Cup, one of my pre-event picks, the favourite, Dustin Johnson, withdrew on Tuesday after testing positive for COVID but having sat in for Paul Krishnamurty, I've added a couple more picks via the Find Me a 100 Winner column - Brendon Todd and Shane Lowry.
They've only just started there and Todd has bogeyed two of his first three holes so it's been an inauspicious start to say the least. I'll take a good look at the tournament in the morning and if I get involved in-running I'll update again before round two.
Scottish Championship Pre-Event Selections:
Eddie Pepperell @ 18.017/1
Marc Warren @ 70.069/1
In-Play Picks:
Brandon Stone @ 26.025/1
Aaron Rai @ 5.49/2

CJ Cup Pre-Event Selections:
Matthew Wolff @ 26.025/1
Jason Day @ 90.089/1

In-Play Picks:
Tyler Duncan @ 80.079/1
Tyrrell Hatton @ 5.79/2
Matthew Wolff to win his second round three-ball @ 13/5

Sportsbook Double
Aaron Rai @ 4/1 & Tyrrell Hatton @ 4/1
*You can follow me on Twitter @SteveThePunter
New on Betting.Betfair – Betslip
You can now bet without leaving Betting.Betfair with our brand new on-site betslip for Exchange markets. You'll see the Exchange back and lay prices at the end of articles - simply login and place your bets as you would do on the main Exchange site
Discover the latest articles
Read past articles