PGA Championship 2020: Major form analysis ahead of this week's trip to San Francisco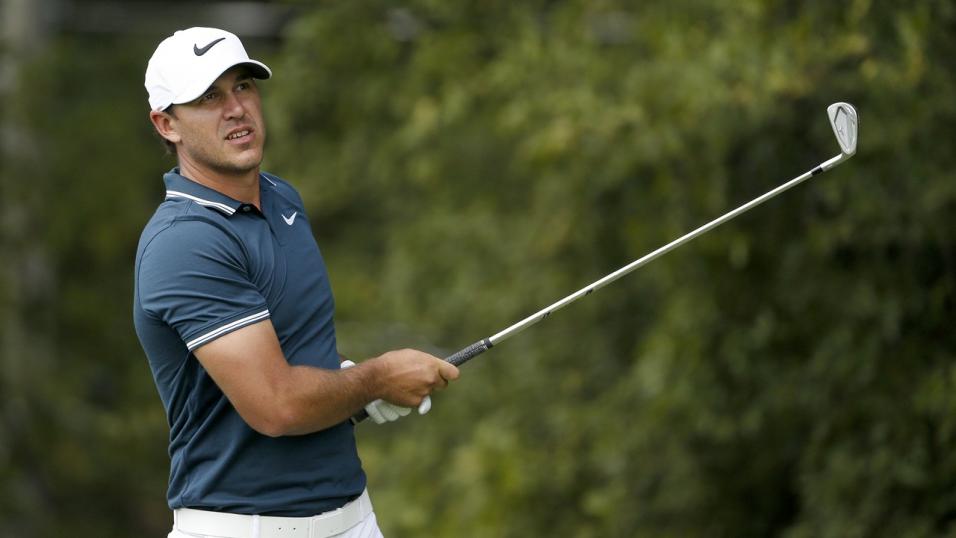 Brooks Koepka: The back in form defending champ seeks PGA milestone
Check out the stats for this week's major championship at TPC Harding Park, compiled by Andy Swales...
"Defending champion Brooks Koepka will once again take centre stage, as he hopes to become the first player during the tournament's strokeplay era to win the PGA three years in a row."
We're off. After the longest wait since the Second World War, the major championship year is finally up and running.
The PGA Championship, which up until recently was always the fourth and final major on the calendar, will this time be the first - and that hasn't happened since 1971.
In fact, this year's US Open and Masters are actually taking place early next season, making the PGA the one and only major tournament of the 2020-21 campaign.
Defending champion Brooks Koepka will once again take centre stage, as he hopes to become the first player during the tournament's strokeplay era to win the PGA three years in a row.
Tiger Woods has twice won the PGA Championship back-to-back, but never completed the hat-trick.
Check out the latest betting ahead of this week's PGA Championship
After winning in 1999 and 2000, Tiger finished in a tie-for-29th, when chasing a third straight title.
Seven years later he was unable to tee-up because of injury, after winning in 2006 and 2007.
The last player to secure three-in-a-row was Walter Hagen, who actually claimed four straight successes from 1924, when the event was matchplay.
So who's taking part at TPC Harding in San Francisco this week?
In the spotlight
Bryson DeChambeau: Has been the in-form golfer of 2020 and, at one stage, posted seven straight top-eight finishes on the PGA Tour. However, the 26-year-old's best major finish so far is a tie-for-15th at the 2016 US Open.
Dustin Johson: Major golf's major underachiever. The former world No 1 has won 21 times on the PGA Tour - including the last 13 in a little over five years - but his sole major success came in June 2016. Ten top-six finishes in the Big Four events for the 36-year-old.
Brooks Koepka: The major man of recent years. He's won four of the last seven majors to be staged on American soil, while finishing second in two others. Quite incredible! After a slow start to the current stop-go season, he suddenly sprung to life in Tennessee last week when he finished in a tie-for second - an ominous sign for his fellow competitors.
Rory McIlroy: His most recent major success arrived on August 10th, 2014. Has struggled since the PGA Tour resumed in early June and last week in Memphis tied-for-47th.
Jon Rahm: It's hard to imagine the burly Spaniard not winning a major, or two, but the first one is usually the hardest. To date has posted three top-10 finishes in the Big Four tournaments.
Under the radar
Jason Day: His form has improved greatly in recent weeks. He arrives in California on the back of a trio of top-eight finishes. Still plays major courses better than most and is currently second in the category for Strokes Gained: Around the Green.
Tommy Fleetwood: Took a longer time than most to return to competitive golf following lockdown. Not expected to win this week which could help him in his chase for a maiden major title.
Chez Reavie: Not a name you'd expect to see in this type of list. However, his last three majors on American soil have all yielded top-15 finishes, so could be worth an each-way punt. Tied-6th on Sunday, following two decent displays at Muirfield Village.
Check out the latest each-way odds for this week's PGA Championship
Jordan Spieth: Despite being off the boil in recent years, still tends to reserve some of his better performances for the majors.
Tiger Woods: By Tiger standards will go into this major championship as 'under the radar.' Chasing a 16th major victory but unlikely to be among the favourites - apart for reasons of sentimentally. Has good memories of TPC Harding Park where he won the WGC-American Express Championship in 2005 and four years later triumphed in all five of his matches at the Presidents Cup. However, just one competitive appearance since mid-February.
Other contenders
Xander Schauffele: Has performed solidly since professional golf resumed in early June. In six outings, he has finished outside the top-25 just once. Has stood on the podium in majors three-times.
Webb Simpson: Has quietly made his way up to No 4 in the world. A winner of the US Open and Players Championship, so he knows all about securing big titles.
Justin Thomas: Back at No 1 following his victory at TPC Southwind on Sunday. But can he join that rare band of players to win back-to-back, with the second win being in a major?
Leading 10 Stroke Averages

For Last 10 American Majors
(PGA Ch`ship 2016 thru US Open 2019)
Avg...(Rounds)
68.92: Brooks Koepka (36)
70.20: Rickie Fowler (40)
70.35: Hideki Matsuyama (40)
70.35: Tiger Woods (20)
70.44: Dustin Johnson (32)
70.59: Justin Thomas(34)
70.61: Jordan Spieth (38)
70.62: Justin Rose (34)
70.68: Patrick Reed (34)
70.78: Jason Day (36)
Min. No. Of Rounds = 18
Leading 10 Average Positions

For Last Five Years In American Majors
(Masters 2015 thru US Open 2019)
Avg...(No. of Majors)
9.00: Brooks Koepka (14)
20.13: Jordan Spieth (15)
21.50: Louis Oosthuizen (14)
23.13: Hideki Matsuyama (15)
24.71: Dustin Johnson (14)
26.86: Chez Reavie (7)
27.92: Justin Thomas (12)
27.93: Jason Day (15)
28.00: Patrick Cantlay (7)
28.40: Justin Rose (15)
Min. No. Of Majors = 6
Click here to view full list of STROKE AVERAGES and AVERAGE POSITIONS
Twitter: Andy Swales@GolfStatsAlive

Table Shows Form In Last 10 Majors
| Player | 19 BO | 19 UO | 19 PG | 19 UM | 18 PG | 18 BO | 18 UO | 18 UM | 17 PG | 17 BO |
| --- | --- | --- | --- | --- | --- | --- | --- | --- | --- | --- |
| Justin Thomas | 11 | MC | | 12 | 6 | MC | 25 | 17 | 1 | MC |
| Jon Rahm | 11 | 3 | MC | 9 | 4 | MC | MC | 4 | 58 | 44 |
| Rory McIlroy | MC | 9 | 8 | 21 | 50 | 2 | MC | 5 | 22 | 4 |
| Webb Simpson | 30 | 16 | 29 | 5 | 19 | 12 | 10 | 20 | 33 | 37 |
| Dustin Johnson | 51 | 35 | 2 | 2 | 27 | MC | 3 | 10 | 13 | 54 |
| Brooks Koepka | 4 | 2 | 1 | 2 | 1 | 39 | 1 | | 13 | 6 |
| Bryson DeChambeau | MC | 35 | MC | 29 | MC | 51 | 25 | 38 | 33 | MC |
| Patrick Reed | 10 | 32 | MC | 36 | MC | 28 | 4 | 1 | 2 | MC |
| Adam Scott | MC | 7 | 8 | 18 | 3 | 17 | MC | 32 | 61 | 22 |
| Patrick Cantlay | 41 | 21 | 3 | 9 | 27 | 12 | 45 | MC | 33 | |
| Xander Schauffele | 41 | 3 | 16 | 2 | 35 | 2 | 6 | 50 | MC | 20 |
| Collin Morikawa | | 35 | | | | | | | | |
| Tommy Fleetwood | 2 | 65 | 48 | 36 | 35 | 12 | 2 | 17 | 61 | 27 |
| Tyrrell Hatton | 6 | 21 | 48 | 56 | 10 | 51 | 6 | 44 | MC | MC |
| Tiger Woods | MC | 21 | MC | 1 | 2 | 6 | MC | 32 | | |
| Tony Finau | 3 | MC | 64 | 5 | 42 | 9 | 5 | 10 | 44 | 27 |
| Justin Rose | 20 | 3 | 29 | MC | 19 | 2 | 10 | 12 | MC | 54 |
| Marc Leishman | MC | 35 | MC | 49 | 71 | 60 | 45 | 9 | 13 | 6 |
| Gary Woodland | MC | 1 | 8 | 32 | 6 | 67 | 36 | MC | 22 | 70 |
| Matt Fitzpatrick | 20 | 12 | 41 | 21 | MC | MC | 12 | 38 | MC | 44 |
| Matt Kuchar | 41 | 16 | 8 | 12 | MC | 9 | MC | 28 | 9 | 2 |
| Abraham Ancer | MC | 49 | 16 | | | MC | | | | |
| Sung Jae Im | MC | | MC | | 42 | | MC | | | |
| Hideki Matsuyama | MC | 21 | 16 | 32 | 35 | MC | 16 | 19 | 5 | 14 |
| Louis Oosthuizen | 20 | 7 | 60 | 29 | | 28 | 16 | 12 | 2 | MC |
| Shane Lowry | 1 | 28 | 8 | MC | 12 | MC | MC | | 48 | MC |
| Paul Casey | 57 | 21 | 29 | MC | MC | 51 | 16 | 15 | 13 | 11 |
| Daniel Berger | | 49 | 71 | | 12 | MC | 6 | 32 | MC | 27 |
| Bernd Wiesberger | 32 | 76 | | | | | | 24 | MC | 74 |
| Kevin Na | | MC | MC | 46 | 19 | 51 | | | MC | 44 |
| Viktor Hovland | | 12 | | 32 | | | | | | |
| Rickie Fowler | 6 | 43 | 36 | 9 | 12 | 28 | 20 | 2 | 5 | 22 |
| Henrik Stenson | 20 | 9 | 48 | 36 | MC | 35 | 6 | 5 | 13 | 11 |
| Danny Willett | 6 | 12 | 41 | MC | MC | 24 | MC | MC | MC | 76 |
| Kevin Kisner | 30 | 49 | MC | 21 | 12 | 2 | MC | 28 | 7 | 54 |
| Billy Horschel | MC | 32 | 23 | 56 | 35 | | | MC | 48 | MC |
| Sergio Garcia | 67 | 52 | MC | MC | MC | MC | MC | MC | MC | 37 |
| Ryan Palmer | MC | | MC | | | | | | | |
| Matt Wallace | 51 | 12 | 3 | MC | 19 | MC | MC | | | |
| Chez Reavie | MC | 3 | 14 | | 12 | MC | MC | 53 | 22 | |
| Jason Day | MC | 21 | 23 | 5 | 19 | 17 | MC | 20 | 9 | 27 |
| Erik van Rooyen | 20 | 43 | 8 | | | 17 | | | | |
| Kevin Streelman | 57 | | | | MC | | | | | |
| Victor Perez | | | | | | | | | | |
| Christiaan Bezuidenhout | MC | | | | | | | | | |
| Cameron Smith | 20 | 72 | 64 | 51 | 56 | 78 | MC | 5 | MC | MC |
| Jazz Janewattananond | MC | | 14 | | | MC | | | | |
| Brendon Todd | | MC | | | | | | | | |
| Matthew Wolff | | | | | | | | | | |
| Graeme McDowell | 57 | 16 | 29 | | | | MC | | MC | |
| Rafa Cabrera-Bello | MC | 65 | 71 | 36 | 10 | 74 | 36 | 38 | MC | 4 |
| Ian Poulter | MC | MC | MC | 12 | 31 | MC | 25 | 44 | 22 | 14 |
| Adam Hadwin | 57 | | 29 | | MC | 35 | MC | 24 | MC | MC |
| Sung Kang | | | 7 | | | | | | 44 | |
| Brandt Snedeker | MC | 77 | 16 | MC | 42 | MC | 48 | | | |
| Jordan Spieth | 20 | 65 | 3 | 21 | 12 | 9 | MC | 3 | 28 | 1 |
| Scottie Scheffler | | MC | | | | | | | | |
| Bubba Watson | 51 | MC | MC | 12 | MC | MC | MC | 5 | MC | 27 |
| Byeong Hun An | 32 | 16 | MC | | 56 | 51 | 67 | | 28 | MC |
| Corey Conners | MC | | 64 | 46 | | | | | | |
| JT Poston | | | 60 | | | | | | | |
| Jason Kokrak | 32 | | 23 | | 19 | MC | | | 33 | |
| Joaquin Niemann | MC | | MC | | 71 | | | MC | | |
| Tom Lewis | 11 | | MC | | | 47 | MC | | | |
| Max Homa | | | 64 | | | | | | | |
| Joel Dahmen | MC | MC | 71 | | | | | | | |
| Shaun Norris | MC | | MC | | | 61 | | | | 62 |
| Phil Mickelson | MC | 52 | 71 | 18 | MC | 24 | 48 | 36 | MC | MC |
| Adam Long | | | 41 | MC | | | | | | |
| Lucas Herbert | | | 71 | | | 51 | MC | | | |
| Charles Howell | | 52 | 41 | 32 | 71 | MC | 25 | | 73 | MC |
| Keegan Bradley | MC | MC | 29 | 43 | 42 | 79 | MC | | 33 | |
| Mackenzie Hughes | | | | | | | MC | | MC | |
| Chan Kim | MC | MC | | | | | | | | 11 |
| Branden Grace | 51 | MC | MC | 58 | 27 | MC | 25 | 24 | MC | 6 |
| Lucas Glover | 20 | MC | 16 | | | | MC | | 33 | |
| Robert MacIntyre | 6 | | | | | | | | | |
| Kurt Kitayama | MC | | 64 | | | | | | | |
| Cameron Champ | | | 54 | | | | | | | |
| Mike Lorenzo-Vera | MC | | 16 | | 65 | | | | | 62 |
| Lanto Griffin | | | | | | | MC | | | |
| Rory Sabbatini | 16 | 43 | | | | | | | | |
| Matt Jones | | MC | | | | MC | MC | | | |
| Andrew Putnam | 32 | 43 | 78 | | 59 | | | | | |
| Matthias Schwab | | | | | | | | | | |
| Nate Lashley | MC | 28 | | | | | | | | |
| Jim Furyk | 63 | 28 | MC | | 71 | | 48 | | MC | |
| Joo Hyung Kim | | | | | | | | | | |
| Jorge Campillo | MC | | MC | | MC | MC | | | | |
| Sebastian Munoz | | | | | | | MC | | | MC |
| Joost Luiten | 32 | | 64 | | | | | | MC | 44 |
| Ryo Ishikawa | | | | | | | | | | |
| Michael Thompson | | | MC | | | | | | | |
| Danny Lee | | | 36 | | | | | | MC | |
| Dylan Frittelli | 32 | | MC | | 31 | MC | MC | MC | 63 | MC |
| Brendan Steele | | | | | MC | 47 | 63 | MC | MC | MC |
| Benjamin Hebert | 41 | | | | | | | | | |
| Nick Taylor | | 43 | | | | | | | | |
| Keith Mitchell | MC | MC | MC | 43 | | | | | | |
| Marcus Kinhult | | 32 | | | | 61 | | | | |
| Hao Tong Li | MC | 52 | 36 | 43 | Wd | 39 | 16 | 32 | MC | 3 |
| CT Pan | MC | MC | MC | | | | | | | |
| JB Holmes | 67 | MC | MC | 62 | MC | | | | 28 | 54 |
| Vaughn Taylor | | | | | | | | | | |
| Scott Piercy | | 52 | 41 | | MC | | 45 | | | |
| Andrew Landry | | | | 46 | 50 | MC | | | | |
| Luke List | MC | MC | 6 | | MC | 39 | MC | | MC | |
| Harris English | | 58 | | | | | | | | |
| Harold Varner | | | 36 | | | | MC | | | |
| Martin Kaymer | | 35 | MC | 51 | 42 | MC | MC | 48 | | 37 |
| Doc Redman | 20 | | | | | | | MC | | |
| Si Woo Kim | MC | MC | MC | 21 | MC | 67 | MC | 24 | Wd | MC |
| Carlos Ortiz | | 52 | | | | | | | | |
| Tom Hoge | | 43 | | | | | | | | |
| Brian Harman | MC | | MC | | 71 | MC | 36 | 44 | 13 | MC |
| Mark Hubbard | | | | | | | | | | |
| Talor Gooch | | | | | | | | | | |
| Sepp Straka | | 28 | | | | | | | | |
| Troy Merritt | | | MC | | MC | | | | | |
| Tyler Duncan | | | | | | | 56 | | | |
| Cameron Tringale | | | | | | | | | | |
| Russell Henley | | | | | 50 | MC | 25 | 15 | 71 | 37 |
| Charl Schwartzel | | | | MC | 42 | MC | MC | MC | 48 | 62 |
| Denny McCarthy | | | | | | | | | | |
| Zach Johnson | MC | 58 | 54 | 58 | 19 | 17 | 12 | 36 | 48 | 14 |
| Richy Werenski | | | MC | | | | MC | | | |
| Jason Dufner | | 35 | MC | | MC | 51 | 25 | MC | 58 | 14 |
| Jim Herman | | | | | | | | | 44 | |
| Jimmy Walker | MC | MC | 23 | 36 | 42 | MC | 56 | 20 | MC | 54 |
| Steve Stricker | | | MC | | | | 20 | | 54 | 37 |
| Davis Love | | | | | MC | | | | MC | |
| Vijay Singh | | | | MC | 78 | | | 49 | 66 | |
| Ryan Vermeer | | | 80 | | MC | | | | MC | |
| Marty Jertson | | | 82 | | MC | | | | | |
| Rich Beem | | | 80 | | MC | | | | MC | |
| Rob Labritz | | | 60 | | | | | | | |
| Shaun Micheel | | | MC | | MC | | | | MC | |
| Jason Caron | | | MC | | | | | | | |
| Justin Bertsch | | | MC | | | | | | | |
| Rich Berberian | | | MC | | MC | | | | MC | |
| Danny Balin | | | MC | | MC | | | | | |
| Shawn Warren | | | | | MC | | | | | |
| Bob Sowards | | | | | MC | | | | | |
| Rod Perry | | | MC | | | | | | MC | |
| John O`Leary | | | MC | | | | | | | |
| David Muttitt | | | | | MC | | | | MC | |
| Benjamin Cook | | | MC | | | | | | | |
| Zach J Johnson | | | | | MC | | | | | |
| Alex Beach | | | MC | | | | | | MC | |
| Jeff Hart | | | | | | | | | | |
| Ken Tanigawa | | | | | | | | | | |
| Jeff Roth | | | | | | | | | | |
| Judd Gibb | | | | | | | | | | |
| Alex Knoll | | | | | | | | | | |
| Mike Auterson | | | | | | | | | | |
| Bud Cauley | | | | | | | | | 33 | |
| Wyndham Clark | | | | | | | | | | |
| Emiliano Grillo | MC | 58 | 23 | 62 | 31 | MC | MC | | MC | MC |
| Scottie Scheffler | | MC | | | | | | | | |
| Brian Stuard | | 65 | | | | | MC | | | |
| Xinjun Zhang | | | | | | | | | | |
| Alex Noren | 11 | MC | 54 | 62 | MC | 17 | 25 | MC | 67 | 6 |
| Pat Perez | | | 78 | | 35 | 17 | 36 | MC | 28 | MC |
| Henrik Norlander | | | | | | | | | | |
Discover the latest articles
Read past articles