British Masters 2021: Form stats ahead of Wednesday's opening round at The Belfry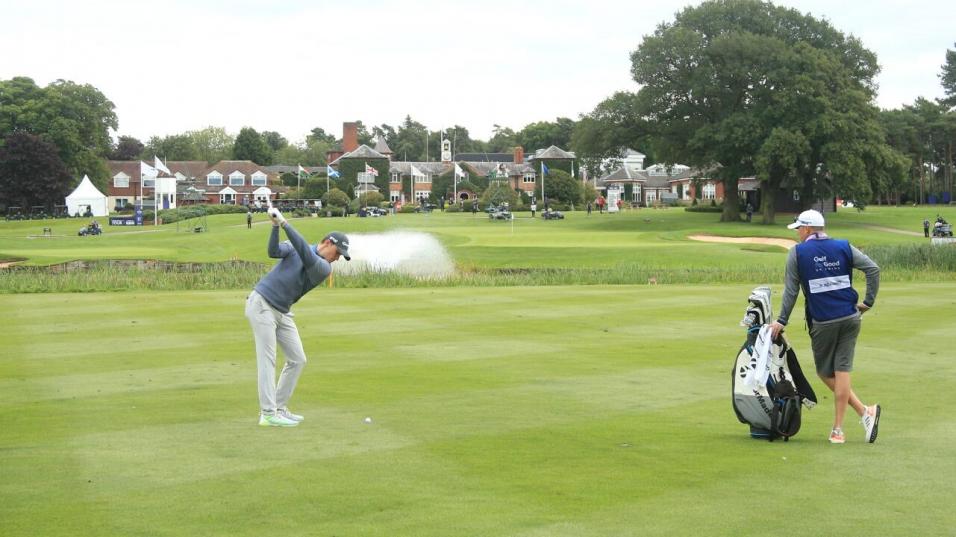 The Belfry's Brabazon course is one of England's most iconic golfing venues
The European Tour travels to the Heart of England for this week's tournament on the outskirts of Birmingham. Words and stats by Andy Swales...
"Nine top-100 ranked golfers are in the field, including Andy Sullivan and Sam Horsfield. Both enjoyed victories during UK-based tournaments last summer. Sullivan triumphed at Hanbury Manor, while Horsfield won events at the Forest of Arden and Celtic Manor."
The European Tour makes the first of its 10 scheduled visits to the British Isles this season, by teeing-up a few miles north of Birmingham.
After months travelling around the Middle East, Africa, United States, central Europe and the Canary Islands, the Tour journeys north for this week's British Masters in Sutton Coldfield.
With mid-summer's day a little over one month away, the players have arrived at The Belfry, one of England's most famous golfing venues.
Starting Wednesday, and hosted by 2016 US Masters champion Danny Willett, the tournament will be staged over the club's Brabazon's Course which opened for business during the mid-1970s.
The Brabazon was designed by two of Great Britain's best-known golfers of the 1950s and 1960s - Dave Thomas and Peter Alliss.
Thomas, who died in 2013, was twice runner-up in The Open, while the recently-deceased Alliss went on to become one of golf's leading TV commentators.
Both represented their country in the Ryder Cup, and it was this biennial contest which helped to cement The Brabazon's place in golfing history, by hosting the match four times between 1985 and 2002.
It has also staged 17 European Tour events since 1979, the most recent of these being last year's ISPS Handa UK Championship.
Latest odds for this week's British Masters
This was The Belfry's first important tournament for 12 years and was won by Danish teenager Rasmus Hojgaard, who has since turned 20.
This Heart of England course is typically parkland in nature, flat, well bunkered, and has water in play on half of its holes.
The layout, which last welcomed the European Tour in August 2020, is certainly no pushover, demanding good course management skills, plus the ability to accurately read The Brabazon's numerous undulating putting surfaces.
'Top seed'
Scot Robert MacIntyre, the world No 45, is the highest ranked player teeing-up in this week's event which starts on Wednesday.
The 24-year-old from Oban makes his first European Tour start since February, after competing in six tournaments Stateside during March and April - which included a tie-for-12th at Augusta.
Nine top-100 ranked golfers are in the field, including Andy Sullivan and Sam Horsfield. Both enjoyed victories during UK-based tournaments last summer.
Midlander Sullivan triumphed at Hanbury Manor in Hertfordshire, while Manchester-born and American-raised Horsfield won events at the Forest of Arden in Birmingham and Celtic Manor, Newport.
Horsfield's most recent four starts on the European Tour have yielded finishes of 4th-15th-3rd-8th.
Latest odds for next week's PGA Championship
Among the other top-100 ranked pros are Austrian Bernd Wiesberger and Germany's Martin Kaymer, both of whom posted T-10s at The Belfry last year.
In-form Dean Burmester tees-up again hoping to continue South Africa's current domination of European Tour titles, while Maximilian Kieffer and Connor Syme chase maiden victories.
Kieffer has been runner-up four times, including twice during April, while Syme has registered a brace of top-12 finishes during the last three weeks. Both will be making their Belfry debuts this coming week.
And what chance Nicolai Hojgaard of following in his twin brother's footsteps this Saturday and making it a family double over The Brabazon?
The 20-year-old Dane has posted two top-10s this season, with a best-ever Tour finish of second at the 2019 KLM Open. He tied-fourth on Sunday in Tenerife.
Twitter: Andy Swales@GolfStatsAlive
Note: List Contains Leading Reserves
Last 10 Weeks / The Belfry (2020)
| Player | W19 | W18 | W17 | W16 | W15 | W14 | W13 | W12 | W11 | W10 |
| --- | --- | --- | --- | --- | --- | --- | --- | --- | --- | --- |
| Robert MacIntyre | | | | 59 | 12 | | 9 | | MC | 36 |
| Bernd Wiesberger | | | | | 40 | MC | 42 | | MC | 31 |
| Andy Sullivan | | | 71 | | | | 42 | | 19 | |
| Sam Horsfield | | MC | 4 | 15 | | | 3 | 8 | | |
| Martin Kaymer | | | | 3 | | | | MC | | |
| Danny Willett | | MC | 8 | 18 | MC | MC | 8 | | | 31 |
| Dean Burmester | 4 | 1 | 38 | MC | | | MC | 8 | Wd | 2 |
| Thomas Detry | | | | 71 | | | 13 | | 9 | |
| Sami Valimaki | 27 | 22 | | | | | | | | |
| Rasmus Hojgaard | | MC | MC | 12 | | | | | MC | |
| Jazz Janewattananond | | | | | | | 2 | MC | 50 | 57 |
| Matthias Schwab | | 33 | 8 | 7 | | | 7 | 52 | 71 | |
| Jason Scrivener | | | | | | | | | | |
| Laurie Canter | 40 | 48 | | | | | | | MC | |
| Adri Arnaus | 4 | 8 | 62 | MC | | | | | Wd | |
| Justin Harding | 38 | 12 | 15 | MC | | | 14 | Won | MC | |
| Calum Hill | 12 | MC | 29 | | | | 3 | 8 | MC | |
| Jamie Donaldson | | 12 | 15 | | | | Wd | 16 | 5 | |
| Joachim B Hansen | | 22 | 7 | | | | | 41 | 9 | |
| Romain Langasque | 66 | MC | 45 | | | | 30 | 5 | 50 | |
| Callum Shinkwin | | 63 | | 68 | | | | | 28 | |
| Mike Lorenzo-Vera | 51 | MC | 62 | | | | | | | |
| Renato Paratore | Wd | MC | | 12 | | | | | MC | |
| Marc Warren | | | | | | | | | Wd | |
| Jorge Campillo | 61 | MC | MC | | | | MC | MC | 28 | |
| Wade Ormsby | | | | | | | | | MC | |
| Adrian Meronk | MC | 3 | 15 | 56 | | | MC | 47 | MC | |
| Guido Migliozzi | MC | 33 | 15 | | | | MC | 12 | 2 | |
| Maximilian Kieffer | | MC | 2 | 2 | | | 48 | 33 | 50 | |
| Adrian Otaegui | 34 | 60 | MC | | | | 42 | 24 | MC | |
| Marcus Armitage | | MC | 45 | 4 | | | 10 | MC | 47 | |
| Connor Syme | 12 | MC | 5 | | | | MC | 3 | 62 | |
| Benjamin Hebert | | MC | MC | 33 | | | | 70 | 58 | |
| Sean Crocker | MC | 18 | 56 | 47 | | | | | 35 | |
| Masahiro Kawamura | 23 | 28 | MC | 33 | | | 14 | MC | MC | |
| Wil Besseling | | | 29 | 4 | | | 48 | MC | 47 | |
| Chris Paisley | MC | | | | | | MC | MC | 7 | |
| Maverick Antcliff | 2 | 42 | 21 | 53 | | | 48 | MC | 19 | |
| Eddie Pepperell | 12 | 33 | MC | | | | | | 64 | |
| Min Woo Lee | | | | | | | | | | |
| Paul Waring | MC | 28 | 52 | | | | | | | |
| Joakim Lagergren | MC | 18 | MC | | | | MC | MC | 42 | |
| Jeff Winther | | MC | 3 | 28 | | | | | 14 | |
| Richard Bland | 27 | MC | 8 | MC | | | MC | 52 | MC | |
| Scott Jamieson | | 22 | 38 | MC | | | | | 42 | |
| Francesco Laporta | 27 | 33 | 62 | | | | MC | 47 | 72 | |
| Andrew Johnston | 4 | 42 | 62 | | | | | | | |
| Mikko Korhonen | | 56 | MC | | | | | | | |
| Gavin Green | MC | | | | | | MC | 41 | MC | |
| Jordan Smith | | 33 | 56 | | | | MC | 47 | 19 | |
| Matthew Jordan | 66 | 56 | MC | MC | | | | | Wd | |
| Sebastian Soderberg | 56 | 56 | MC | | | | 26 | MC | MC | |
| Matthew Southgate | 20 | MC | MC | | | | MC | 70 | MC | |
| Steven Brown | | | MC | | | | 30 | MC | 68 | |
| Pep Angles | 70 | 33 | 29 | 33 | | | MC | 8 | | |
| Sebastian Heisele | 9 | MC | 45 | MC | | | | | MC | |
| Robert Rock | | | | | | | | | 50 | |
| Fabrizio Zanotti | 27 | MC | 56 | | | | 22 | | 14 | |
| Dave Horsey | MC | MC | | Wd | | | | | | |
| Sebastian Rodriguez Garcia | MC | 8 | MC | MC | | | 14 | 4 | MC | |
| Ross Fisher | | 56 | MC | 47 | | | | | MC | |
| Niklas Lemke | | | | Wd | | | 14 | 33 | 9 | |
| Hao Tong Li | | | | | | | | Wd | MC | |
| Alexander Bjork | | 12 | 21 | MC | | | | | 19 | |
| Pablo Larrazabal | | 12 | MC | | | | | | MC | |
| Victor Dubuisson | 61 | MC | 21 | | | | 7 | 16 | | |
| Justin Walters | 51 | 48 | 52 | 21 | | | | 12 | 35 | |
| Johannes Veerman | 45 | MC | MC | | | | MC | 16 | 14 | |
| Jack Senior | 34 | MC | 8 | MC | | | 48 | 28 | 35 | |
| Nicolai Von Dellingshausen | MC | 2 | | 24 | | | 38 | | | |
| Ashun Wu | MC | 48 | 21 | 33 | | | | | | |
| Alexander Levy | MC | 42 | MC | | | | MC | MC | 50 | |
| Dale Whitnell | 56 | 54 | MC | 15 | | | 38 | 41 | 28 | |
| Richard Mansell | 12 | 42 | 56 | 28 | | | MC | MC | | |
| Ross McGowan | | MC | MC | | | | 73 | MC | MC | |
| Oliver Farr | | MC | 69 | MC | | | MC | MC | MC | |
| Thorbjorn Olesen | | 12 | 5 | | | | | | | |
| Grant Forrest | 23 | 33 | MC | 61 | | | MC | 33 | 19 | |
| Darius Van Driel | MC | 63 | 8 | 56 | | | 10 | 52 | MC | |
| Gaganjeet Bhullar | 38 | MC | MC | | | | 42 | 16 | 2 | |
| Louis De Jager | 12 | 12 | 71 | MC | | | 20 | 33 | 42 | 27 |
| Andrea Pavan | MC | MC | MC | | | | | | | |
| Adrien Saddier | | MC | MC | 33 | | | MC | MC | MC | |
| Yikeun Chang | MC | 6 | MC | MC | | | MC | MC | 19 | |
| Marcel Schneider | MC | 33 | 8 | 53 | | | MC | 28 | | |
| Scott Hend | 51 | 8 | | | | | 42 | 16 | MC | |
| Joel Stalter | 61 | MC | MC | | | | MC | MC | MC | |
| Richie Ramsay | 23 | 22 | 29 | | | | 42 | 47 | 58 | |
| Matthieu Pavon | 27 | 63 | 8 | MC | | | 38 | MC | 35 | |
| David Drysdale | | Wd | MC | 61 | | | 5 | MC | 28 | |
| Robin Sciot-Siegrist | 12 | 22 | MC | MC | | | 30 | 65 | MC | |
| Nicolai Hojgaard | 4 | 74 | 15 | 7 | | | MC | MC | | |
| Jonathan Caldwell | MC | 42 | 21 | MC | | | 57 | MC | MC | |
| Tapio Pulkkanen | 3 | 72 | MC | | | | MC | MC | MC | |
| Shubhankar Sharma | 69 | MC | MC | 61 | | | 30 | MC | 28 | |
| Rhys Enoch | 23 | 69 | 38 | MC | | | 20 | MC | 47 | Won |
| Lorenzo Gagli | | MC | MC | 15 | | | MC | 52 | 28 | |
| Matt Ford | MC | 69 | 69 | MC | | | MC | 52 | | |
| James Morrison | | 48 | 56 | 70 | | | 28 | MC | MC | |
| Zander Lombard | 20 | 42 | 45 | 24 | | | MC | Wd | MC | MC |
| Aaron Cockerill | 34 | 48 | 29 | MC | | | 28 | 52 | MC | |
| Suradit Yongcharoenchai | 74 | MC | MC | | | | | | | MC |
| Cormac Sharvin | MC | MC | MC | 28 | | | 48 | MC | 64 | |
| Garrick Porteous | 40 | MC | 29 | 15 | | | 38 | 16 | MC | |
| Robin Roussel | MC | MC | 29 | MC | | | MC | MC | MC | |
| Julien Guerrier | 40 | MC | 38 | 45 | | | 48 | 62 | | |
| Bernd Ritthammer | 20 | MC | | 33 | | | MC | 33 | MC | |
| Rikard Karlberg | | MC | MC | 47 | | | MC | 65 | MC | |
| Stephen Gallacher | | | | | | | | | MC | |
| Alejandro Del Rey | 9 | MC | 21 | 24 | | | | | | |
| Nacho Elvira | MC | MC | MC | MC | | | | | 68 | |
| Soren Kjeldsen | | | 71 | 61 | | | 69 | 47 | MC | |
| Alejandro Canizares | MC | 28 | 38 | 7 | | | 20 | MC | 58 | |
| Lars Van Meijel | 66 | 72 | 29 | MC | | | 48 | 65 | 14 | |
| Clement Sordet | MC | MC | 21 | MC | | | 48 | MC | MC | |
| Julian Suri | 27 | 60 | MC | 67 | | | 66 | MC | 50 | |
| SSP Chawrasia | 61 | MC | MC | 15 | | | MC | MC | MC | |
| Lucas Bjerregaard | | MC | 71 | MC | | | 57 | MC | MC | |
| Pedro Oriol | MC | 6 | MC | 33 | | | | | | |
| Niall Kearney | 4 | 60 | 21 | | | | | | | |
| Sihwan Kim | 45 | 18 | 45 | 47 | | | 57 | MC | MC | |
| Ashley Chesters | | MC | 62 | 33 | | | 14 | 52 | 42 | |
| Edoardo Molinari | 45 | 28 | MC | MC | | | MC | MC | MC | |
| Dave Coupland | 51 | MC | MC | MC | | | 63 | MC | 62 | |
| David Dixon | | | | | | | | | | |
| Oliver Fisher | 12 | MC | MC | | | | MC | MC | MC | |
| Richard McEvoy | MC | MC | MC | 33 | | | MC | 28 | 5 | |
| Toby Tree | MC | 69 | MC | MC | | | 30 | 65 | 58 | |
| Jean-Baptiste Gonnet | | | MC | 28 | | | | 5 | MC | |
| Gregory Havret | | MC | 45 | | | | | 70 | MC | |
| Gonzalo F`dez-Castano | MC | MC | MC | 45 | | | 14 | MC | 50 | |
| Ricardo Santos | 40 | MC | MC | 28 | | | 67 | 33 | 35 | |
| Haydn Porteous | MC | 63 | MC | MC | | | MC | 73 | MC | |
| Oliver Wilson | 75 | 75 | 52 | | | | MC | 33 | MC | |
| Jake McLeod | MC | 75 | MC | MC | | | 26 | | MC | 16 |
| Josh Geary | | | | | | | | | | |
| Benjamin Poke | MC | MC | 29 | 73 | | | MC | 41 | MC | |
| Alvaro Quiros | 61 | MC | MC | | | | MC | MC | MC | |
| Ben Evans | | 63 | 45 | MC | | | 57 | 41 | | |
| Carlos Pigem | 75 | MC | MC | MC | | | MC | MC | MC | |
| Lee Slattery | | MC | MC | Wd | | | 20 | 76 | MC | |
| Max Schmitt | 77 | MC | 62 | 33 | | | MC | MC | | |
| Steven Tiley | MC | MC | MC | | | | | | | |
| Kristoffer Broberg | MC | 54 | | | | | | | | |
| Pedro Figueiredo | 40 | MC | MC | MC | | | MC | MC | 50 | |
| Berry Henson | MC | MC | 62 | 56 | | | | | | MC |
| Raphael Jacquelin | MC | 63 | MC | | | | | 52 | 35 | |
| Graeme Storm | | | | | | | | | | |
| Chris Wood | | MC | MC | 21 | | | | | 64 | |
| Michael Bullen | | | | | | | | | | |
| Paul Dunne | 45 | MC | MC | 33 | | | | | MC | |
| Bradley Dredge | | | | | | | | | | |
| Janne Kaske | 56 | MC | MC | MC | | | | | | 19 |
| David Law | | MC | MC | MC | | | MC | MC | 35 | |
| David Howell | MC | | MC | MC | | | 48 | MC | MC | |
| Thomas Bjorn | | | | | | | | | | |
| Tom Gandy | 27 | MC | MC | MC | | | | | | |
| Liam Robinson | | | | | | | | | | |
| Colm Moriarty | | | | | | | | | | |
| Jason Levermore | | | | | | | | | | |
| Player | 2020 |
| --- | --- |
| Robert MacIntyre | |
| Bernd Wiesberger | 5 |
| Andy Sullivan | 9 |
| Sam Horsfield | |
| Martin Kaymer | 3 |
| Danny Willett | MC |
| Dean Burmester | 31 |
| Thomas Detry | |
| Sami Valimaki | |
| Rasmus Hojgaard | 1 |
| Jazz Janewattananond | |
| Matthias Schwab | 46 |
| Jason Scrivener | |
| Laurie Canter | 13 |
| Adri Arnaus | |
| Justin Harding | |
| Calum Hill | 9 |
| Jamie Donaldson | |
| Joachim B Hansen | 25 |
| Romain Langasque | MC |
| Callum Shinkwin | MC |
| Mike Lorenzo-Vera | |
| Renato Paratore | |
| Marc Warren | 39 |
| Jorge Campillo | 7 |
| Wade Ormsby | 25 |
| Adrian Meronk | |
| Guido Migliozzi | |
| Maximilian Kieffer | |
| Adrian Otaegui | |
| Marcus Armitage | 7 |
| Connor Syme | |
| Benjamin Hebert | 3 |
| Sean Crocker | |
| Masahiro Kawamura | 47 |
| Wil Besseling | MC |
| Chris Paisley | MC |
| Maverick Antcliff | MC |
| Eddie Pepperell | Wd |
| Min Woo Lee | 11 |
| Paul Waring | 19 |
| Joakim Lagergren | MC |
| Jeff Winther | 47 |
| Richard Bland | 19 |
| Scott Jamieson | |
| Francesco Laporta | |
| Andrew Johnston | |
| Mikko Korhonen | |
| Gavin Green | MC |
| Jordan Smith | MC |
| Matthew Jordan | 19 |
| Sebastian Soderberg | |
| Matthew Southgate | MC |
| Steven Brown | MC |
| Pep Angles | |
| Sebastian Heisele | |
| Robert Rock | MC |
| Fabrizio Zanotti | |
| Dave Horsey | 51 |
| Sebastian Rodriguez Garcia | MC |
| Ross Fisher | 39 |
| Niklas Lemke | |
| Hao Tong Li | 31 |
| Alexander Bjork | |
| Pablo Larrazabal | MC |
| Victor Dubuisson | |
| Justin Walters | 2 |
| Johannes Veerman | |
| Jack Senior | 28 |
| Nicolai Von Dellingshausen | |
| Ashun Wu | |
| Alexander Levy | MC |
| Dale Whitnell | MC |
| Richard Mansell | |
| Ross McGowan | 55 |
| Oliver Farr | MC |
| Thorbjorn Olesen | 17 |
| Grant Forrest | |
| Darius Van Driel | 11 |
| Gaganjeet Bhullar | |
| Louis De Jager | MC |
| Andrea Pavan | |
| Adrien Saddier | MC |
| Yikeun Chang | |
| Marcel Schneider | MC |
| Scott Hend | MC |
| Joel Stalter | |
| Richie Ramsay | 31 |
| Matthieu Pavon | 64 |
| David Drysdale | Ret |
| Robin Sciot-Siegrist | |
| Nicolai Hojgaard | MC |
| Jonathan Caldwell | 39 |
| Tapio Pulkkanen | MC |
| Shubhankar Sharma | MC |
| Rhys Enoch | 55 |
| Lorenzo Gagli | |
| Matt Ford | |
| James Morrison | 39 |
| Zander Lombard | Wd |
| Aaron Cockerill | 19 |
| Suradit Yongcharoenchai | |
| Cormac Sharvin | |
| Garrick Porteous | MC |
| Robin Roussel | |
| Julien Guerrier | MC |
| Bernd Ritthammer | |
| Rikard Karlberg | |
| Stephen Gallacher | 51 |
| Alejandro Del Rey | |
| Nacho Elvira | |
| Soren Kjeldsen | 39 |
| Alejandro Canizares | MC |
| Lars Van Meijel | |
| Clement Sordet | |
| Julian Suri | 39 |
| SSP Chawrasia | |
| Lucas Bjerregaard | 58 |
| Pedro Oriol | |
| Niall Kearney | |
| Sihwan Kim | MC |
| Ashley Chesters | MC |
| Edoardo Molinari | MC |
| Dave Coupland | 28 |
| David Dixon | 55 |
| Oliver Fisher | Wd |
| Richard McEvoy | MC |
| Toby Tree | MC |
| Jean-Baptiste Gonnet | |
| Gregory Havret | MC |
| Gonzalo F`dez-Castano | |
| Ricardo Santos | |
| Haydn Porteous | MC |
| Oliver Wilson | |
| Jake McLeod | 31 |
| Josh Geary | |
| Benjamin Poke | MC |
| Alvaro Quiros | |
| Ben Evans | 15 |
| Carlos Pigem | |
| Lee Slattery | 58 |
| Max Schmitt | MC |
| Steven Tiley | 39 |
| Kristoffer Broberg | |
| Pedro Figueiredo | |
| Berry Henson | |
| Raphael Jacquelin | 62 |
| Graeme Storm | 31 |
| Chris Wood | |
| Michael Bullen | |
| Paul Dunne | MC |
| Bradley Dredge | |
| Janne Kaske | MC |
| David Law | MC |
| David Howell | MC |
| Thomas Bjorn | 31 |
| Tom Gandy | 51 |
| Liam Robinson | |
| Colm Moriarty | |
| Jason Levermore | |
Discover the latest articles
Read past articles