Acciona Spanish Open 2021: Your form guide for this week's event at Club de Campo in Madrid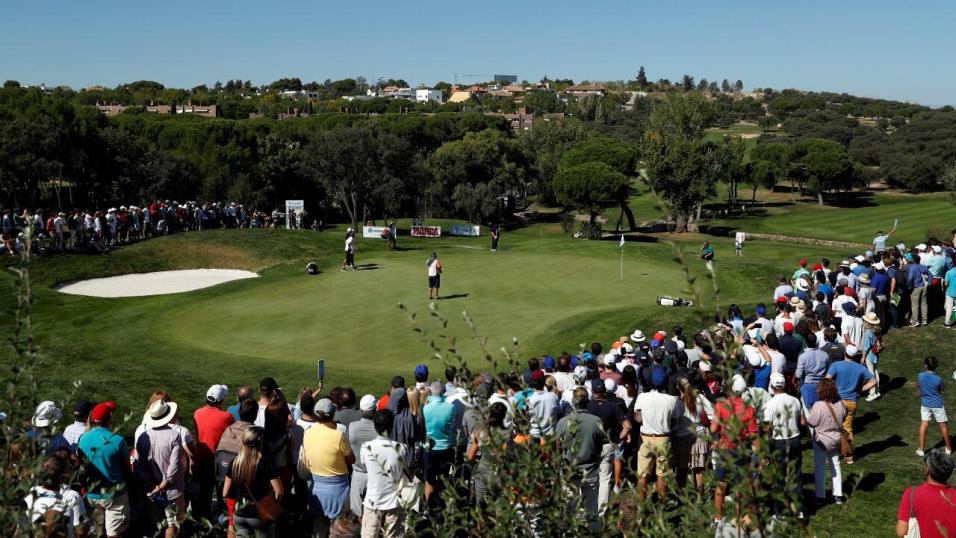 Club de Campo in Madrid stages the Spanish Open for the 10th time
It's off to the Spanish capital for this week's national open. World No 1 Jon Rahm tops the bill, with words and stats supplied by Andy Swales...
"Rahm, the world No 1, is the only member of golf's top 50 in attendance this week and it's difficult to imagine him not being in contention on Sunday afternoon."
The European Tour embarks on a four-week journey across Iberia, starting with Spain's national open in Madrid.
Sponsored by Spanish multinational conglomerate Acciona, this week's tournament takes place at the prestigious Club de Campo complex close to the city centre.
This will be the tenth time that the Spanish Open has been staged over the Javier Arana-designed Black Course which opened for business 65 years ago.
The first national open at Club de Campo was won by former Open champion Max Faulkner in 1957, while the most recent winner here was Jon Rahm two years ago.
Prior to Rahm's five-stroke victory in 2019, the course hadn't staged a European Tour event since the Madrid Open 11 years earlier.
On the tee
And Rahm has returned to the Spanish capital to defend the title he was unable to do last year because of Covid.
Rahm, the world No 1, is the only member of golf's top 50 in attendance this week and it's difficult to imagine him not being in contention on Sunday afternoon.
In 2019, when the Tour last visited Club de Campo, Spanish golfers occupied all three podium positions.
Runner-up on that occasion was former world No 16 Rafa Cabrera-Bello who also tied-10th here back in 2008.
However, the 37-year-old is currently outside the world's top 230 and hasn't had a top-10 since January.
One Spaniard who has enjoyed a great year on the Challenge Tour, and will be keen to test his game at a higher level, is Santiago Tarrio.
Latest odds for this week's Spanish Open
The 30-year-old rising star is a two-time winner on the Challenge Tour in 2021, and during the past 12 months has posted 10 top-six finishes - which includes one on the European Tour.
The younger Nicolai Hojgaard is already a champion at European Tour level and tees-up again this Thursday.
The 20-year-old Dane is riding high right now following his recent victory in Italy and during a momentous year, so far, has leapt more than 350 spots up the World Ranking to a career-high 153.
Finally, 23-year-old Matthias Schmid has made a strong start to professional life since finishing top amateur at this year's Open Championship in Kent.
The German was runner-up in the Netherlands last month and tied-ninth at St Andrews on Sunday.
Club de Campo
The Black Course is a rolling, parkland layout with tight tree-lined fairways and small undulating greens.
Accuracy will certainly be more important than distance this week on a low-scoring course that is a little shorter than the Tour average.
Club de Campo Madrid is one of Spain's largest sporting complexes covering more than 200 hectares.
In addition to the Black Course, there is a Seve Ballesteros-designed Yellow Course, along with facilities for horse riding, hockey, tennis, swimming, squash, table tennis and figure-skating.
Club de Campo had been mooted as a possible venue for the 1997 Ryder Cup but missed out at the expense of Valderrama which just happens to be the location for next week's European Tour event.
Twitter: Andy Swales@GolfStatsAlive
MC* - Missed Additional 54-Hole Cut
Note: List Contains Leading Reserves
Get a £5 Free Bet on Multiples - Every Day!
Place £20 worth of Multiples or Bet Builders over the course of a day, and, after the bets have settled, you'll get a free £5 bet to use on Multiples or Bet Builders. Bets must settle before 23:59 on the day they're placed. No opt-in required, T&Cs apply.
Last 10 Weeks / Club de Campo Form
| Player | W40 | W39 | W38 | W37 | W36 | W35 | W34 | W33 | W32 | W31 |
| --- | --- | --- | --- | --- | --- | --- | --- | --- | --- | --- |
| Jon Rahm | | | MC | | 1 | 9 | 3 | | | |
| Victor Perez | MC | | | 49 | 18 | 50 | | 13 | 61 | |
| Min Woo Lee | 58 | | | MC | 12 | 21 | | | 62 | |
| Bernd Wiesberger | | | | 20 | 46 | 2 | | 21 | | |
| Guido Migliozzi | 17 | | | MC | 34 | 7 | | | | 32 |
| Richard Bland | 4 | | | 57 | 5 | MC | | 3 | | |
| Santiago Tarrio | MC | | 62 | 2 | | 15 | | | 3 | 15 |
| Justin Harding | 54 | | 9 | MC | MC | 32 | | | | 7 |
| Jamie Donaldson | Wd | | | 2 | MC | 27 | | 3 | 34 | |
| Antoine Rozner | MC | | | 67 | 52 | 13 | | | | 45 |
| Calum Hill | 17 | | | MC | 34 | 7 | | 1 | 4 | MC* |
| Andy Sullivan | 54 | | | MC | MC | 40 | | 13 | 48 | MC* |
| John Catlin | 54 | | | MC | 24 | 21 | | 51 | | 7 |
| Daniel Van Tonder | MC | | MC | MC | 27 | 21 | 45 | 21 | MC | |
| Jason Scrivener | MC | | | | | | | | | |
| George Coetzee | MC | | 50 | 75 | 27 | MC | MC | | 1 | |
| Sean Crocker | Wd | | | 9 | 18 | 4 | 2 | MC | | |
| Marcus Armitage | 51 | | | 30 | MC | 7 | | | 38 | 30 |
| Masahiro Kawamura | MC | | | 17 | 5 | 21 | | 55 | 16 | 3 |
| Kalle Samooja | MC | | | 57 | 60 | MC | | 8 | | 45 |
| Nicolai Hojgaard | 14 | | | 20 | 1 | | 17 | 21 | MC | MC* |
| Adrian Meronk | MC | | | MC | 2 | 27 | 17 | | | 51 |
| Mikko Korhonen | | | | 45 | 8 | 40 | | MC | | |
| Adrian Otaegui | 27 | | | 49 | 34 | MC | | | 38 | MC |
| Sami Valimaki | MC | | | MC | 46 | MC | MC | 44 | | 27 |
| Daniel Gavins | 6 | | | 77 | MC | MC | | MC | 38 | 1 |
| Joachim B Hansen | MC | | 22 | 20 | MC | MC | | 29 | 56 | 27 |
| Jazz Janewattananond | MC | | 9 | MC | Wd | 67 | 33 | | | 27 |
| Grant Forrest | 27 | | | 63 | 34 | MC | | | 1 | MC |
| Adri Arnaus | 24 | | | MC | 12 | MC | 60 | | | 38 |
| Andrew Johnston | | | MC | 6 | MC | 60 | | | | |
| Francesco Laporta | MC | | | 6 | 4 | MC | | | MC | 32 |
| Joakim Lagergren | 2 | | MC | 27 | 63 | MC | 17 | | | |
| Ryan Fox | 54 | | 15 | 63 | MC | | 29 | 13 | 34 | 42 |
| Wilco Nienaber | 36 | | 22 | MC | MC | MC | | MC | 64 | |
| Maximilian Kieffer | MC | | 15 | 75 | 27 | | | 21 | | 45 |
| Darren Fichardt | MC | | | 19 | 52 | 21 | 47 | | | |
| Dave Horsey | 39 | | 19 | 30 | 27 | MC | | 13 | MC | 2 |
| Jordan Smith | MC | | | 55 | MC | | | 9 | 23 | 3 |
| Rafael Cabrera-Bello | MC | | | 67 | 20 | MC | | | MC | |
| Renato Paratore | MC | | MC | MC | MC | 7 | 50 | | 56 | 27 |
| James Morrison | MC | | | MC | MC | 27 | | 13 | 2 | MC* |
| Tapio Pulkkanen | MC | | | 17 | 27 | MC | 2 | | | |
| Matthew Jordan | MC | | | MC | 15 | 4 | | 47 | 6 | MC |
| Kristoffer Broberg | 9 | | 1 | | | | | | 63 | MC |
| Jorge Campillo | 17 | | MC | MC | MC | 32 | | 21 | 34 | 59 |
| Connor Syme | MC | | | | MC | MC | | | MC | 32 |
| Alexander Levy | MC | | | 35 | 34 | 32 | | 2 | 38 | 26 |
| Marc Warren | MC | | | MC | MC | MC | | MC | MC | MC* |
| Wil Besseling | MC | | MC | | 52 | 13 | | 29 | 30 | MC* |
| Matthias Schmid | 9 | | 2 | 9 | MC | 11 | | | MC | 19 |
| Romain Langasque | MC | | 22 | MC | MC | MC | | | | 35 |
| Nacho Elvira | MC | | | 57 | MC | 13 | | | MC | 22 |
| Jonathan Caldwell | MC | | | MC | 57 | 53 | | 55 | 30 | MC |
| Matthew Southgate | MC | | | 35 | 34 | MC | | 44 | 33 | |
| Maverick Antcliff | MC | | 27 | | Wd | 65 | 29 | 35 | | 26 |
| Fabrizio Zanotti | | | | 20 | 27 | 72 | | | | 35 |
| Darius Van Driel | | | 4 | | MC | MC | | 47 | 53 | 7 |
| Shubhankar Sharma | MC | | 27 | 9 | 12 | 50 | | 9 | 16 | 30 |
| Victor Dubuisson | MC | | | Wd | 27 | MC | | | | |
| Edoardo Molinari | MC | | | 57 | 5 | MC | | | | |
| Chris Paisley | MC | | | MC | MC | MC | | MC | 10 | |
| Justin Walters | MC | | | 35 | MC | MC | | 40 | 8 | |
| Jeff Winther | 14 | | | 71 | MC | 40 | | MC | MC | |
| Marcus Kinhult | MC | | | MC | MC | 47 | | 64 | 68 | |
| Dale Whitnell | | | | | 65 | MC | | 13 | 68 | 11 |
| Richie Ramsay | 17 | | | 57 | MC | MC | | 9 | 28 | |
| Scott Jamieson | MC | | | MC | 8 | 47 | | | MC | MC |
| Pablo Larrazabal | MC | | | 35 | 8 | Dq | | | | |
| Ross Fisher | MC | | | 35 | 34 | MC | | 55 | 56 | |
| Jack Senior | MC | | 32 | 35 | MC | MC | | MC | | 22 |
| Alejandro Canizares | MC | | 3 | | | MC | | 40 | 70 | 3 |
| Benjamin Hebert | 45 | | | MC | 57 | 32 | | MC | MC | |
| Mike Lorenzo-Vera | MC | | | MC | MC | MC | | | | |
| Ashun Wu | | | | | | | | | | 32 |
| Pep Angles | | | MC | | | | 47 | MC | MC | MC* |
| Rikard Karlberg | | | 69 | | MC | 53 | MC | | | |
| Eddie Pepperell | 17 | | | Wd | 46 | MC | | 29 | MC | 22 |
| Scott Hend | MC | | | MC | 52 | MC | | MC | 56 | MC |
| Ross McGowan | MC | | | 78 | MC | 4 | 23 | 67 | MC | |
| David Law | MC | | 38 | 14 | MC | MC | | MC | 4 | 15 |
| Sebastian Rodriguez Garcia | | | MC | | MC | MC | MC | MC | MC | MC |
| Matthieu Pavon | 12 | | | MC | MC | MC | | MC | | |
| Steven Brown | MC | | 47 | 55 | 57 | MC | | MC | | MC |
| Adrien Saddier | | | 15 | | 44 | 7 | | MC | MC | 39 |
| Niklas Lemke | | | MC | | | MC | 33 | 44 | MC | |
| Oliver Farr | | | 62 | | 18 | MC | | MC | 30 | 11 |
| David Drysdale | 59 | | 27 | 49 | MC | MC | | 51 | 38 | 32 |
| Gavin Green | MC | | MC | MC | 24 | 32 | MC | MC | | 57 |
| Gaganjeet Bhullar | | | | | | | | MC | 38 | 38 |
| Nino Bertasio | MC | | | MC | MC | 62 | 29 | | | |
| Sebastian Soderberg | 39 | | | MC | MC | 40 | 17 | | | |
| Ashley Chesters | MC | | MC | MC | 24 | 40 | | 13 | 48 | 15 |
| Sihwan Kim | | | | | MC | MC | 23 | 29 | 10 | MC* |
| Thorbjorn Olesen | MC | | | MC | MC | MC | | MC | | |
| Hao Tong Li | 14 | | | | | | | MC | MC | |
| Aaron Cockerill | | | 19 | | MC | MC | 17 | MC | MC | |
| Soren Kjeldsen | MC | | | MC | MC | 32 | 7 | | MC | MC |
| Luke Donald | 27 | | | MC | MC | | | MC | MC | |
| Garrick Porteous | | | MC | | MC | MC | MC | 60 | 10 | 15 |
| Robin Sciot-Siegrist | | | 38 | | | 18 | | 66 | 38 | 41 |
| Dave Coupland | | | MC | | 46 | | 23 | MC | MC | MC* |
| Joel Stalter | MC | | Wd | 67 | MC | MC | | 51 | Wd | MC |
| Julien Guerrier | MC | | 38 | MC | 44 | 56 | MC | | | MC |
| John Murphy | 9 | | 42 | 11 | 33 | MC | 10 | | 34 | MC |
| Zander Lombard | MC | | MC | MC | MC | MC | 60 | | | |
| Oliver Fisher | 60 | | MC | MC | MC | MC | 12 | MC | MC | |
| Lars Van Meijel | | | 58 | | | MC | 58 | 7 | 48 | MC |
| Lorenzo Gagli | MC | | MC | MC | MC | MC | | 40 | MC | |
| SSP Chawrasia | | | 77 | | | MC | MC | MC | 75 | |
| Lucas Bjerregaard | 51 | | MC | 35 | MC | 67 | | 35 | 10 | 32 |
| Richard McEvoy | MC | | | MC | MC | 47 | | MC | 23 | 39 |
| Ricardo Santos | MC | | 6 | MC | MC | MC | | MC | 63 | MC |
| Alvaro Quiros | 27 | | | MC | MC | | | 35 | 16 | Wd |
| Cormac Sharvin | MC | | 64 | MC | MC | MC | | MC | MC | MC |
| Julian Suri | 36 | | | 63 | 46 | 56 | | 60 | MC | MC* |
| Robin Roussel | MC | | 27 | 63 | 63 | 67 | 39 | | | |
| Toby Tree | | | MC | | | MC | MC | 60 | 16 | |
| Joel Sjoholm | | | MC | | MC | | | | | |
| Haydn Porteous | MC | | MC | MC | MC | MC | MC | MC | MC | Wd |
| Jean-Baptiste Gonnet | | | 58 | | 60 | 50 | | | | MC* |
| Oliver Wilson | MC | | | 67 | MC | 21 | | 35 | MC | |
| Pedro Figueiredo | | 30 | MC | | | MC | | MC | 63 | MC |
| Benjamin Poke | | | 47 | | | MC | 7 | MC | MC | MC* |
| Andrea Pavan | MC | | | MC | MC | 53 | 70 | | | |
| Samuel Del Val | MC | | MC | MC | 27 | MC | MC | 5 | | |
| Gonzalo F`dez-Castano | | | MC | | MC | | | MC | MC | MC* |
| Jake McLeod | | | MC | | | MC | 47 | MC | 70 | MC |
| David Howell | MC | | | 57 | Wd | MC | MC | MC | MC | MC |
| Carlos Pigem | | | MC | | | 62 | MC | MC | 56 | MC* |
| Graeme Storm | MC | | | MC | MC | MC | | | MC | MC |
| Gregory Havret | | | | | MC | MC | | | | MC |
| Raphael Jacquelin | MC | | MC | MC | MC | MC | | | | |
| Joel Moscatel Nachshon | | | | | | | | | | |
| Bradley Dredge | | | | | | Wd | | 60 | 38 | MC* |
| Thomas Aiken | 24 | | | MC | Wd | | | | | |
| Eduardo De La Riva | | | MC | | | | MC | | 28 | MC* |
| Jacobo Pastor | | | | | | | | | | |
| Gordan Brixi | | MC | | 39 | MC | | MC | | | |
| Carlos Sanchez Molina | | | | | | | | | | |
| Alfonso Buendia | | | | | | | | | | |
| David Puig | | | | | | | | | | |
| Player | 2019 | 2008 |
| --- | --- | --- |
| Jon Rahm | 1 | |
| Victor Perez | | |
| Min Woo Lee | | |
| Bernd Wiesberger | | |
| Guido Migliozzi | | |
| Richard Bland | | |
| Santiago Tarrio | | |
| Justin Harding | 7 | |
| Jamie Donaldson | 23 | |
| Antoine Rozner | | |
| Calum Hill | 17 | |
| Andy Sullivan | | |
| John Catlin | 63 | |
| Daniel Van Tonder | | |
| Jason Scrivener | 7 | |
| George Coetzee | | |
| Sean Crocker | MC | |
| Marcus Armitage | | |
| Masahiro Kawamura | 7 | |
| Kalle Samooja | | |
| Nicolai Hojgaard | MC | |
| Adrian Meronk | | |
| Mikko Korhonen | 17 | |
| Adrian Otaegui | 61 | |
| Sami Valimaki | | |
| Daniel Gavins | MC | |
| Joachim B Hansen | 4 | |
| Jazz Janewattananond | | |
| Grant Forrest | 61 | |
| Adri Arnaus | 4 | |
| Andrew Johnston | | |
| Francesco Laporta | | |
| Joakim Lagergren | | |
| Ryan Fox | | |
| Wilco Nienaber | | |
| Maximilian Kieffer | 49 | |
| Darren Fichardt | | |
| Dave Horsey | 45 | |
| Jordan Smith | | |
| Rafael Cabrera-Bello | 2 | 10 |
| Renato Paratore | MC | |
| James Morrison | 15 | |
| Tapio Pulkkanen | | |
| Matthew Jordan | | |
| Kristoffer Broberg | | |
| Jorge Campillo | MC | |
| Connor Syme | | |
| Alexander Levy | 15 | |
| Marc Warren | MC | MC |
| Wil Besseling | | |
| Matthias Schmid | | |
| Romain Langasque | | |
| Nacho Elvira | 37 | |
| Jonathan Caldwell | | |
| Matthew Southgate | | |
| Maverick Antcliff | | |
| Fabrizio Zanotti | 12 | MC |
| Darius Van Driel | | |
| Shubhankar Sharma | | |
| Victor Dubuisson | | |
| Edoardo Molinari | 23 | 57 |
| Chris Paisley | | |
| Justin Walters | 68 | |
| Jeff Winther | 4 | |
| Marcus Kinhult | | |
| Dale Whitnell | | |
| Richie Ramsay | | |
| Scott Jamieson | | |
| Pablo Larrazabal | 33 | 3 |
| Ross Fisher | 17 | |
| Jack Senior | | |
| Alejandro Canizares | 17 | |
| Benjamin Hebert | | |
| Mike Lorenzo-Vera | | |
| Ashun Wu | 30 | |
| Pep Angles | | |
| Rikard Karlberg | 33 | |
| Eddie Pepperell | | |
| Scott Hend | | |
| Ross McGowan | MC | |
| David Law | | |
| Sebastian Rodriguez Garcia | | |
| Matthieu Pavon | | |
| Steven Brown | 37 | |
| Adrien Saddier | MC | |
| Niklas Lemke | MC | |
| Oliver Farr | | |
| David Drysdale | 63 | MC |
| Gavin Green | | |
| Gaganjeet Bhullar | MC | |
| Nino Bertasio | 23 | |
| Sebastian Soderberg | | |
| Ashley Chesters | | |
| Sihwan Kim | 37 | |
| Thorbjorn Olesen | | |
| Hao Tong Li | MC | |
| Aaron Cockerill | | |
| Soren Kjeldsen | | |
| Luke Donald | | |
| Garrick Porteous | | |
| Robin Sciot-Siegrist | | |
| Dave Coupland | | |
| Joel Stalter | | |
| Julien Guerrier | | |
| John Murphy | | |
| Zander Lombard | 7 | |
| Oliver Fisher | | |
| Lars Van Meijel | | |
| Lorenzo Gagli | MC | |
| SSP Chawrasia | 55 | |
| Lucas Bjerregaard | | |
| Richard McEvoy | | |
| Ricardo Santos | | |
| Alvaro Quiros | MC | 4 |
| Cormac Sharvin | | |
| Julian Suri | 55 | |
| Robin Roussel | | |
| Toby Tree | | |
| Joel Sjoholm | | 43 |
| Haydn Porteous | | |
| Jean-Baptiste Gonnet | | 43 |
| Oliver Wilson | MC | |
| Pedro Figueiredo | 33 | |
| Benjamin Poke | | |
| Andrea Pavan | 12 | |
| Samuel Del Val | 3 | |
| Gonzalo F`dez-Castano | MC | MC |
| Jake McLeod | 49 | |
| David Howell | MC | |
| Carlos Pigem | | |
| Graeme Storm | | |
| Gregory Havret | | |
| Raphael Jacquelin | MC | MC |
| Joel Moscatel Nachshon | | |
| Bradley Dredge | | 37 |
| Thomas Aiken | 23 | MC |
| Eduardo De La Riva | 37 | 29 |
| Jacobo Pastor | MC | |
| Gordan Brixi | | |
| Carlos Sanchez Molina | | |
| Alfonso Buendia | | |
| David Puig | | |
Discover the latest articles
Read past articles