Tennis Trading Strategies: Profiting from a comeback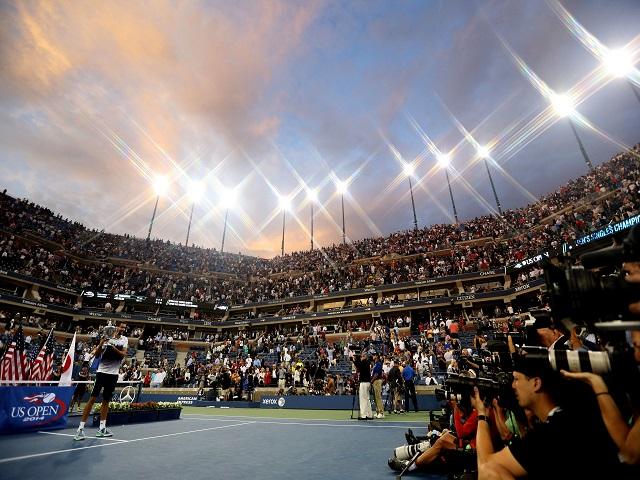 Trading a comeback on Tennis
The incentive for how a match is played, for ranked and non-ranked Tennis players, is very different. That often produces some great trading opportunties. Peter Webb of Bet Angel explains...

"Lower ranked players often find that putting their opponent under pressure is the most viable way to try to win the match and this is what presents us with our opportuntity"
Learn to trade Tennis with Bet Angel!
Ranked and lower ranked players

For lower ranked players, coming up against a seed in a tournament can be a doubled-edged sword. The chance to put a seeded player out of the tournament is to be relished but, depending on the gap in rankings, going out won't help rack up more ranking points.

You also have other battles underway. The difference in age and experience where younger more inexperienced players know they may have age on their side but lack a cutting edge.

From a tactical perspective, the longer the match drags on the more the experienced player will be able to find a way back into the match and through their maliase. So younger, lower ranked players often find that putting their opponent under pressure is the most viable way to try to win the match and this is what presents us with our opportuntity.
The trading opportunity

We now know that the lower ranked player will try hard to get that first break, or at least put their opponent on the back foot somehow and this is what presents the trading opportuntity.

If the higher ranked player can't get a break of serve their price will drift and perhaps the lower ranked player will actually manage to take the first set. If this happens then our trade is on. At the end of the first set with the outsider one set up, lay that outsider.

Over the course of the remainder of the match the favourite will have many opportunties to fight back. The odds at the start of the match were probably correct but this deviation from a straight forward victory is what creates the opportunity. It's best illustrated with a chart. In this next chart you can see that the outsider Carla Suárez Navarro got off to a good start and got a head start on her opponent which created a lay opportunity for us at the end of that run. But eventually her opponent came back into the match and wore her down sending the price back out again creating a good trade.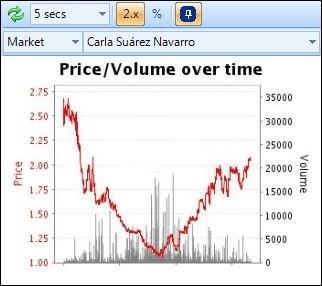 Keys to picking a good match to trade

Doing anything at random will produce random results. So it's best to focus on selecting a match that is more likely to produce the characteristics.
There are several things that will increase the chance of a player losing the first set but regaining parity.

Trade women's tennis - Women tend to have weaker serves and therefore the chance of a break is higher in womens Tennis. You only need one for the odds to start moving in the right direction.

Competitive matches - Matches where the odds are similar, will exhibit the highest variability when trading. There will be more chance of a succesful trade in these mathces.

Somthing play for - Matches at a key point in the tounament should bring the best out of a player. If glory awaits in the next round then players are much more likely to want to dig out a result and fight hard.

Key statistics - Somebody has to win the match but Tennis is one of few sports where the winner doesn't need to score more points than their opponent. Look at the balance of match, not the score, to judge how close it really is.

Look at key statistics from a match to see HOW it was won. Combine that with tools like Bet Angel's Tennis trader and you will put yourself in with a good chance of profiting from Wimbledon.
Summary

Comebacks are actually quite common in Tennis, whether it's a break or a set. So looking to exploit one by using information we have laid out here, is a good tactic.

Don't forget to check out Bet Angel's specialist Tennis features, perfect for any Tennis trader.

Download a free trial of Bet Angel today!
Discover the latest articles