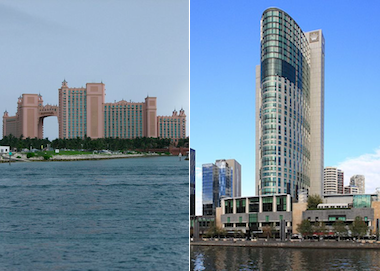 Poker's most popular destinations in January are the Atlantis in Nassau (left) and the Crown Melbourne (right)
Winter has fallen upon Europe, North America, and elsewhere, and like so many birds hundreds of poker players are flying south to warmer climes and hotter action as two major tournament series dominate the tourney calendar this month. Starting tomorrow the PokerStars Caribbean Adventure series of events will play out over the next 10 days in the Bahamas, then just a couple of days after the PCA concludes the 2013 Aussie Millions gets underway in Melbourne, Australia. 2013 PCA The PCA will be celebrating its 10th anniversary as it plays out at the Atlantis Paradise Island in Nassau, Bahamas. A packed schedule of 40 different events fills out the Jan. 5-14 schedule, with a few of the tournaments certain to gain more notice than others. Event No. 1, the $100,000 Super High Roller, will surely be one of the most followed as the poker world looks to see who will land the first big score of 2013. Last year it was Viktor "Isildur1" Blom who broke through to win the $100K Super High Roller, the first major live tournament victory for the swingin' Swede. Blom topped a 30-entry field in that one to start his year with a handsome $1,254,000 cash. 2010 World Series of Poker Main Event champion Jonathan Duhamel finished fourth in that event, cashing for $313,600. He'd re-entered, however, meaning his total cost ($200K) cut significantly into his profit. The finish nonetheless served as a prelude to further PCA success for the Canadian, as he'd go on to final table three other events last year, including winning the $5,000 no-limit hold'em 8-max. event and taking runner-up in the $25K High Roller on his way to more than $1.2 million worth of 2012 PCA cashes. This year's $100K Super High Roller again features re-entries and will play out as a three-day event, concluding on Monday, January 7. Attention will be somewhat divided that day, however, as the first-ever Open Face Chinese poker tournament (added late to the schedule as "Event No. 41") will take place. In 2012, Open Face Chinese became the latest new poker variant to capture the attention of many high-stakes players as a fun side game to satisfy the urge to gamble. The game plays like regular Chinese poker with players setting three poker hands from 13 cards -- a 3-card hand in front and two 5-card hands in the middle and back, with the strongest hand in back, next strongest in the middle, and weakest up top. The big difference in Open Face Chinese poker, however, is that instead of being dealt all 13 cards at once, players receive only five cards to start, then one card at a time thereafter, thus presenting a greater challenge when it comes to setting hands. Like the $100K Super High Roller, the Open Face Chinese tournament will be a re-entry event although will play out to a conclusion in a single day. Sporting a $2,150 buy-in, it will likely attract a decent-sized field of players curious to try something different and hopeful to become the first-ever Open Face Chinese poker tourney winner. Other events likely to garner extra notice from the PCA will be Event No. 10, a $1,025 "Zoom" event (based on the online-only variant of the game), the $25,500 High Roller event (Event No. 30), and the $10,300 Main Event (Event No. 5).   Last year the Main Event drew 1,072 entries, thus building a whopping prize pool of more than $10 million. John Dibella, a 43-year-old stock trader and amateur player based in New York, won the Main Event, earning $1.775 million for doing so. 2013 Aussie Millions Two days after the PCA concludes, the 2013 Aussie Millions gets underway at the Crown Casino and Entertainment Complex in Melbourne, with Betfair this year a Presenting Partner of the series. Like the PCA, the Aussie Millions has established its own tradition with a history extending all of the way back to 1997 when the first "Australasian Poker Championship" was held. Eventually rebranded as the "Aussie Millions," the annual series has grown to 26 events taking place over two-and-a-half weeks with prize pools expected to total more than $20 million (AUD, worth roughly the same as USD). A more recent part of the Aussie Millions tradition are the inclusion of "high roller" events which again will certainly grab a lot of attention this time around. There will again be a "$100,000 Challenge" (Event No. 10), won last year by Dan Smith for a cool first prize worth $1,012,000 (AUD). And the "$250,000 Challenge" returns as well (Event No. 21). Last year Phil Ivey won that one to earn a $2 million (AUD) first prize. Other highlights on this year's Aussie Millions schedule include the $1,100 Joe Hachem and Shane Warne Charity Tournament to raise money for Warne's foundation whose mission is to improve the lives of ill and underprivileged children in Australia; a $5,000 Chinese Poker tournament (Event No. 13); and, of course, the $10,600 buy-in Main Event (Event No. 8). Last year the Main Event drew 659 entries, thereby building a prize pool worth nearly $6.6 million (AUD), with Oliver Speidel emerging as the champion to claim a hefty $1.6 million chunk of that prize pool. Join Betfair Poker Now.
Both the PCA and Aussie Millions have grown into major tournament series over the last decade, with the inclusion of "high roller" events sporting six-figure buy-ins in recent years helping grab extra attention.