Betfair Poker Live Prague 2012.
The beautiful city of Prague was the venue for the final exciting leg of this season of the Betfair Poker Live Tour which ran from Friday 4th to Sunday 6th of May at the Card Casino Prague. Players had descended from all corners of Europe to enjoy the legendary Betfair hospitality and play a little poker as well.
'David Lunatsarski was flying at this point but was brought back to earth when he suffered two bad beats in quick succession. Both were pre flop confrontations and he lost AQ v A6 and AK v KT. David was still in the tournament but his stack had been substantially reduced.'
Betfair Turbo Timeout Freeroll
The fun started late Friday afternoon with the Turbo Timeout Freeroll. This was free for all players who had qualified via the Betfair site and was a 3 hour duration tournament with 20 minute blind levels. The top two players would win a package to the next Betfair Poker Live event worth $1400 and the next five would win an online Betfair Live satellite ticket worth $120.
Even though the prizes are good the players always treat these events as a bit of fun and everyone seemed to enjoy the format. The three hour time limit means that if the tournament is not finished at the end of the three hours then the prizes are allocated on chip count. This makes the poker that bit more aggressive as there is little point in just surviving, chip accumulation is essential.
At the end of the three hours three players remained and Maksim Tsimleu was the unlucky player to miss out on the Live package as both Magnus 'ZZ Top' Svenson and Josef Geroly had more chips than him.
The winners were as follows:-
$120 Satellite ticket winners
Hans Vogl
Juho Launonen
Jakub Broz
Alex Ferrer
Maksim Tsimleu
$1400 Package winners
Magnus Svenson
Josef Geroly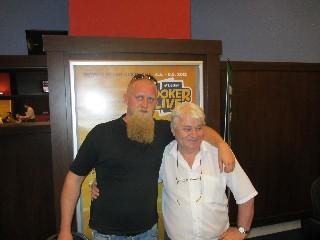 Magnus and Josef

Betfair Live Player Party
After giving the players a couple of hours to get changed and prepare themselves for the now famous player party everyone set off on the two minute walk to the excellent Phenom club.
My memory of most of this evening is slightly blurred for some reason but I do remember that there were plenty of free drinks. The music was great and there were plenty of friendly locals mixed in with us although as usual Betfair had acquired the VIP area for those that wanted to just sit and drink with their friends. Some extremely attractive scantily clad dancers on the DJ stage did manage to tempt most of the players out of the VIP area and onto the dance floor.
The Betfair staff made sure all the players were happy and well watered and the consensus of opinion was that it was another great example of Betfair hospitality at its best!
Click here to see the amusing Video Of Betfair Live Prague!
Betfair Live Prague Main Event
The main event is a two day $600 + $50 terminator tournament with 40 minute levels where every player has a $100 bounty on their head. 118 players sat down for the main event at 2pm on Saturday afternoon and the well prepared and spacious card room was soon buzzing with the click of chips and the player's banter.
The action started slowly and it took nearly an hour before we lost our first player Thomas Pedersen who like any self respecting Scandinavian headed straight for the VIP bar area (or losers lounge as it became known) and partook in the free drinks on offer.
12 levels were played on Day One and at just before midnight play stopped for the day with just 26 players remaining in contention for the 12 paid places on offer.
The top five on chip count on the end of play were as follows:-
Nico Ehlers 188.000
David Lunatsarski 135.600
Jan Štefek 122.000
Ondřej Kopecký 107.900
Leigh Ralph 106.400
Day Two started at 2pm prompt on the Sunday afternoon frenetically with 8 of the 26 players falling in under 20 minutes. It wasn't even as if the players were being loose, two players went out with KK v AA, another two AA v AK and two more AK v AQ. It almost seemed like the cards wanted a quick result!
The players continued to fall quite regularly until we hit 14 players and usual when the bubble approaches the short stacks became much more conservative whilst the large stacks bullied mercilesssly. We then lost two players in quick succession with poor David Piorkowski being the unfortunate bubble boy when his A8 was outdrawn by David 'the white smurf' Lunatsarski with A5 in an all in pre flop confrontation.
The next few players to go out fell quite quickly as the short stacks who had been hanging on now felt liberated to move their chips into the middle and within another 20 minutes we had reached our final table of nine players whose chip counts were as follows:-

seat 1: Stuart Hulston (UK) - 59.000
seat 2: Jan Štefek (CZE) - 326.000
seat 3: Luděk Šafránek (CZE) - 70.500
seat 4: David Lunatsarski (EST) - 461.500
seat 5: Bernat Saperas (SPA) - 79.500
seat 6: Nico Ehlers (GER) - 468.000
seat 7: Ondřej Kopecký (CZE) - 112.000
seat 8: Ondřej Dusílek (CZE) - 115.000
seat 9: Steffen Poulsen (DEN) - 79.000
The final table started very cagily with a few shoves from the short stacks in the first 30 minutes which went uncalled. The first to fall was Steffen Poulsen who shoved a very short stack with J8 and was called by Jan Steffek with A3 who found an ace on the flop to end Steffen's tournament. Jan then quickly took his second victim when his KT hit a straight on the turn to eliminate Ondrej Kopecky who had hit top pair with his KQ.
David Lunatsarski was flying at this point but was brought back to earth when he suffered two bad beats in quick succession. Both were pre flop confrontations and he lost AQ v A6 and AK v KT. David was still in the tournament but his stack had been substantially reduced.
Nico Elders then knocked out Ludek Safranek 99 v AJ, Ludek hits a Jack on the flop but the turn 9 spoiled his joy and condemned him to 7th position. Shortly afterwards Ondrej Dusilek goes out 6th, his QJ shove was called by David Lunatsarski's AK and an Ace on the flop sealed Ondrej's fate. David now started to get very aggressive taking many pots pre flop and also on continuation bets after the flop. He ended up priced in to call Stuart Hulston's shove with Q7, Stuart showed A5 but a Queen on the flop and a blank river and turn meant Stuart left in 5th place.
Click here to read the Forum blog for the main event with lots of great pictures!
David's tournament came to an end shortly after this when he tried to push Nico Ehlers of the hand with a shove on the turn with just King high and a flush draw. Unfortunately for David Nico had already made a full house and despite the flush being made on the river David fell in 4th place having played some great poker.
Of the three players now left Bernat Saperas had dramatically less chips than Nico and Jan and was shoving at every available opportunity. On about the 4th or 5th shove Jan decides to call with A3 and Bernat shows QJ. A completely blank board improved neither players hand and Bernat took 3rd place after playing some very good short stack poker throughout the final table.
Nico and Jan now decided to discuss a deal, Nico had slightly more chips so they decided to split the cash evenly with Nico taking the win and the added $1400 package to the next Betfair Poker Live event.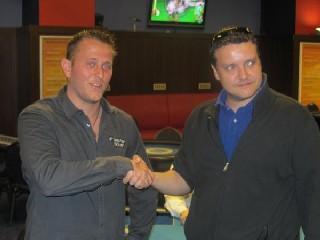 Nico and Jan
The prizes were all in euro's and as follows:-
1st Nico Ehlers 10,675 + $1400 Betfair Poker Live package.
2nd Jan Stefek 10,675
3rd Bernat Saperas 6,570
4th David Lunatsarski 4,650
5th Stuart Hulston 3,620
6th Ondrej Dusilek 2,720
7th Ludek Safranek 2,050
8th Ondrej Kopecky 1,570
9th Steffen Poulson 1,120
10th Leigh Ralph 650
11th Radoslav Jedynak 650
12th Tomas Krivsky 650
To surmise, it was a great event to finish off this season of Betfair Poker Live and all the players commented on how much they enjoyed the whole experience. I made several new friends and witnessed plenty of top quality poker.
The next season of Betfair Poker Live will start in Cork in late September and promises to be another fantastic event. I hope to see as many of you there as possible, one thing's for sure, if you attend you are assured a great weekend and a superbly organised tournament!
Discover the latest articles