Open Championship Update: Fantastic Fowler can be links legend
The Open

/ Paul Krishnamurty / 17 July 2011 /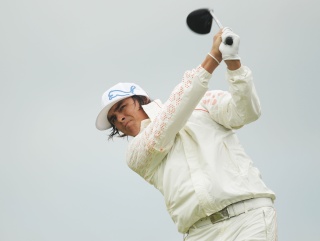 Rickie Fowler - all white on the day?
"Fowler has, for my money, played the best golf this week."
It's the final day at Royal St Georges and Darren Clarke is still in the lead. However, the likeable Northern Irishman's dream may be dashed by a certain young American, says Paul Krishnamurty.

Royal St George's had a reputation as a front-runners' course from previous Opens, and so it has proved once again. Of the six players under par going into this afternoon's final round, four were either first or second after one of the opening two rounds. Only one new face gatecrashed the leaderboard yesterday, much to the delight of the betting.betfair team.
If Rickie Fowler doesn't win today, he surely will win an Open in the future, such is the magnificence of his shot-making around a windy, links layout. Steve Rawlings calls yesterday's 68, (in much worse conditions than the leaders had to face), one of the best he's ever seen and I can't disagree. At the time Fowler was out on the course, shooting 73 or 74 would have been an achievement. Considering he was also badly drawn for the first two days, Fowler has, for my money, played the best golf this week.
Having already backed Rickie at [120.00], there's little sense in pressing up at [8.4], but I wouldn't deter anyone else. In theory, a case could be made for any of the dozen players on even par or better, but the Sandwich stats point to a much shorter list. The furthest any winner since WW2 has come back from on the final day is just three shots, which if repeated leaves just Fowler, Darren Clarke, Dustin Johnson and Thomas Bjorn.
There are so few birdie opportunities early on for the chasers, that I suspect these front-runners will soon have it between them, although obviously it is too early to write off the likes of Martin Kaymer and Phil Mickelson. Darren would be a hugely popular winner, but he has never wholly convinced under pressure, especially on two previous close shaves in the Open. He was superb from tee to green yesterday, but I can't help think he might regret holing so few of those birdie chances.
Johnson rates a bigger threat in my view, working on the assumption that he's learned from that infamous collapse when leading the 2010 US Open. So long as he keeps finding fairways, Dustin has the power to take advantage of Sandwich's few birdie opportunities, especially the two par-fives. Again, I wouldn't deter anyone from a bet at [3.8]. See the two-ball advice below for discussion of Bjorn.

7pts Louis Oosthuizen @ [1.7] (vs McEvoy) (Starts 11.00)
Having defended his title with great credit, Oosthuizen rates the final day banker against a vastly inferior opponent. Yesterday's 74 in appalling conditions was an excellent effort, illustrating a determination to show his St Andrews success wasn't a fluke. He also stayed on well for a top-ten at the US Open, suggesting that while hardly setting the world alight on a weekly basis, Louis enjoys these tough tests in the majors. McEvoy has only two top-20s to his name this season, and could easily fall away.

4pts Bo Van Pelt @ [2.2] (vs B Watson) (Starts 11.20)
After losing a lot of friends with his petulant outburst in France, Bubba Watson has so far proved many of his critics wrong this week by performing better and with more determination than any of us expected. I still wonder whether he's the ideal type for battling on when all is lost in the final round though, and today's opponent is precisely the consistent sort that is likely to set a solid target. Bo Van Pelt hit one of yesterday's best rounds, shooting 73 in the worst of the weather. I expect he'll build on that and register his lowest Open finish to date.

7pts Trevor Immelman @ [2.0] (vs T Watson) (Starts 12.05)
No praise is enough for Tom Watson, who once again illustrated his credentials as the best links player of all time yesterday. At the age of 61, two years after missing a putt on the final green to win a sixth Open title, Tom looked set to play another final day part before the weather suddenly improved and allowed the leaders to get away. No doubt there will be a huge crowd following him today.
From a punting perspective though, I wonder whether he's over-estimated in this 2-ball. Maintaining that sort of form two days running in terrible weather is no easy feat for anyone, let alone a veteran, and in Trevor Immelman, he faces a capable opponent with a solid weekend Open record. Trevor has made all seven cuts in this major, and is bidding for a fourth top-25.
4pts Rickie Fowler @ 1.9 (vs Bjorn) (Starts 14.00)
This column has been with Fowler every day so far, and I'm not about to desert him. As argued above, he's played the best golf this week and I expect a strong challenge this afternoon. Ever since turning pro, he's come across as a big occasion player. Maybe he hasn't won yet, but neither had Ben Curtis in 2003, and Fowler is vastly superior. After yesterday's heroics, he seems like a man going forward, whereas Bjorn could be in retreat. Nevertheless, whatever happens today, Thomas has played a blinder so far on this return to the scene of his darkest hour.
'.$sign_up['title'].'
'; } } ?>