Australian Open Results: Djokovic edges out Murray in a thriller
Australian Open Betting

/ Jamie "The Pacman" Pacheco / 27 January 2012 /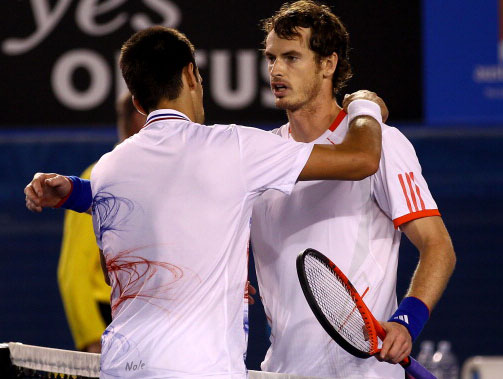 Brothers in arms. Novak Djokovic embraces Andy Murray after a monumental effort by both players.
In what was surely the match of the tournament, Novak Djokovic came out on top against Andy Murray over five sets. Rafael Nadal awaits him in the final.
The wait continues for a British Grand Slam winner after Andy Murray was knocked out at the semi-final stage of the Australian Open earlier today by Novak Djokovic.
In what was arguably the match of the tournament, Murray and the world number one toiled for just short of five hours in a see-saw match that saw Djokovic go one set up, Murray winning the next two, the Serbian winning the fourth with ease and breaking the Scot at 6-5 to complete a memorable 6-3 3-6 6-7 (4-7) 6-1 7-5 win.
Murray will feel he wasted opportunities to knock out the pre-tournament favourite, who actually appeared the more tired of the two as the game wore on. But the man they call the 'Serbinator' didn't win three Slams last year by giving up when he was behind or not coming out on top on the big-pressure points. He traded at a high of [2.88] to win the match when 2-1 down in sets. A 3-2 win for the number one seed traded at [19.0] on Betfair.
For Murray, this match, albeit one that ended in defeat, will give him belief that he can beat the likes of Djokovic, Rafael Nadal and Roger Federer in the remaining Slams of the year. He played a more aggressive brand of tennis that pushed his opponent all the way, a far cry from the ultra-defensive game where he's waited for the man on the other side of the net to make mistakes, tactics that he's been guilty of in the past.
For just short of five hours the Melbourne crowd enjoyed one of the great matches of recent years but they won't have enjoyed it as much as Rafael Nadal. The French Open champion qualified for the final yesterday after a four sets win over Roger Federer and in addition to having the extra day's rest anyway, will have watched with glee as Djokovic pushed his body to the limit and will surely go into Sunday's final as the more fatigued of the two.
Yet despite that, it is the Serb who will start as the [1.72] favourite with Nadal [2.34], almost exactly the same price he was pre-match to beat Federer.

'.$sign_up['title'].'
'; } } ?>