Sin City, Saunas and Johnny Chan
News

/ Peter Jepsen / 05 August 2009 / Leave a comment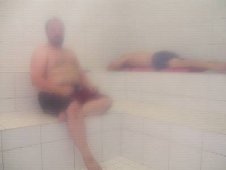 The dust finally seems to settle after this years WSOP in Las Vegas. I was there for two weeks in May, and then for four weeks in June/July. This was my seventh visit to Sin City, and by far the best trip I've ever had, in terms of cashing in.
I didn't cash in any of the tournaments I played, and to be honest I didn't win anything in the cash games either. Not even online. So how did this end up being my best trip? Did I rob the roulette and the craps table? No. Much more simple. I lost - but I didn't lose as much as I did on all the other trips to Vegas. Every single trip to Vegas I've made, has been a losing one. Why? Because that's how the city is designed - to relieve you of every penny you got.
It's quite fundamental really. If you're up 10K or 20K or 50K dollars a week or so before leaving Vegas - you will start gambling with that money to make a BIG win. No big player leaves Vegas with a "small" win. You either win big (not likely), or lose. Needless to say, this big win is yet to come.
So what did I take with me home from Vegas? Well, first of all I got one of the funniest compliments I've ever heard. I was working out in the gym at Bellagio, and a 70-year-old old guy comes up to me, and starts talking about how he did triathlon his whole life, and how he was a huge talent in swimming when he was my age. He finishes up saying, that in his LIFE, he has never seen anyone workout, with as much enthusiasm and effort, as I just did.
I was quite satisfied - that was until I got into the spa. I always visit the steam-bath in the Bellagio spa after a good workout. I'm probably a freak for saying this, but I always "compete" on enduring pain with whoever is in the spa, and never leave until everyone else, has left. It's a test of mental strength, and I refuse to let the heat break me.
This time, I opened the door to the spa just a tiny bit and slid in, in order not to let out too much steam. When I got in there, I imediately panicked. I've never been in a room with that much steam, and I instantly felt the water boil on my skin. I was like, wtf? On top of this, I couldn't see a damn thing in there and started fumbling around to find a place to sit. I looked at the thermostat on the wall only to realize someone had covered it with a wet towel, in order to efficiently allow the steam vents to constantly and with no end to it, blow out boiling water. I emptied my water bottle in my face, and couldn't help to wonder what kind of psychopath would do this to himself. I try to look around and find a person sitting like a Buddha statue in the very hottest and highest area of the room. Upon closer examination I find this person to be none other than Johnny fu**ing Chan.
I didn't even consider beating this mental case to the goal line and with less than 30 seconds in the room, I flew out of the door and into the cold pool. I counted nine minutes before Johnny came out, and he was red as a lobster. I'll be honest and say, that if 10 minutes had passed. I would have definitely assumed he was passed out, and I would have called security.