The Punter's De-Brief: The Open Championship
The Open

/ Steven Rawlings / 17 July 2011 /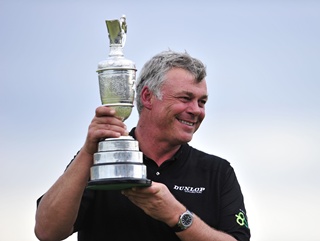 Darren Clarke - 2011 Open Champion
"I didn't fancy Clarke to get it done but I was wrong. Something any golf trader has to get used to!"

After a gruelling week at Royal St George's, 42 year old Darren Clarke wins his first major at his 54th attempt!
It was Dazzler's destiny. He played superbly all week but luck still played its part. Following a good draw over the first two days, he enjoyed the best of the weather on Saturday and a couple of lucky bounces in the final round. Luck aside, it was an awesome display and a fully deserved win and is there anyone that would begrudge him his success? I doubt it.

My Bets
I changed tactics this week because of the nature of the venue and the weather forecast and it worked out well - though I feel frustrated at the final result.
As detailed in the Live Blog, by the time we got to Sunday I'd gotten myself into a position so that whoever won, I'd win. That's the good news. The bad news is that Clarke was just about my worst result!
Having worked hard for three days I was left wondering whether it was all worth it but I only had myself to blame. I could have tweaked things before round four to level off my positions but instead I chose to leave things as they were. I didn't fancy Clarke to get it done but I was wrong. Something any golf trader has to get used to!
I received a few negative comments on the live blog but I can see why. Listing the many positions taken every 24 hours, rather than as and when they were made didn't make good reading. I'll give some thought as to how to run the blog at the next major because it didn't work as well as it should this week and listing trades as and when they're made would be impractical, if not impossible.

What have we learnt for next year?
Although different venues are used each year for the Open Championship, year after year certain repeat factors often determine the winner. You have to be up with the pace early on. As a rule, the set up is tough and birdies aren't easy to find. Making ground up is nigh on impossible and often leads to frustration and a missed cut. Take Lee Westwood this year for example.
Lee ranked number one for greens hit over the first two days but didn't make the cut. Without seeing every shot he played it's not possible to determine exactly what went wrong. Obviously he took far too many putts but was that down to trying to force the issue? I'd wager it was. I heard him interviewed on five live on Thursday night and he talked about needing a fast start on Friday. After birdying the 1st did he force things maybe?
The weather and the draw are absolutely critical. Tee times ran from 6.30am to 16.11pm on days one and two this year and that's typical, and given the changeable seaside weather, every year some players get lucky. The differential between scores between the am and pm starters on Thursday over the first two days was over three strokes but it's more subtle that that. A really close and constant look at the weather forecasts can reap dividends. It's possible that someone can get a really good break, missing the worst of the weather with the right draw - as Louis Oosthuizen did last year.
If you want to trade in-running, although it can drive you close to bonkers, if you have radio five live on, as well as the TV, you can often hear of putts made or missed before the majority of players in the market and thanks to a buoyant market, it's possible to take some decent prices. It's frustrating at times though and you have to leave the action every now and again. My big frustration was missing out on Darren Clarke's monster eagle putt on the 7th on Friday. As you can imagine, his price collapsed when that putt dropped but I wasn't on the ball at that precise moment. Oh well.
Outsiders have a superb record. Clarke was generally a [250.0] shot before the off but he was matched at as high as [360.0]. The last three winners have now all traded at more than [300.0] before the off.
Recent winning form is well worth having - 10 of the last 12 Open winners had won within a year of their Open success on either the European or US Tour, and Open Championship form is well worth having too. Every year Open specialists reappear on the leaderboard - next year's venue is Royal Lytham & St Annes, last used ten years ago when David Duval won from Niclas Fasth, with a certain D Clarke third. The clues were all there!
Next week's events are the Nordea Masters and the RBC Canadian Open and I'll be back on Tuesday or Wednesday with a preview of both events.

'.$sign_up['title'].'
'; } } ?>