The Open Betting: Late arrival Rory can cut it just fine
The Open

/ Ralph Ellis / 12 July 2011 /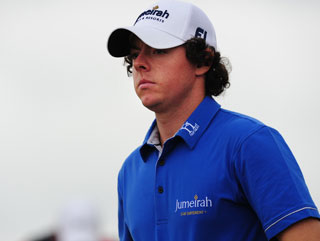 Rory's in no rush to get to Royal Ste George's
"Having backed McIlroy last week at [7.0], and again at the start of this week with his odds out to [8.6], I'm quite happy."
Some have speculated that Rory McIlroy is unwise to arrive at Royal St George's only a day before he tees off. Ralph Ellis explains why he's stciking with the man in form.
It's Rory day today - the afternoon when young McIlory will ride into Royal St George's for the sort of attention that only Tiger Woods has known until now. The US Open champion is booked to start his practice round at 15:30 alongside George Coetzee, and get his first taste of the hullabaloo that will accompany him throughout The Open.
People I've spoken to - including Paul McGinley for the Betfair Big interview - have doubts about the wisdom of washing up at Sandwich so late before the tournament begins. He tees off for real at nine minutes past nine on Thursday morning, and it seems little preparation for his bid to win back to back Majors. Listen to them and you would even worry about the [1.88] for him to win his opening day three ball against Ernie Els and Rickie Fowler.
But having backed McIlroy last week at [7.0], and again at the start of this week with his odds out to [8.6], I'm quite happy. And all the more so having read this morning's Daily Mail in which their golf correspondent and my old friend Derek Lawrenson has shared a practice round with Ian Poulter.
The flashy trousered one - although in this case he was wearing a fetching pair of white shorts - invited Derek to join him as he went round Royal St George's last week. The piece offers a great insight into a top player's preparations. But for me the most fascinating bit of info was that Poulter's 18 holes took nearly six hours because he was constantly being held up by the player in front - Rory McIlroy.
At the eighth they had to hang around while the boy from Holywood practised putting from every part of the green. At the 17th he took three different tee shots, experimenting with the best part of the fairway to land his drives. At the 16th, the hole where Thomas Bjorn memorably got stuck in a bunker for three shots and threw away the Claret Jug in 2003, they all rehearsed ways of avoiding the mistakes made by the hapless Dane. (Bjorn, incidentally, will have his own chance to erase that nightmare after being brought into the draw as one of the reserves after Vijay Singh pulled out with back trouble.)
The people who are expressing doubts about McIlroy seem to think he's been sucked into some sort of David Beckham-style celebrity whirlwind since his US Open win. They fear his mind has gone off his golf.
But the reality is that he's been working to prepare himself for Sandwich in exactly the same way he did for the last two Majors, where he's led the field for all but one of the eight days. And while you can't guarantee that the vaguaries of how the weather can affect links golf won't blow him off course - as it did in the second round at St Andrew's a year ago - everything else about his preparation seems to have been spot on. He's the boy in form, so why not back him? Close to even money for a top ten finish looks a steal.
Incidentally, there's one other clue from the same article for an outsider. Phil Mickelson flew his private plane down from Inverness to go round Royal St George's on the same day, and showed signs in the second and third rounds at Castle Stuart that he's coming to terms with links golf. Odds of [5.3] for a top ten finish look more than interesting.

Five things you might not know about Thomas Bjorn
1. Born February 1971 in the Danish town of Silkeborg, he was six years old when he started playing golf - but didn't turn pro until he was 22.
2. He has family members living in Dubai, and played a big role in convincing American golfers to go on travelling to the Middle East in the aftermath of the 9/11 attacks.
3. He's a big Liverpool football fan
4. He's worked with swing coach Pete Cowen almost all his professional career apart from a brief split in 2004
5. He charges between £10,000 and £25,000 for after dinner speaking
'.$sign_up['title'].'
'; } } ?>