The Betfair Big Interview: Paul McGinley
The Open

/ Ralph Ellis / 11 July 2011 /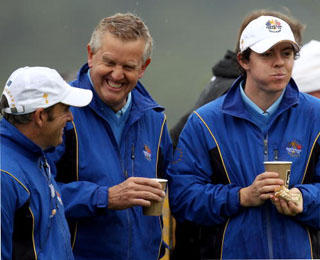 Vice-captain, captain and prodigy. Paul McGinley shares a joke with Colin montgomerie and Rory McIlroy at the last Ryder Cup.
"He is an extraordinary young man, and he does have the talent to be as good as Tiger Woods and Jack Nicklaus, but he is nowhere near that yet. He still has a lot to prove, and I think in Rory's interests, and everybody's interests, it would be good if everybody stood back from putting this crown on his head and just let him get on with it."
Paul McGinley is backing Lee Westwood to land his first Major at The Open this week. Betfair sat down for a cup of coffee and a sandwich with last year's Ryder Cup European vice-captain to talk about what to expect, well, at Sandwich . . .
Hi Paul. If we're talking about the Open we can't start by discussing anybody but Rory McIlroy, can we?
I know. There's a massive expectation now on him, and to be honest I think he's been over-hyped in the last month. He is an extraordinary young man, and he does have the talent to be as good as Tiger Woods and Jack Nicklaus, but he is nowhere near that yet. He still has a lot to prove, and I think in Rory's interests, and everybody's interests, it would be good if everybody stood back from putting this crown on his head and just let him get on with it.
He wasn't with you at Castle Stuart. Colin Montgomerie said he should have played another tournament before The Open. What's your take?
I don't know, I've not talked enough with him. I know he's played well the last few Major championships by playing very little beforehand, and at this moment in time it seems that's his best way to prepare. In three or four years he may have a different opinion, but at the moment it seems to work for him.

He seemed to enjoy his downtime. He was at Wimbledon a couple of times and looked relaxed.
He'll be coming to Royal St George's with a huge amount of confidence for what he did at the US Open, but it is a totally different exam paper at The Open, completely different. It's like going from science one week to doing mathematics the next. Completely different skills will be required to mastermind his way around a links course.
Tell us more.
Well you're talking about a running course, compared to Congressional. That's very much in the air and very little on the ground, whereseas on a links sometimes you need to bump and run the ball. Of course he's well equipped for links courses, he grew up with them in Ireland and had a lot of success as an amateur; he also did well last year at St Andrew's before that one horror round in tough conditions. So it's not he hasn't got the skills, but you have to hone them. It's like a tennis player going from clay courts to grass.
The Ryder Cup was a great week for everybody involved. You must be proud of how Rory and all the European players seem to have gone on individually since.
I think the Ryder Cup has been a huge thing for the European tour for a number of reasons. It underpins the whole financial stability, a lot of our business is constructed around it. But it also provides the platform for the players who play in it to go on as individuals. I've no doubt that without the successes at the Ryder Cup we wouldn't have had the flurry of Major winners and big performances that we've had in the last few years. To give you two examples: ever since, somewhat controversially, Ian Poulter got a pick to play at Valhalla his game has moved on. He played fantastically well under the pressure of Valhalla and that was a springboard for him going on to a completely different level. The second is Luke Donald. The way he played in the Ryder Cup last year and since then he's become world number one
He's clearly on form too after winning in Scotland. Everybody will say he has got to win a Major now to justify his status, though. Where are you on that debate?
I'm not as black and white about it. I think a career can be defined in a lot of ways. It's not just about winning Major championships. I know that isn't a view that a lot of people have, but I think Colin Montgomerie for example has had the most fantastic career. He hasn't won a Major, but in my view his career hasn't been defined by that. He's won nine Order of Merit titles, he's been a stalwart of the Ryder Cup and won more than 50 events worldwide. Would you prefer that kind of career, or would you prefer to have a career with somebody who just turns up and has a good week in a Major and wins it, which a lot of guys have done, but doesn't do too much else? Majors are important, but I don't think they define a golfer.
Tell us about the course in Kent. Who will it favour?
I think all the European based players. It's a matter of time before there is a flurry of European winners, we had a South African last year, but don't be surprised if a European wins it soon. Our golfers are dominating the world rankings at the moment and that's not a coincidence. They are playing the best golf.
Donald was certainly on form in Scotland - and Lee Westwood too
It was a shame about the weather, but it was great for the tournament to have those quality players and good preparation for them too. It's the right course for the week before The Open
You had a good few days
I hope things are coming together. I had a bad weekend in France the week before and that was very disappointing. It's been a staggered year for me so far, I've missed a few tournaments with injuries and scheduling, and not been very well and other issues, so I've not really had a flow. But I've played three weeks now, and although I didn't qualify for Royal St George's I'm off to the Indonesian Open and feeling much better. I just need to up my competitiveness and stay injury-free.
Indonesia? You'll have to take your own clubs with you!
Ha! You're talking about my new business venture clubstohire.com. We've got branches in Faro, Malaga, Gran Canaria, Dublin and Edinburgh where people on golf holidays can pick up top of the range clubs for less than it costs to take their own on the flight. It's been going really well.
How did you think up that one?
On tour one of the caddies does a service where he drives a big van and you pay him 50 Euros to put your clubs in after one tournament, and when you get to the next they are there and waiting for you. It saves so much hassle at airports. It struck me something similar would be good for amateur golfers. We had dinner in a nice restaurant with a couple of friends and a bottle or two of wine and the whole thing flowered from there.
Wish you luck with it, and in Indonesia - and we've a free £50 bet in aid of a favourite charity to say thanks for your time
That can go for CLIC Sargent. They do a great job helping families of kids with cancer. And as I'm not playing at Royal St George's there's nothing to stop me backing Lee Westwood to win at [12.5]. I think his level of consistency has been great, and I think it's only a matter of time. He's a great driver of the golf ball and that will be one of the key skills this week.

'.$sign_up['title'].'
'; } } ?>