Fulham Players: Cottage in order with Murphy at the helm
Players Under The Microscope

/ Paul Moon / 13 July 2011 / 4 Comments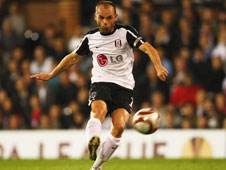 Danny Murphy bosses the Fulham midfield and chips in with a few goals a season
"Fulham have enjoyed their most successful period in their history with Murphy as captain, something that has largely passed unnoticed. Once he leaves the club via a transfer or eventual retirement, his true value will be recognised."
He's not one of the Premier League's more fashionable players nor is the club he plays for but the stats don't lie and Danny Murphy's worth to the cause is immense, says Paul Moon.
Poor technique is the major reason why very few British footballers and midfielders in particular, are successfully able to play for a top team on the continent. Danny Murphy is a rare product of the English game in that he could have played there and flourished. More so than most of his domestic colleagues, he has a decent first touch, a fine range of passing and understands the importance of ball retention.
Statistics composed by Opta and posted on Sky revealed an astonishing fact - Murphy had completed the most passes in the Premier League (2329) last season. What is both remarkable and surprising is that he accomplished the feat with a mid-table football club, which is what Fulham are. One imagined a player in a top tier club would have completed those numbers and with a team normally associated with mastering the art of possession. These statistics look even better when you discover he also came fifth in making the most tackles behind Lucas (Liverpool), Vaughan (Blackpool), Alcaraz (Wigan) and Parker (West Ham).
Looking at the reaction on the forums, the suggestion is that a lot of those passes were irrelevant or sideways. There is no such thing. Keeping the ball is an art form and something at odds with the British public psyche. You cannot fluke those Opta statistics and I prefer Mark Hughes's evaluation of the player when he acknowledged 'Murphy works at the coal face of the game.'
His career has generally been described as 'solid' but that particular word falls short of describing his value. There are negatives attached to his career though, of course. As a player we can accuse him of not being ambitious enough and consequently, he has under-achieved. He has resigned himself to being a big fish in a small pond and has quipped on a couple of occasions that he has 'no intention of sitting on a bench and taking the money' and this philosophy has shaped his career. It could be something he regrets later in life when he's hung up his boots.
When he left Liverpool at 27-years old and approaching his peak he downgraded and played for three somewhat average sides in Chartlon, Tottenham (average at the time 2006/07) and Fulham. His detractors talk about a lack of pace and this is fair comment, but like all class players of that mould, his sound positional play easily compensates for any lack of speed.
He played nine times for England, scoring once ,and was due to play in the 2002 World Cup before falling victim to the dreaded metatarsal injury; that obviously hindered his career at a crucial stage. Had he the opportunity to showcase his talents to the world that year it is doubtful his path would have led to Craven Cottage and he may yet have secured a big move where he could have played a starring role in a trophy-winning spell.
He will be most remembered for his career at Liverpool that included a most unique cup treble in 2001 - League Cup, FA Cup and UEFA Cup. There he developed an uncanny knack of scoring the deciding goal in tight matches. At Old Trafford he scored the only goal in three wins over Manchester United in four consecutive seasons and one can only imagine what was said in those forums in Lancashire at the time.
Surprisingly and considering the football knowledge of the Anfield faithful, most did not mourn his exit and this was at odds with his major contribution. He never played regularly in his best position and this was proven when he rose another level after his departure. Fulham have enjoyed their most successful period in their history with Murphy as captain, something that has largely passed unnoticed. Once he leaves the club via a transfer or eventual retirement, his true value will be recognised.
At 34-years old he is coming to the end of his playing career and has made no secret of his desire to go into coaching where he has all the credential to do well. He is intelligent, clearly understands the game and has man-management skills. Dario Gradi of Crewe rated his football intelligence so highly as a youngster that he sent him on scouting missions. He is still regarded as a legend at that club and would be welcomed with open arms should he wish to be manager somewhere down the line.
Judging by his keen interest in football management this could well be Murphy's last year and he would hope that Fulham replicate their eighth place from last year. But after looking at the candidates in that's an odds-against chance. Prices show: Man Utd [1.01] Chelsea [1.02] Man City [1.03] Arsenal [1.04] Liverpool [1.04] Tottenham [1.09] Everton [1.34] Sunderland [1.63] Aston Villa [1.93] Fulham [2.42] Newcastle [2.88] Stoke [2.92] Bolton [3.3] West Brom [3.6] Blackburn [4.4] Bar [6.6].
Read More UK & Ireland Football