Welsh football to remain in freefall
Football Food For Thought

/ Paul Moon / 23 March 2011 / 3 Comments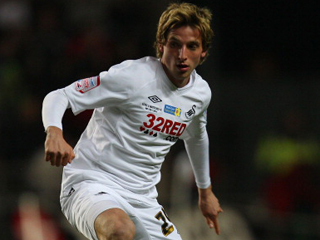 Joe Allen is one of five Welsh players who regularly plays for Swansea
"If the Welsh had a Premier League side there is little evidence to suggest that they would embrace football like the game of rugby."
Wales-based Paul Moon tells us why the future of Welsh football is bleak and not even the promotion of Cardiff or Swansea to the Premier League can save it.
Does Wales deserve to have a team playing in the Premier League? Of the four home nations they appear to be the least interested in football. Though they don't consider it an irrelevance, Welsh football has not received the same generosity, credence or kudos as afforded to their national game of rugby.
Wales is the cul-de-sac of British football and it is understandable that foreign investors would balk at the opportunity to invest there. That said, it's quite remarkable that domestically there has not been a single millionaire or a successful consortium that has a philanthropic view on Welsh football.
The problems with the country are perennial and culture-based so the administrators of the game have little chance to affect change. Apart from investment, the single biggest difficulty regarding the development of Welsh football has been the long-term acceptance of mediocrity, a sharp contrast with their oval ball counterparts.
Welsh football is in desperate need for Swansea and/or Cardiff to play in the Premier League to galvanise interest, although it is a red herring to suggest that this will lift the standard of the national team. If not many good, young Welsh players are given the chance to play in the Championship, then why would the managers play them in the top tier? In Cardiff's latest match against Millwall only one Welshman was selected in the starting eleven and he was an 31-year old loanee whose wages are paid by Manchester City. I don't think I need to tell you who that was.
The Cardiff team is a house of cards which belies why they are one of the strongest sides in the Championship this season! In their last match against Millwall they played with five on-loan players, which is totally unsustainable; should they fail to get promoted a mass exodus is guaranteed. Of their 27-man squad 22 are British, including seven Welshmen, so it could be argued that should they play in the Premier League some domestic players are going to gain meaningful employment.
Swansea have been playing good football this season, building on the work of Roberto Martinez. Their squad consists of 18 British players, including seven Welshmen, but at least in their last game they did start the match with three young Welsh lads actually on the pitch.
Cardiff and Swansea have decent stadiums but their capacity falls short with 27,000 and 20,000 respectively and that adds weight to the argument that they are not geared up to playing in the Premier League. In turn they will return low revenues and perpetuate the opinion that Welsh football is neither progressive nor serious.
If the Welsh had a Premier League side there is little evidence to suggest that they would embrace football like the game of rugby. Furthermore, at the academy stage, the best young players would continue to be cherry picked by the bigger English clubs. All of which means that after an initial surge of excitement of a Welsh Team playing in the Premier League, complacency would quickly and inevitably return!
The Betfair market for The Championship - Promotion 2010-11 shows: QPR [1.06] Norwich [2.2] Swansea [2.32] Cardiff [3.1] Nottingham Forest [4.5] Leeds [5.8] Reading [6.6] Burnley [7] Leicester [8.2] Hull [9.8] Bar [18.5].
Read More UK & Ireland Football