Tottenham Hotspur: Who's the best partnership up front?
Football Food For Thought

/ Michael Cox / 16 March 2011 / 1 Comments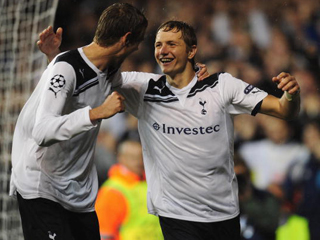 He's no fans' favourite bur Roman Pavlyuchenko is something of a lucky charm for Spurs and his partnership with Peter Crouch is Spurs' most successful
"In fact, Pavlyuchenko seems to be something of a lucky charm for Tottenham. When he has started, Spurs have only lost three games this season – and two of them the Russian managed to find the net in anyway."
Few teams in the Premier League have experimented with more partnerships up front than Tottenham Hotspur this season. But which one has yielded the most goals and win ratio, asks Micahel Cox.
The acquisition of Rafael van der Vaart has given Harry Redknapp more options going forward this season, and has forced him to play a slightly different type of football to accommodate the Dutchman. Three-quarters of the way through the season, however, and Spurs are without a settled front two.
Jermain Defoe has been out injured for long periods and available for just 19 matches this season so we haven't included him in our study.
In 41 matches so far this season, the most frequent combination upfront - van der Vaart just off Peter Crouch - has started just nine games as a pairing, and just five in the league.
Those two have a good relationship as a strike duo. We've seen the same move so many times this season - Crouch peels away to the back post and nods it down towards van der Vaart, who tries to anticipate the second ball and get a strike away. Of van der Vaart's nine goals from open play in a Tottenham shirt, no fewer than six have been assisted by Crouch. Those moments are balanced out by Crouch's lack of potency in front of goal, however. Sometimes it appears he is a little too intent on setting up van der Vaart - in the second leg against Milan, for example, he was guilty of trying to head the ball down... when he should have gone for goal.
Crouch's goal tally this season stands at just nine, a poor return for a player at the front of such an attack-minded team. Interestingly, he is more prolific when he is not playing alongside van der Vaart - only one of those nine goals have come when van der Vaart has been used just behind him (that was away at Werder Bremen. That was when van der Vaart was the man providing the assist with a cross from the left. The Dutchman certainly profits from Crouch's knockdowns, but maybe this ploy discourages the England striker from going for goal himself.
Spurs' record with Crouch and van der Vaart upfront is mixed - three wins, four draws and two defeats. That combination is much more effective in Europe than in domestic competition - in the Champions League, Spurs are unbeaten in the four games Crouch-van der Vaart has been used, but in the Premier League, they've won just once from five games. European sides struggle with Crouch's height, whilst Premier League teams have seemingly learnt how to cope.
The strike combination that brings Tottenham the best chance of success is, perhaps surprisingly, when Crouch is paired with Roman Pavlyuchenko. Those two are seen as being very similar, and often take it in turns to play the same role, but they have been prolific alongside each other this season. In the four games they've started together, Spurs have won all four, scoring 13 goals.
In fact, Pavlyuchenko seems to be something of a lucky charm for Tottenham. When he has started, Spurs have only lost three games this season - and two of them the Russian managed to find the net in anyway. The other was in the Carling Cup with a weakened side. In twelve league starts, Pavlyuchenko has only finished on the losing side once. His partnership with van der Vaart also works well - from six games they've started together, Spurs are unbeaten: winning four and drawing two.
All this ignores Jermain Defoe, who has put himself back in the reckoning with his first Premier League goals of the season against Wolves in Spurs' last game. He has a long-standing relationship with Crouch, having played alongside him for both Portsmouth and England, but this season he's started more often alongside
Pavlyuchenko, seven matches to six. Defoe has become a better all-round player in recent years - he's no longer simply a goalscorer. Towards the end of last season, he spent a lot of time dropping off the front and marking the opposition's holding midfielder when Spurs didn't have the ball, which prepared them for the move to a 4-4-1-1 system this season.
All of this might leave more questions than answers, but we have established two things. First, Crouch is a good knock-down man for van der Vaart, but his goalscoring ability suffers when paired with the Dutchman. Second, Spurs have a very good record when Pavlyuchenko starts, and he deserves more playing time.
Tottenham are [1.62] to beat West Ham at the weekend.
When the first goalscorer markets mature you can expect to see the following odds in the first goalscorer market:
Jermain Defoe [6.0], Peter Crouch [6.5], Rafael van der Vaart [7.0], Roman Pavlyuchenko [7.0].
Open a Betfair account today and claim your £25 Free Bet

Read More UK & Ireland Football