Premier League Betting: Have Portsmouth Found The Only Skint Arab?
Football Food For Thought

/ Dan Fitch / 08 September 2009 / Leave a Comment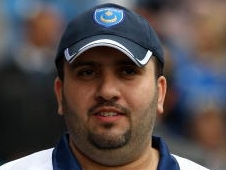 Mike Ashley's legacy: Never trust a chairman wearing cheap sportswear.
When the takeover was completed, Al-Fahim was not appointed as chairman of Manchester City, nor was he named as a board member. It seemed as if the new owners didn't want a spokesman who was devoted to making the club seem ridiculous.
Having flogged all their stars, Portsmouth were busy before the transfer window. Dan 'The Betting Man' Fitch looks at the signings financed by Sulaiman Al-Fahim.
Do you remember the final day of the summer transfer window last season?
News broke that Manchester City had been taken over by the Abu Dhabi United Group. They would give the club millions to spend in the transfer market. Before the day was out, they'd bid £30m for Dimitar Berbatov and successfully signed Robinho for £32.5m. It was all a bit different from the sort of deals that Peter Swales used to pull off.
The chief spokesman for City's new owners was a board member for the group, called Sulaiman Al-Fahim. It was assumed that he would be the new chairman of the club and perhaps he would have been, if his mouth hadn't got the better of him.
Because before long he was making outlandish claims, such as that City would be bidding £134m for Cristiano Ronaldo and spending the spare change of producing genetically cloned versions of Pele, Maradona and Georgie Best.
When the takeover was completed, Al-Fahim was not appointed as chairman of Manchester City, nor was he named as a board member. It seemed as if the new owners didn't want a spokesman who was devoted to making the club seem ridiculous.
So Al-Fahim was out in the cold, but the whole experience of being involved with a Premier League team and thus being able to spout claptrap to the press, was obviously one that he found exciting. By the end of last season it was reported that he'd bought himself his own club.
Al-Fahim was to take over at Portsmouth. This was the news at the end of May and the Pompey fans settled back to await the conveyer belt of new signings. They waited... and waited.
The deal for Al-Fahim to buy Portsmouth stretched on and on over the summer. In that time players like Glen Johnson and Peter Crouch left the club, following the likes of Defoe, Diarra and Muntari, who had departed since Pompey won the FA Cup in 2008.
Eventually Al-Fahim took over the club on August 26th. By this time Portsmouth were bottom of the table, but with seven days of the transfer window remaining there was time for things to be turned around. After all, if Robinho could be bought within a day, what miracles could Al-Fahim perform when given a week to strut his stuff?
The answer was, not much. Time will tell as to whether the signings made will be enough to keep Portsmouth in the Premier League, but when your glamour buy turns out to be Kevin Prince Boateng, you can't blame people for being sceptical.
Boateng cost £4m from Spurs, which is akin to daylight robbery when you consider that just days later, Tottenham bought Niko Kranjcar for around half that fee. In fairness, Boateng was never really given the chance at Spurs to prove that he is capable of playing in the Premier League, which is also the case with Jamie O'Hara who has arrived on loan.
A lot of Tottenham fans were mystified as to why the hardworking O'Hara was loaned to Portsmouth. Perhaps Harry still feels guilty about walking out on them.
O'Hara's work rate and eye for goal should give Pompey more of a competitive edge, especially when paired with another new signing, Michael Brown. Neither are the most talented of players, but at least they have the heart for a relegation dogfight. The same is true of Tal Ben Haim who has arrived from Manchester City.
Defender Mike Williamson was brought in from Watford, who has big shoes to fill after Sylvain Distin joined Everton. Portsmouth also signed Tommy Smith from Watford, after the former England U21 striker started the season in great form.
Smith has never been a prolific scorer though and you do wonder who will get the goals needed for Pompey to survive. Ivory Coast forward Aruna Dindane has arrived on loan from Lens, but like Smith, he has always been an infrequent scorer.
Which makes the decision to loan David Nugent to Burnley all the more puzzling. Nuguent has not been a success since he signed, but you'd think that Paul Hart would want all the strike options he could get.
Portsmouth are [1.91] to be relegated and are the favourites at [4.0] to finish rock bottom. If you were to place a Pompey Premier League bet at the moment you'd be scanning those relegation markets for sure. On Saturday they face Bolton, who are also without a point this season. Portsmouth are [2.7], with the draw [3.3] and Bolton [2.96].
Is it too soon in the season to call this one a 'six pointer'?
Read More UK & Ireland Football