Kettering Town go back to the 70s in bid for survival
English Football League

/ Joe Dyer / 29 March 2012 / 3 Comments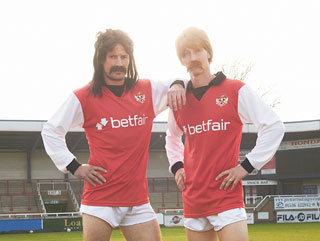 Player-manager Ashley Westwood and midfielder David Bridges model the one-off 1970s kit
""We wish the team all the best for Saturday and we hope that football fans will back the Poppies Trust and help safeguard the club's future."
Betfair's Alex Bake
Betfair shows solidarity for Kettering Town with one-off, money-spinning shirt sponsorship
Football Conference strugglers Kettering Town FC have been thrown a lifeline ahead of Monday's HMRC winding up petition at the High Court, having agreed a one-off shirt sponsorship deal with Betfair.
In a move to celebrate Kettering Town's status as the first English club to adopt a shirt sponsor way back in 1976, the players will wear a specially made retro strip when they take on Stockport County at Nene Park on Saturday. The limited edition kit is faithful to the 1976 design and includes vintage 'short shorts'.

Betfair are also offering season-ticket holders unbeatable value with a rebate to attend the match for just £1 - the cost of entry in 1976 - with fans able to pocket the difference or donate it back to the club.
Betfair's Alex Bake said: "Kettering Town changed the face of football sponsorship in this country and we wanted to reach out and offer our help to such a forward thinking club and their supporters.
"We wish the team all the best for Saturday and we hope that football fans will back the Poppies Trust and help safeguard the club's future."
Kettering Town caretaker manager Ashley Westwood said: "So far it's been a tough season for us, both on and off the pitch. Betfair couldn't have come onboard at a better time and I'm confident it'll spur the boys on this weekend."
Kettering Town acting Chairman George Rolls said: "The club is extremely grateful for the support that Betfair have shown us. The money raised will massively help the club at this difficult time."

Read More UK & Ireland Football