The Rules Of Tennis: To scrap or to keep some of the archaic rules
General

/ Sean Calvert / 07 July 2010 / 5 Comments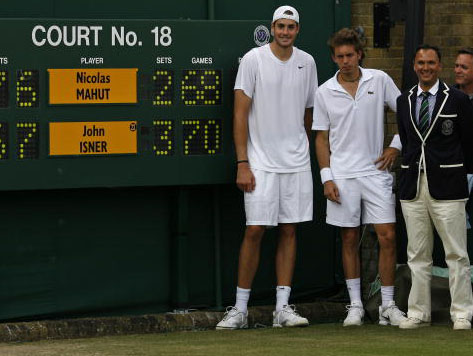 Farce. Niclas Mahut begrudgingly joins John Isner and umpire Mohamed Lahyani by the scoreboard at the end of the longest match in tennis history
"Anyone that sat through the tedium of Isner v Mahut – and let's face it, it was extremely tedious – or Federer v Roddick in 2009, must have been begging for a breaker, such was the inevitability of the end result in each."

Drop the let chord rule? Scrap Hawkeye? Let a repeat of Isner v Mahut happen again? Sean Calvert tells us which of tennis' old rules should be changed and which should be kept as they are.
With the memories still fresh in the mind of John Isner and Nicolas Mahut stumbling exhaustedly through a total farce of a fifth set lasting 491 minutes, it's surely high time that Wimbledon and the ATP/ITF in general had a review of some of their more archaic rules and regulations.
Wimbledon, Roland Garros and Melbourne Park each cling on grimly to the idea that the fairest way to decide a fifth set is to play until someone is two clear games ahead and Wimbledon in particular has had more than its fair share of overly long matches - particularly in doubles - even prior to the 11 hours and five minutes of Isner v
Mahut.
Those fortunate enough to have been to these Slams or indeed any tennis match will realise that five hours is more than enough already. Let's have a final set breaker - it's exciting for the crowd and the TV audience and easier on the players.
The US Open uses a breaker in the final set and the prospect of that has been enough to give the players an incentive to break serve ahead of the tie break most of the time. In fact, there has never been so much as a sniff of it coming into play in the US Open
Men's Singles Final. The closest occasion would be Ashley Cooper's 8-6
final set win over Malcolm Anderson way back in 1958.
Anyone that sat through the tedium of Isner v Mahut - and let's face it, it was extremely tedious - or Federer v Roddick in 2009, must have been begging for a breaker, such was the inevitability of the end result in each.
If Wimbledon et al wish to go for a long final set then surely a compromise whereby a breaker or even a champion's tie break (of first to 10 points) comes into play at a set limit of, say, 10 games each, that would be best for all concerned - umpires, spectators and of course the players.
Who could want to see this insanity continue, after witnessing Isner barely able to hold his racquet against Thiemo de Bakker the day after?
And while we're on the subject, here are a few other tennis rules that
need changing: -
The let rule is one that divides opinion, with 'experts' such as Pat Cash vehemently demanding for it to be scrapped, but I'm not convinced myself. It is annoying to the server when a perfect service delivery is ruled out for the tiniest of brushes against the net cord, but we can't have a situation where matches are won and lost on a serve dribbling over the net and the unedifying prospect of players diving for one that's just made it to their side of the court. Sorry Pat, but you're wrong on this one.
The introduction of hawkeye technology has undoubtedly been a boost for the game, because unless you happen to be Roger Federer, (who doesn't believe it to be accurate) it has all but eradicated the shocking line-calls that we saw in the past affecting matches.
I do think that players are using the challenges now for a rest between particularly long points though, so a reduction to two per set and no extra one for a breaker might be a good idea.
Talking of players taking a rest, surely the time has come to do something about calling the trainer onto court every five minutes.
We see time and again, people calling for the trainer when their opponent is about to serve for the set and a simple answer to this would be to only allow the trainer on court once a set has been completed.
This would cut out the tactical trainer calls. If a player is so injured or ill that they can't complete the set, he or she forfeits the match. Simple as that.
One that really annoys players and fans alike is the 30 seconds between points rule. What is the point in having this if the umpires don't adhere to it?
There should be a timer counting down between points on the scoreboard and if the serving player doesn't serve when the 30 seconds are up they should get a point penalty and so on.
Finally, the first serve rule, whereby the server gets another first serve in the event of a hawkeye challenge or other interruption to a point when the point in play stemmed from a second serve.
Why should the server get the advantage of bombing a huge ace down when he or she has already missed one? For example, a rally is in play from a second serve and a piece of litter blows onto court, the point is stopped and it's back to a first serve?!
Surely the play should restart from the same stage that it was stopped. ie with a second serve if that was how the relevant passage of play began and this should apply whatever the interruption in play was.
Hopefully some of these points will be addressed by the powers that be before the next millennium, but don't bet on it - the PR guys at the All England Club enjoyed the Isner/Mahut affair far too much for that.