French Open Tips: Can Roger stop record-seeking Rafa?
French Open Betting

/ Sean Calvert / 04 June 2011 /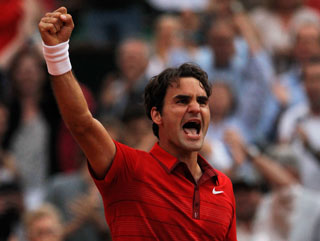 Does Rog have it in him to defeat Rafa?
"You have to rate Rafa's chances at better than [1.46] based on their previous meetings and their last one in Paris - Nadal winning 6-1, 6-3, 6-0 in 2008."
It's part 26 of Rafa Nadal and Roger Federer's epic series - the Spaniard is favourite, but can he reward the odds on backers? Sean Calvert takes a view
So, we have the first Roger Federer v Rafa Nadal Slam final for two-and-a-half years set for Sunday at Roland Garros.
After Rafa eased past Andy Murray in three competitive sets and Federer beat Novak Djokovic in a real thriller on Friday night, we're all set for part 26 of a series that the Spaniard leads by 17-8 overall.
He also leads by a dominant 11-2 on clay and 4-0 at Roland Garros, where he can be backed at around [1.46] to equal Bjorn Borg's record of six French Open titles.
Interestingly, if Nadal does go off at those odds, it will be the biggest price for a French Open match between this pair since the 2006 final when Rafa was a [1.68] shot.
This is due mainly to Federer's fabulous performance in beating an admittedly slow-starting Djoker, but also the general feeling that Nadal isn't quite at the heights that we're used to seeing him on the red dirt in previous years.
The sub-plot to this match in terms of world rankings is a simple one
- Nadal will remain world number one if he wins and if he loses, Djokovic will take over that particular mantle.
Not that Rafa needs any more incentive to win this and you have to rate his chances at better than [1.46] based on their previous meetings and their last one in Paris - Nadal winning 6-1, 6-3, 6-0 in 2008.
As well as Federer played against Djokovic, I get the feeling that he needs to serve at least as well again and I'm not convinced that he has the consistency to produce that kind of level of tennis at will any more.
As for Rafa, despite my reservations about his performances this fortnight, he does seem to be peaking at the right time and we may well have seen the best of Federer already.
That said, I can see the Swiss taking a set, but I expect that Rafa's defence will prove to be as sturdy as ever, which forces Federer's slightly suspect backhand into one shot too many.
I said in my semi-final preview that it would probably be Roger's greatest ever triumph if he takes the title here and I stand by that call. Can he do it? I wouldn't put it past him, but the head says Rafa in four at around [3.8].
Recommended Bet
Back Nadal to beat Federer 3-1 at [3.8]

'.$sign_up['title'].'
'; } } ?>