The Punter's picks for the Open de España and the Wells Fargo Championship
The Punter

/ Steven Rawlings / 04 May 2011 / Leave a Comment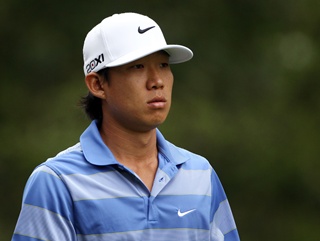 Anthony Kim – A former winner of the Wells Fargo and one of the Punter's picks this week
"Anthony Kim absolutely hacked up here in 2008, winning by five strokes, and that performance wasn't a one-off. He was 5th on his debut the year before and 7th last year."
The Race to Dubai returns to Europe and the US PGA Tour moves on to North Carolina for one of the Punter's favourite events. Read his preview of both tournaments here...
The Race to Dubai returns to mainland Europe this week for the Open de España at the Real Club de Golf El Prat and while it's nice to see the European Tour played out at a friendlier time it's frustrating to see that we've another new course to ponder.
The Real Club de Golf El Prat was used for this event back in the 90's but not on this course. Confused? I was for a while. The original course was relocated when Barcelona Airport expanded and this new Greg Norman designed venue opened in 2004. Whilst we have to disregard Thomas Bjorn ('98) and Jarmo Sandelin's ('99) El Prat wins in this event, we can still find some relevant course form, albeit on the Challenge Tour but that's a bit confusing too...
When David Drysdale claimed the Peugeot Challenge on the course in 2006 he did so by reaching a ten under-par total of 278 but a year earlier, Tomas Jesus Muñoz had finished birdie-eagle to win in just one under-par. So is it a tough course or an easy one? It's taken long enough but the European Tour website has finally updated their course info and that helps considerably. It reveals that this week they'll be playing the Violet Course - a composite with holes 10-18 of the Yellow Course (tournament holes 1-9) and holes 10-18 of the Pink course (tournament holes 10-18). You can see details of the two courses here.
Miguel Angel Jimenez, Matteo Manassero and Alvaro Quiros are very much the 'names' in attendance this week and in a typically weak European event, anything but an ordinary start from any of them will see their prices reduce. Of the three, Alvaro makes most appeal.
Jimenez's record in this event is anything but special and he also has to overcome the duel handicap of reacclimatising after his visit to Korea last week and the disappointment of his narrow defeat there. Manassero's stock is most definitely on the up but given the length of the course, and one or two other snippets of info, I just fancy Alvaro was the better value.
Quiros finished 4th behind Drysdale here in 2006, he won't mind the forecast breezy conditions, the generous fairways will be in his favour - as will the plentiful run-off areas around the greens (just the ticket for someone with a magical short-game) and although he has to overcome the handicap of being the defending champion (Max Faulkner was the last person to defend this title...in 1953!), with a morning tee-time on Thursday, I thought he was just about value at [14.5].
James Morrison lost to Alvaro in a play-off last year and has been pretty much out of form ever since but there's definitely been an upturn in form just lately and after backing him last week in Korea, where he finished a respectful tied 7th, I felt he was worth backing again, and my next two picks, Pablo Martin and George Coetzee have both been highlighted as players to follow in recent de-briefs.
And finally, as a course winner who often plays well in Spain, Drysdale looked a big price to me.
Selections:
Alvaro Quiros @ [14.5]
Pablo Martin @ [75.0]
James Morrison @ [80.0]
George Coetzee @ an average of [135.0]
David Drysdale @ an average of [270.0]
This week's US PGA Tour event is one of my favourites. Formally the Wachovia, the Wells Fargo Championship is staged in beautiful North Carolina at the spectacular and highly respected Quall Hollow - the venue for the 2017 PGA Championship. Of the previous eight winners of this event, only Joey Sindelar wasn't top-class. David Toms, Vijay Singh, Jim Furyk and Tiger Woods have all won majors and the last three winners, Rory McIlroy, Sean O'Hair and Anthony Kim are all promising youngsters who probably will.
My first pick, last year's runner-up Phil Mickelson, with six top-12 finishes from seven starts here, was a very obvious choice. He was bitterly disappointing at the Masters but I can see him bouncing back on a course he clearly enjoys and [13.0] was a perfectly respectable price.
Last week's winner, Bubba Watson, has a bit of course form - he was runner-up here two years ago. His scrambling wasn't brilliant last weekend and that's a skill-set that's often important at Quall but I'm overlooking that detail - the rest of his stats are outstanding. Back-to-back winners are rare but I think he's just about value at [29.0]. A third win of 2011 wouldn't surprise me in the least and the market could still be underestimating this exceptional and mercurial talent.
Anthony Kim absolutely hacked up here in 2008, winning by five strokes, and that performance wasn't a one-off. He was 5th on his debut the year before and 7th last year and that could have been so much better but for his wrist injury (which he subsequently had surgery on) causing him problems. He's missed his last two cuts and has been finding far too few fairways recently but I felt I couldn't leave him out at a big price.

Gary Woodland appears to have a similar profile to the last few winners in that he's a promising youngster who has already won an event. His long-hitting will be an asset here and he too looked a fair price. And last up is Zach Johnson, who traded at just [2.7] two years ago after he'd led by two with a round to go. A freaky triple-bogey six at the 2nd hole completely blew him off track that day but as a major winner he has the class to win here, if not the current form. I back Zach often enough but he's frequently a price that belies his ability and at [150.0] that's again the case.
Selections:
Phil Mickelson @ [13.0]
Bubba Watson @ [29.0]
Anthony Kim @ [70.0]
Gary Woodland @ [90.0]
Zach Johnson @ [150.0]

I'll be back again at some point on Thursday or Friday to kick-off the Live Golf Blog.