Golf Betting: Three links masters for Britain's golden fortnight
Golf Events

/ Paul Krishnamurty / 05 July 2011 /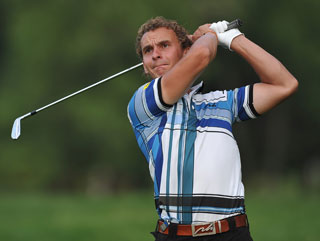 Joost Luiten's odds are generous
"Americans are far less likely to win at Castle Stuart than they were at Loch Lomond, and we should get some early clues about their ability to cope with links before finalising our Open plans."
The golfing world descends on its spiritual home for two weeks of links golf - the game as it is supposed to be played! - so here are three players armed with the skills to flourish on traditional courses over the next two weeks
As we enter the best fortnight of the European season, with the Scottish and British Opens in consecutive weeks, the first point for punters to factor into their bets is a rather significant change in venue. After 15 years hosting this stop on the schedule, Loch Lomond gives way to Castle Stuart Golf Links as the Scottish Open venue, rendering a long-standing, reliable trend irrelevant. No Loch Lomond champion ever followed up at the Open, but with the shift to another classic links layout, that might well change.
Without taking anything away from the picturesque former venue, it offered no sort of warm-up, as the US-style test had little in common with the links challenge awaiting at the Open. Many world stars preferred to enjoy the week off or play JP McManus' pro-am instead. Assuming Castle Stuart remains the venue in future, we can now expect to see more overseas candidates coming over to Britain a week early to hone their links skills, in addition to chasing a big prize fund.
From a punting perspective, our task should be easier, because links golf clearly suits some players much better than others. We can oppose Phil Mickelson with even more confidence than usual. Indeed, Americans are far less likely to win at Castle Stuart than they were at Loch Lomond, and we should get some early clues about their ability to cope with links before finalising our Open plans. Amongst those players lining up at both events, the following trio strike me as the best value.
Retief Goosen
Scottish Open odds: [30.0]
British Open odds: [70.0]
The weather forecast for Castle Stuart is mixed right now, with some suggesting severe conditions, others merely predicting patches of rain and generally light winds. So far as Goosen is concerned, the worse the better, but even if the sun shines there's no doubting his tournament or links pedigree. He was a former winner and regular Loch Lomond contender, but won't mind the switch of style, given a career links record that few can rival. Way back before he became a major winner, Goosen was a prolific record-breaking match winner in the old Dunhill Cup at St Andrews, and he went on to register ten top-15s in the Open.
Though the older Goosen has let himself down in contention, blowing a series of golden opportunities to win in recent years, he remains a very reliable pick in place and finishing position markets, registering ten top-fives and 21 top-20s in the past two seasons. Following third place on his last start in Germany, another high finish looks probable. Moreover, a good week at Castle Stuart will drive down his [70.0] odds for Royal St George's.
Ross Fisher
Scottish Open odds: [36.0]
British Open odds: [80.0]
Ross Fisher is another man probably hoping for bad weather. His last win came in last year's rain-soaked Irish Open, and many of his previous career highlights came when the going got tough. Arguably Fisher's best ever performance came almost three years ago to the day, when spreadeagling a world-class field in strong winds at the European Open. He also has a promising links record, whether challenging strongly for the Open at Turnberry, finishing runner-up at the Dunhill Links or winning the KLM Open. Moreover, a fast-finishing top-ten on his last start in Germany suggested he could be about to peak. As with Goosen, there is plenty of scope for Fisher's Open odds to shorten dramatically from a high level, just by contending at Castle Stuart.
Joost Luiten
Scottish Open odds: [80.0]
British Open odds: [500.0]
OK, it is too early to label Joost Luiten as a links specialist before he's even played in an Open, but all the signs are there. He first came to public prominence with an outstanding performance on a links course, finishing runner-up as a young amateur in his national Open. The best ball-strikers tend to thrive at links, and the young Dutchman is exemplary in that department, usually ranking near the top of the greens in regulation stats. Furthermore, these huge odds over the next fortnight bear little reflection to Luiten's excellent recent form. He twice rewarded supporters in the top-five finish market last month, and has been a frequent challenger since last October.

'.$sign_up['title'].'
'; } } ?>