Thomas Levet and the 7 worst golf injuries
The Open

/ Dan Fitch / 13 July 2011 /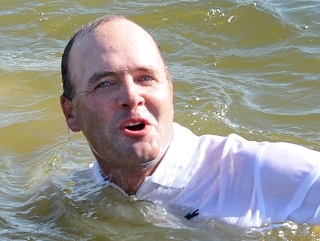 Next time Thomas Levet will simply open a nice bottle of champagne.
Dan Fitch takes a look at the seemingly peaceful world of golf and finds hidden dangers at every turn.
On the face of it the sport of golf isn't a particularly dangerous one. There's no physical contact between the participants and no need to break out into as much as a jog. What could go wrong?
Well the ball is pretty hard for one, as are the clubs. There's also some rather dangerous elements around like deep bunkers and the odd water hazard - as Thomas Levet recently found out to his cost.
To celebrate his win at his native French Open, Levet jumped into the nearest lake. His over-excitement resulted in a broken shin, which would require surgery to insert screws and a metal plate. He will now miss the Open at Sandwich.
Levet is not the only golfer to have injured himself playing the gentle game. Here's the footage of his leg break, along with some other harrowing golf injuries.
7. The lake break
Thomas Levet got more than he bargained for when he took the plunge.
6. Tee (shirt) shot goes wrong
A man uses his fat stomach as a tee and has to deal with predictably painful repercussions.
5. Jackass has a lot to answer for
The rest of these injuries are stupid, but at least they're accidental.
4. The father and son
Never go golfing with children or animals.
3. Even spectators are at risk
You'd think you'd be safe in the crowd, but watch out if Stewart Cink is around.
2. Next time call a tow truck
If your golf cart ever falls on it's side, don't try to get it back on it's wheels like this.
1. The sympathetic wife
It's bad enough to suffer a broken bone when playing indoor mini-golf, but it's much worse when your wife is filming the sorry episode and is in hysterics at your pain.
'.$sign_up['title'].'
'; } } ?>