The Open Betting: Four punting pointers for Royal St George's
The Open

/ Paul Krishnamurty / 07 July 2011 /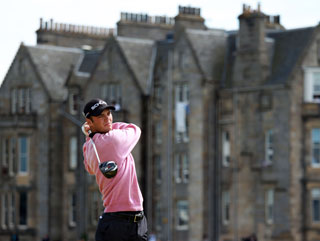 Martin Kaymer has winning links form having landed the Alfred Dunhill last October
"There is a danger that McIlroy is under-priced now. Granted, he's a links specialist, but these conditions may be less favourable, especially if the wind becomes unsuitably strong."
Hold onto these four punting principles and you stand a chance of finding the 2011 Open winner...
Don't be deterred from backing rank outsiders
While all four majors have produced shock winners in recent times, as the sport has become more competitive, none of the other three compares to the Open Championship, which has seen rank outsiders win five of the last 12 renewals. Betfair wasn't around when Paul Lawrie won at Carnoustie in 1999, but he would surely have been matched at the same maximum [1000.0] odds as Ben Curtis in 2003. Todd Hamilton in 2004 and Louis Oosthuizen last year were both available at over [600.0] before the off. By comparison at a mere [320.0], 2009 champ Stewart Cink was obvious.
Interestingly, during that period, there were no 'middle ranking' winners. Champions were either extremely hard to pick, or extremely obvious. The seven 'non-outsider' winners were Tiger Woods (thrice), Padraig Harrington (thrice), plus one each for sometimes world number ones Ernie Els and David Duval. A similar trend applies to Opens at this year's venue, Royal St George's. Of the four Opens to be played here during the modern era; two were won by rank outsiders Curtis and Bill Rogers, the other two by world-class links masters Greg Norman and Sandy Lyle.
Be wary of reading too much into form at the recent US Open
Apart from saluting the brilliance, and recognising the significance, of Rory McIlroy's breakthrough major title, last month's major at Congressional offers few meaningful clues for next week. A strangely generous set-up, with relatively light rough and straightforward bunkers, meant the US Open was like no other major in recent memory. Rain left the greens receptive, producing the sort of target golf test usually reserved for PGA Tour standard events. We're unlikely to ever see a lower winning score in a US Open than McIlroy's 16 under par again, or for 20 players to finish under par. As Steve Rawlings noted at the time, the best use for this formbook was as a guide for next year's A T & T National at the same venue.
We should therefore, be wary of reading too much into individual failures. The surprisingly lacklustre showing of usually ultra-consistent favourite Luke Donald, for instance, may have been due to his lack of power, leaving him disadvantaged after the rain soaked the course. Moreover, his short-game skills were nowhere near as important, compared to the scrambling challenges expected at Sandwich. Likewise, there is a danger that McIlroy is under-priced now. Granted, he's a links specialist, but these conditions may be less favourable, especially if the wind becomes unsuitably strong.
Very few Americans can boast strong claims
Although Americans have a good historical record at Sandwich, their recent performances in the Open have left much to be desired. A grand total of three have made the top-five in the last four Opens, with none achieving that target last year. Notably, that trio were amongst the few Americans to already have pedigree for this major - Jim Furyk, Tom Watson and Stewart Cink. With three times champion Tiger Woods missing this year, there is no leading American able to boast similar Open credentials. Many of their likeliest contenders according to the market, such as Phil Mickelson and Matt Kuchar, have appalling records in this major. Moreover, those with a good tournament record, such as Furyk, Cink or Curtis, are all well below their best right now.
Part of the explanation lies in a general decline in American golf, as illustrated by the increasing European dominance of the world rankings, and international presence on the PGA Tour. Part is probably due to reluctance to travelling, playing on overseas tours and learning these different challenges. Bubba Watson's petulant display at the French Open springs to mind.
Primarily though, the reason most Americans struggle in the Open is because links golf is rather alien to them. The combination of pot bunkers, undulating fairways, sand dunes and British coastal weather is a challenge rarely faced by PGA Tour regulars. It is a big disadvantage, especially when the weather turns sour.
Locate links and wind specialists
Just as most Americans struggle with the conditions of links golf, there are plenty of others who thrive. The obvious place to locate these links specialists is, of course, on previous Open leaderboards. Not everyone has a stack of Open appearances though, so in these cases it might pay to study other events involving links-style courses.
In Europe, there is the annual Dunhill Links Championship, although it should be added that this pro-am set-up is vastly easier. Nevertheless, the weather is usually bad at that stage of the season, so could offer clues depending on the forecast. The KLM Open is annually played on links layouts in the Netherlands. That Martin Kaymer won both of these titles last year, in addition to challenging in the Open, stands out as a useful clue. Another lesser-known exposed European venue which offers a guide to good wind form is Pula GC in Mallorca, where Darren Clarke recently won the Iberdrola Open.
If you're looking for US courses with similarities, then there is some correlation with form at Pebble Beach and Harbour Town, both of which have hosted a regular fixture for decades. Last year's USPGA venue Whistling Straits also catches the eye with it's sand dunes and relative exposure. Again, rising links star Kaymer emerged as champion.
Finally, lest we forget, the ultimate Open form guide is available this week, with the Scottish Open making its first appearance at the stunning links of Castle Stuart.
'.$sign_up['title'].'
'; } } ?>