The Open 2011: Is there any hope for Sergio supporters?
The Open

/ Paul Krishnamurty / 29 June 2011 /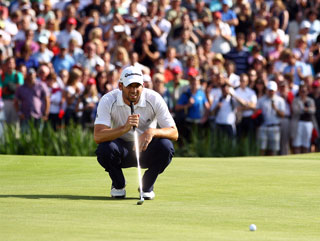 If Garcia could tame the flat stick he would be a world beater
"Sergio probably requires a new brain. One that forgets previous heartache."
Sergio Garcia has touched the highs and plumbed the depths in his career but there have been signs of a return to top form recently. So, with his favourite major coming up, can you back Garcia for glory at St Georges? Paul Krishnamurty has a view
The past fortnight has provided plenty of food for thought on questions close to all golf punters' hearts - who can be trusted when the pressure is on, who is a bottler, and can somebody redeem themselves once awarded that dreaded tag? First Rory McIlroy, pilloried after a final round collapse at the Masters, redeemed his reputation in spectacular style at the US Open. Next Fredrik Jacobsen, formally rated as a strong finisher in Europe, ended a 188 tournament losing streak on the PGA Tour. However, while that pair have done enough to silence their critics, Sergio Garcia is beginning to look like a lost cause.
After a miserable 2010, there had been plenty of promise this term. He'd only twice missed the top-30, and registered four top-tens including the US Open. Decent numbers for a man who, to be frank, cannot putt to anything like professional standard. Sure he'd fallen away spectacularly from favouritism in the final round of the Byron Nelson Championship, but broadly speaking, Sergio was moving in the right direction. So when he stormed clear in Sunday's BMW International Open, shooting seven under through a spectacular six-hole run, Garcia's long-suffering fans must have been tempted to get the champagne out. In-running punters backed him down to a paltry [1.25].
Bad move. Bad, bad move. As has happened so many times during his topsy-turvy career, the wheels fell off with four bogeys in five holes. Granted, he finished well to make the play-off and performed solidly during those extra holes, but the more lasting damage to his reputation had already been done. Sergio may be striking the ball brilliantly again, (and make no mistake, he has very few peers in that department), but he is clearly still a troubled individual, and a player that punters should avoid at all costs when trading at short prices.
The transformation in Garcia's demeanour over the years is striking. Remember the fresh-faced teenager, chasing his ball down the Medinah fairway as he pursued Tiger Woods on his USPGA debut? Or the gritty, apparently nerveless, competitor who won 15 of his first 20 Ryder Cup points? That all seems a long time ago, and at the grand old age of 31, he now plays like a man plagued by a lifetime of demons. One might expect a veteran to worry incessantly about short putts and deteriorate in that discipline, but Garcia has been in this place since his mid-20s.
Consequently, it may be wishful thinking to expect a McIlroy-style comeback at the forthcoming Open Championship. Apart from the age factor, the difference with McIlroy's example is that the lessons aren't obvious for Sergio. When Rory messed up the Masters, his weaknesses were plain to see. The young man went away, worked extensively on his putting, and came back vastly improved in that department. His pace of play at the US Open was much more sensible, and there were no glaring course management errors. Job done.
Sergio, on the other hand, probably requires a new brain. One that forgets previous heartache, particularly in this major. It has been clear for some time that the Open represented his best chance of joining golf's ultimate hall of fame. He's a superb ball-striker, plays well in the wind, and has the short-game credentials for a tough links layout. Those skills have enabled Garcia to make six Open top-tens this century, yet when it came to the crunch, his temperament repeatedly failed him.
He will never get a better chance than when blowing a big final day lead at Carnoustie in 2007. Even as principal rival Padraig Harrington did his best to throw away the Claret Jug into the Barry Burn, Sergio found a way of getting beat. One year on and something similar happened at the USPGA, as Harrington stole the Wanamaker Trophy from under Garcia's nose. He hasn't challenged for a major since. Especially with so many young stars emerging, one must think time is running out. So while his improved ball-striking probably justifies the collapse in his Open odds from a high of [130.0] into the current [32.0] quote, it doesn't interest me. Moreover, if he hits the front at any stage, I'll be hitting that lay button in a flash.

'.$sign_up['title'].'
'; } } ?>