PGA Tour: Five to follow in 2012
Golf Bets

/ Dan Geraghty / 22 December 2011 / Leave a Comment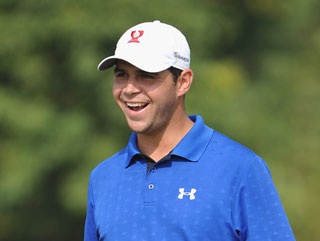 Gary Woodland enjoys himself at the recent Omega Mission Hills World Cup
"Woodland will be lining up at the season-opening Tournament of Champions where we can expect him to once again hit the ground running."
Regular PGA Tour watcher Dan Geraghty got his head down, reminisced over 2011 and picked the following quintet as his players to follow next year.
Gary Woodland
This power-packed 27-year-old is my main hope for 2012. Woodland is improving at a rate of knots, his recent World Cup win (with Matt Kuchar) capped off a wonderful breakthrough year. I expect that progress to continue and for Woodland to play his way on to the 2012 US Ryder Cup team (a huge goal of his).
Last year Woodland finished in the top-25 15 times (from 25 events). At the start of the year he didn't let his near miss at the Humana Challenge (second) deter him as he went on to finish fifth at the Phoenix Open and then won his seventh start of the year at the Transitions Championship. That win means he will be lining up at the season-opening Tournament of Champions where we can expect him to once again hit the ground running.
Aaron Baddeley
As a teenager Baddeley was seen as one of the very best prospects to come out of Australia in many a year. However, he struggled to make his breakthrough immediately and slugged it out on the Nationwide tour to win a PGA Tour card for 2003. A few slow years followed before he finally claimed his first PGA Tour victory in 2006 (Verizon Heritage) and he followed that up with another the following year (FBR Open).
It's fair to say he has disappointed since those victories, but Baddeley got back on track last year, claiming his third victory on tour at the 2011 Northern Trust Open and arguably performing as well as anyone at the recent Presidents Cup (despite being on the receiving end of a Tiger masterclass on the final day). Baddeley is 30 now and his game looks to be in fantastic shape to carry on 2011's progress. Perhaps we are about to see Aaron fulfil his potential.
Chris Kirk
This 26-year-old Tennessean has remained under the radar despite having won on the main tour last year (Viking Classic) after twice on the Nationwide Tour in 2010 in graduating to the PGA Tour. The fact that Kirk remains a little unknown may have something to do with the fact that his win at the Viking came while many were preoccupied with the Open Championship. It's true that his form dipped following that win, however, we had seen enough prior to his end-of-season blip to give him the benefit of the doubt. Kirk will also be at the season opening Tournament of Champions and will be another battling for a Ryder Cup place among a strong-looking US hand.
Seung Yul Noh
This young Korean has had a busy time of it in his young career. His flawless swing was already being talked up long before he won the Malaysian Open (European Tour/Asian Tour Co Sanctioned event) as a teenager, he had previously won on the Asian Tour at just 17.
Noh is still just 20 but has moved to America where he has enrolled at University and hired Butch Harmon as a swing coach. We recently saw the first fruits of this partnership when Noh negotiated PGA Tour Qualifying school with ease. The pressure is still on Noh for the foreseeable future as the inevitable prospect of returning to South Korea for two years National Service (before he's 30) looms, however, an Olympic medal in 2016 is an achievable target that may just reduce his compulsory service to just four weeks. Noh is a huge talent, he's already played in six Majors and made the cut in five of them, expect him to make a splash on the PGA Tour sooner rather than later.
Tiger Woods
Tiger is, of course, one to follow next year, particularly so now that he has a win under his belt. Tiger speaks about that recent win and looks forward to next season in a recent interview with tigerwoods.com.
And five who narrowly missed the cut: Rickie Fowler, Bryce Molder, Chez Reavie, Brendon De Jonge, Cameron Tringale