IPL Outright Betting: Go out with a Bang
Indian Premier League - IPL

/ Ed Hawkins / 30 March 2012 /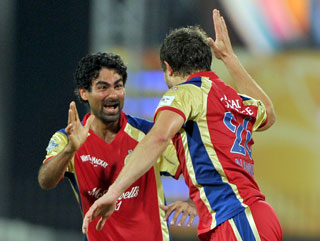 Mohammed Kaif (left) and Dirk Nannes (right) enjoy themselves for Bangalore last year
"The days of the smaller franchises shocking their big-city rivals seems to have passed.The IPL has settled down into a groove where the small fry get gobbled up."
Ed Hawkins, SJA Betting Writer of the Year, analyses the outright market and marks your card with two selections
The Indian Premier League is becoming something that it was not supposed to: predictable. Corruption scandals and rows over franchises - Kochi no longer exist - are the norm while, perhaps most surprisingly of all the same team, Chennai Super Kings, keep winning the thing.
It is no wonder that there is an argument that the IPL, which is now in its fifth edition, is losing its lustre. Television viewing figures are down and attendances are not what they were. Still, it remains a cash cow for the players and for the punters prepared to tie their money up until May 27.
Inevitably, our main concern as gamblers has to be how straight the competition is. There are bookies in India who insist that the whole thing is rotten but there is a consistency in team's performances which give us confidence.
Chennai, for example, will go for their third consecutive victory. With a win percentage of 58 since the tournament's inception they are the most successful side and have never failed to qualify for the semi-finals. They are worthy favourites at [4.90].
Mumbai Indians are the next best with a win-rate of 55, although they are the nearly men of the IPL, or the chokers if you want to be harsh. They are the pretenders. All the gear, no idea. Well, not how to close out a competition anyway.
With Sachin Tendulkar as their leader they often go off like the proverbial rocket in the group stages, only to falter when the pressure is on in the knockouts. Last year they finished third and in 2010 they were the runners-up.
At [5.20] they are second favourites and they make little appeal. Their record is a concern and although they have Kieron Pollard to blast late runs, they have an oddly balanced squad. Mumbai have cherry picked some of the best bowlers - Lasith Malinga, Mitchell Johnson, RP Singh, Munaf Patel - but forgotten to bolster their batting. Odd.
It is a wonder why Royal Challengers Bangalore are not closer to the Indians in the betting for they are similar in style: fast starters only to fall at the last. Runners-up last year they made the semis the previous year.
But Bangalore do have a more eye-catching squad than Mumbai. Chris Gayle, the top runscorer last term with 608, is teamed up with AB De Villiers and Tillakaratne Dilshan. This is all well and good but what is most pleasing is the presence of natives Zaheer Khan, Virat Kohli and Saurab Tiwary.
Delhi Daredevils, under the questionable stewardship of Virender Sehwag, are [6.80] but have flattered to deceive since IPL 1. They always look a dispirit, preening, individualistic outfit, which is saying something for this circus. Kevin Pietersen is this year on their roster but they appear to be a team on the wane.
Kolkata Knight Riders are an improving outfit and could be worth a back-to-lay at [9.00]. Gautam Gambhir is a feisty leader and they have the brand of players for success. A fast opener in Brendon McCullum, a middle-order hitter in the shape of Eoin Morgan and lower-order class with Yusuf Pathan and Shakib Al-Hasan. Brett Lee is an experienced death bowler, too.
Otherwise, the days of the smaller franchises shocking their big-city rivals seems to have passed. The IPL has settled down into a groove where the small fry get gobbled up.
Rajasthan, led by Rahul Dravid, and winners of the inaugural tournament, are [18.0]. They have notable performers in Shane Watson and Sreesanth but must unearth more young talent like Ravi Jadeja, who is this year's most expensive purchase, by Chennai, to have a chance.
Deccan look to have the worst squad by far while Pune will be led by Sourav Ganguly. These two could be cut adrift. King's XI have an aged squad, handing out last pay cheques to Dimitri Mascarenhas, Romesh Powar, Azhar Mahmood and Adam Gilchrist.
Recommended bets
Bangalore to win IPL at [6.6]
Kolkata to win IPL at [9.0]
'.$sign_up['title'].'
'; } } ?>