IPL Betting 2012: How to crack the top batsman market
Indian Premier League - IPL

/ Andrew Hughes / 29 March 2012 /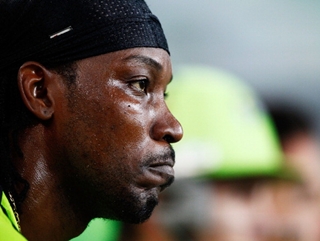 Chris Gayle won the orange cap at IPL4
Shaun Marsh, Matthew Hayden, Sachin Tendulkar and Chris Gayle were the top run scorers in the first four editions of the IPL. They all opened the batting.
Andrew Hughes gives us the low down on the top tournament run scorer market and picks out a couple of players to have on your side.
The IPL is the greatest cricket show on earth and as you'd expect, Betfair offer plenty of opportunities to cash in on your cricket knowledge. A perennial favourite is the market on the tournament's top run scorer but before you get involved, there are four key factors you need to bear in mind.
Class will out
If you take a look at the all time IPL run scorer list, the first thing you notice is that the names at the top are all batsmen of the highest class. Sachin Tendulkar, Jacques Kallis and Adam Gilchrist are three all-time greats, whilst on Indian soil, Suresh Raina and Rohit Sharma are extremely classy performers.
Don't waste your time looking for agricultural sloggers or over-promoted pinch hitters. This may be Twenty20 but class will out. The very best batsmen have a range of shots for all circumstances and can play in any format. Your selection should be an international of high calibre or a younger batsman with huge potential.
Stick with openers
Of the top five on the all-time list, Tendulkar, Gilchrist and Kallis have done the bulk of their IPL batting as openers and this is another important factor. In Indian conditions, with no early swing or moisture in the air, opening the batting holds few perils and enables a batsman to spend maximum time at the crease.
It should be said that Raina and Sharma are notable exceptions. Raina bats at three, which is the next most preferable position, whilst Rohit Sharma's bucking of the trend is particularly impressive. To be fifth on the all-time IPL list despite doing most of his batting at four and five is quite an achievement.
But as a general rule, you are better off sticking with openers. Shaun Marsh, Matthew Hayden, Sachin Tendulkar and Chris Gayle were the top run scorers in the first four editions of the IPL. They all opened the batting.
Steer clear of losers
Something else that these four had in common was that they played for teams that reached the knock-out stages. Not only does this give a batsman an extra game or two to add to his run tally, it also means he is part of a successful team and getting some support from his fellow batsmen. Be wary of backing talented players in weak teams.

Will they turn up?
Another potential pitfall when betting in this market is player availability. Chris Gayle did extraordinarily well to top the run scorer list last year having played in only 12 of Bangalore's 17 games. That was a superhuman effort. At a minimum you want your selection to be available for seventy per cent of his team's fixtures.
Players from England, West Indies, Australia and Sri Lanka may have international commitments that overlap with the IPL this year, with the West Indies players particularly badly affected. Do your homework to make sure your selection will be available for enough games or play it safe and stick to Indian players.
Two to follow
The sixth name on the all-time IPL run scorer list is Gautam Gambhir. Kolkata's captain is at his peak in all forms of the game and thrived in the leadership role last year, steering the Knight Riders to the knock-out stages for the first time. His team are serious contenders again this year and Gambhir can be backed at [24.0] or so.
If it wasn't for Gambhir and Virender Sehwag, Murali Vijay would surely have earned more Indian caps by now. The powerful opener has blossomed at Chennai since Matthew Hayden departed and finished amongst the top ten run IPL run scorers in 2010 and 2011. Chennai are likely to mount a strong defence of their title and Vijay is worth a look at around [25.0]

'.$sign_up['title'].'
'; } } ?>