The Betfair Big Interview: Graham Gooch
England Cricket

/ Ralph Ellis / 24 December 2009 /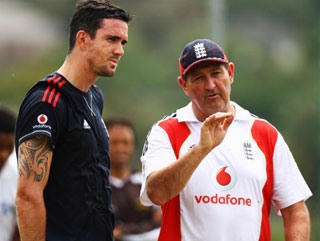 Graham Gooch gives Kevin Pietersen some tips ahead of the First Test.
"He (Kevin Pietersen) was resolute, and defiant, not shutting up shop because he would never do that, but played so responsibly and was a rock. If he shows that application in the other three Tests he'll have a big influence on the series."
With the second Test starting in South Africa on Boxing Day, Betfair went to meet England's newly recruited batting coach Graham Gooch to get some clues on what comes next . ..

Hi Graham, and welcome home for Christmas. Tell us about your new role
Well first of all it was just so nice to be with the England side again. I've not had any involvement since 2000, and I enjoyed being back helping English cricket. When you've spent your whole career playing, captaining and selecting, it's good to be wanted. I had a week with the performance camp which is for the younger players, then joined up with the team in East London for the last two weeks with two practice matches plus the first Test. Andy Flower asked me to help with the batting coaching, and at this stage it was about building relationships and getting to know people. You don't just come in and start making suggestions and refining technique, you have to get to know them.
Is working with top players very different to when you coach younger players?
Absolutely, all these guys are very talented cricketers, have good techniques and attitude, so it is a question of talking the game and trying to give them the benefit of some experience. The feedback was positive, I think, so hopefully it will have a bit of effect, but we will have to see how things go forward.
Is there a plan to go back again?
No, I won't go back to South Africa, it was only a temporary engagement and we will have to see what goes on in the future.
It sounds as if you'd like to do more?
I think we'll look at that if and when it comes. I'm employed by Essex County Cricket Club at the moment so we will have to see. There would have to be a lot of discussions to take place, that's about as honest as I can be.
How much were you looking at technique and how much the mindset?
It's both things. The higher the level you go, you are talking about playing under pressure, having to handle that pressure, and perform to your best when you are put under the pump by the opposition. That is the big difference playing at international level.
It seems they stood up to pressure well enough on the last day at Centurion?
It was a game that ebbed and flowed a bit, we had them 46-4 at one stage and looked as if we could push on, but the South Africans played really well. The whole match was good, hard, tough cricket; a shot in the arm for Test cricket, I thought.
Will the whole series be so evenly matched?
I think so. South Africa will be stronger on paper coming into Boxing Day with Dale Steyn coming back, and Jacques Kallis bowling again. On the other hand we will be another match into the tour. These days you get very little practice at the start of a trip so we will be one match more hardened. Touring sides almost always improve, and England will be stronger and wiser in Durban.
It looks as if Kevin Pietersen is rediscovering his best form.
He's been out injured, and when you come back it takes time to find your touch. I thought he played nicely in both innings, handled the situation superbly in the second innings before he sadly ran himself out, and played the type of innings England needed. He was resolute, and defiant, not shutting up shop because he would never do that, but played so responsibly and was a rock. If he shows that application in the other three Tests he'll have a big influence on the series
How much of your own success as a player was down to talent and how much to hard work and coaching?
It's a mixture. Any player who gets to professional status has talent, but it's then how you work at that and how you structure that talent. It's about hard work in preparation, how you think about yourself, your attitude and how you concentrate. Cricket is a six hour day and if you can't focus all that time you can't make the talent work.
It worked for you. We've just read you are one of only 25 players to make 100 First Class hundreds. How do you look back on your career?

Well when you set out the last thing on your mind is achieving that! But I must be honest, it gives me a bit of a glow now. I talked to Sachin Tandulkar recently and congratulated him for 20 years at the top. I had a 20 plus year career too, and what it means is you've maintained a high standard for a long period.
Back to concentration then...
It's all those things, attitude, technical ability, knowledge and concentration. Those are the four things that make up a batsman. If you play for a long period of time then the records follow
Looking at the others who achieved it. Who do you admire most - given you won't remember WG Grace!
No, not quiet! But Sir Don Bradman is in there, and I had dinner with him in 1991. He was a great man and his record is twice as good as anybody. Of the ones I played against, Viv Richards would stand out as the outstanding Test player of my generation. He was an imposing man with a great presence, and ultimate self belief. He was an entertainer too. Any person who saw him bat through the 1980s would have enjoyed it.
Will anybody else ever do it?
Mark Ramprakash just has*, but the problem is the number of games. Unless you come up with a Bradman-like record you won't play enough matches now, because the top players only play international cricket.
Thanks for your time and we've a free £50 bet for a favourite charity
I'm a big West Ham fan so it has to be the Bobby Moore foundation for bowel cancer research. And I'll back England to win the series against South Africa at [4.0]. I think we've a great chance.
*THE CENTURIONS - FROM GRACE TO RAMPRAKASH by PATRICK MURPHY, PUBLISHED BY FAIRFIELD BOOKS.
'.$sign_up['title'].'
'; } } ?>