Wimbledon Betting: Is Croatian kid Coric the boy to finally break up the big four?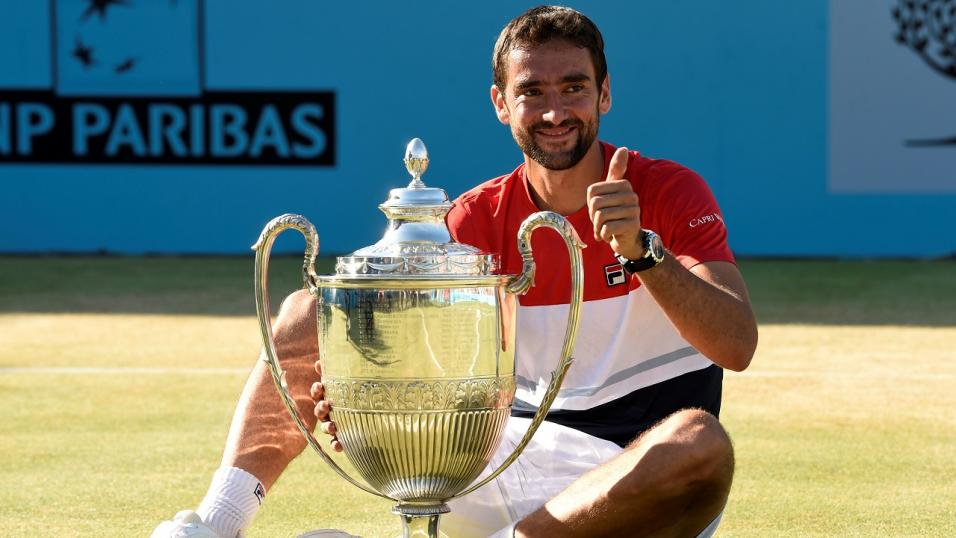 Marin Cilic celebrates his Queen's win on a great weekend for Croatia
Ralph Ellis looks at the prospects of the rising star who toppled Roger Federer from the number one ranking spot...
"While last year's beaten Wimbledon finalist Marin Cilic is now [8.8] third favourite, the Coric is available to back at [60.0]. I think that could be worth taking, if only to turn the market green if he reaches the last eight."
Tattooed across the inside of Borna Coric's right arm are the words: "There is nothing worse in life than being ordinary."
It's a great slogan, and nobody right now could accuse the 21-year-old Croatian of not living up to it. The question is: Just how extraordinary can he become?
After a few days when Marin Cilic beat Novak Djokovic to win the Fever-Tree Championships at Queen's, and Luka Modric lit up the World Cup, it was easy to miss what might have been a breakthrough victory by their fellow countryman.
But Coric's success in beating Roger Federer at the Gerry Webber Open in Halle, and in so doing knocked him off the top of the world rankings to let Rafael Nadal take over, could just turn out to be every bit as significant as when a 17-year-old Boris Becker won at Queen's a fortnight before stunning the world at Wimbledon.
Now I know that searching for a new Wimbledon winner is a bit like looking for the Loch Ness Monster. You're sure he's out there somewhere, and you keep seeing signs, but he never actually appears.
Hot weather will help him
Since Federer beat Mark Philippoussis in 2003 you can count the men who've lifted the historic old gold trophy on one hand without bothering to use your thumb. Federer himself eight times, three for Novak Djokovic, two each for Andy Murray and Nadal.
And here we are less than a week away from Centre Court opening its doors and Federer, who in a few weeks will celebrate his 37th birthday, is [3.2] favourite to add the 2018 title to the list as well.
Coric's success on the grass courts in Germany hasn't really registered with the markets. While last year's beaten Wimbledon finalist Cilic is now [8.8] third favourite, the youngster is available to back at [60.0]. I think that could be worth taking, if only to turn the market green if he reaches the last eight.
He's not an orthodox grass court player. He won't be rushing to serve and volley. But the way Wimbledon's courts play these days that's not any longer a handicap.
The modern grass surface is so much more consistent, and is more like a hard court. If this hot weather continues - as is the forecast - it will help the baseline players even more.
Ivanisevic launched his career
Coric dealt with Federer in Germany by sticking to his own strengths, hitting angled passing shots on the run, and trading shots in rallies. It was a tactic that saw him come through a list of top names in the tournament, starting with Alexander Zverev in the first round.
He dropped his serve only twice in the week and showed he's completely recovered his fitness after a serious 2016 knee operation which disrupted what had until then been a smooth career path.
Coric was first identified as a talent at the age of 12 by Goran Ivanisevic, who called him "a pit bull" for his tenacity and determination to succeed.
He then came to England, bankrolled by retired City venture capitalist Clive Sherling who started his own Academy to promote young tennis talent, and while he was there won the US Open junior title in 2013.
He's now working with Italian coach Riccardo Piatti, the man who guided Milos Raonic to a career high ranking of number three, and his two-handed backhand has developed into a serious weapon.
Whatever he is, he's not ordinary. In fact in the next couple of weeks he might just turn out to be very special indeed.