Wimbledon 2019: Form guide for this year's women's singles championship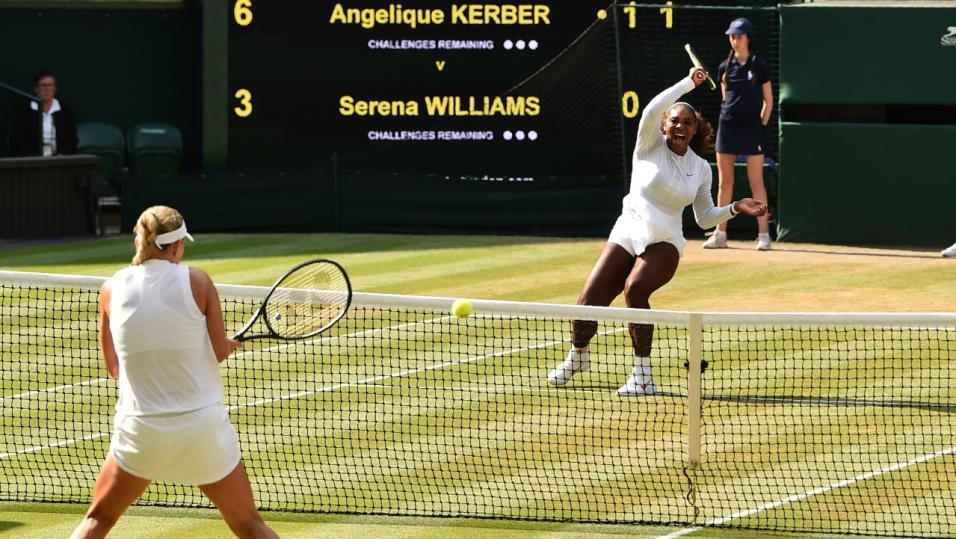 Action from last year's women's singles final at SW19
This year's women's singles appears to be wide-open, says Andy Swales, as he brings us the latest grass court and Grand Slam form for the leading contenders...
"If Serena serves consistently somewhere near her best, she will be incredibly difficult to beat on grass .... None of the top three seeds have ever reached the quarter-finals at Wimbledon. "
There could hardly be a greater contrast between men's and women's tennis right now.
While the top of the men's game remains the preserve of the chosen few - three all-time greats to be exact - women's tennis has been operating a revolving door policy for the past two-and-a-half years.
Since Serena Williams took a break from the sport to have her first child, the nine Grand Slams tournaments have been shared among eight players - only Naomi Osaka has won more than one.
As for Williams, who will reach her 38th birthday not long after the conclusion of the US Open in September, remains one of the most feared competitors in sport, and will travel to SW19 once again as a serious contender.
Check out the latest odds on Serena ahead of the women's singles championship at Wimbledon
Despite having only contested five competitive matches during the past three months - all on clay and two of which she lost - none of the other leading challengers for the title will relish having to face the seven-time champion during the next fortnight.
If Serena serves consistently somewhere near her best, she will be incredibly difficult to beat on grass.
And these are just some of the reasons why Serena remains the player to beat this year:
• None of the top three seeds have ever reached the quarter-finals at Wimbledon. No 1 Ashleigh Barty has won just two of her five matches in this event; No 2 Naomi Osaka has been beaten in round three on both previous visits; while No 3 Karolina Plisova has only once reached the last 16 from seven attempts. On a positive note, Australian Barty is in the form of her life having just won the French Open, and followed that up by winning on grass in Birmingham - so is definitely in the running for a first Wimbledon crown. Osaka's three WTA Tour titles - two of them Slams - have all come on hard court but at 21 has to be viewed as a huge talent who could someday win Wimbledon. As for Pliskova, she remains the most perplexing of the current crop. So much ability, a former world No 1, 13-times a WTA Tour winner, but just a single Slam final on her CV - and a losing one at that.
• And if you widen the scope a little, to include the top-10 women's seeds, you'll discover that just one of these players has reached the semi-final stage at Wimbledon during the past four years - which is more good news for Serena to digest as she prepares to loosen up for next week. The player in question is defending champion Angelique Kerber who beat Serena in the final 12 months ago, reversing the result of their encounter from 2016. The 31-year-old German has not won a title since her victory here last year but has enjoyed some good grass court form in the build-up to her title defence, which starts on Centre Court on Tuesday. During last year's momentous run to the title, she won 12 straight sets including a 6-3 6-3 success over Serena. Certainly in with a shout this year, although the last woman to win back-to-back titles, whose second name wasn't Williams, was Steffi Graf back in 1996.
• There are few players with a strong grass court pedigree right now. Petra Kvitova, Venus Williams and Maria Sharapova have done well in the past. However, world No 6 Kvitova has not progressed to the last 16 here since her second Wimbledon victory in 2014. She did reach the Australian Open final earlier this year but missed Roland Garros through injury and hasn't played any warm up events on grass. World No 44 Venus recently turned 39, hasn't won a WTA Tour title in more than three years, and lost to Barty at Birmingham two weeks ago in the quarter-finals. As for Sharapova, injury has restricted the world No 80 to just a single tournament since the end of January.
• Sloane Stephens, Garbine Muguruza and Madison Keys can't be ruled out but, at the end of the day, this year's champion may have to find a way of beating Serena at some stage during the tournament. It's wide open and that's the way women's tennis will probably be for the foreseeable future.
CLICK LINK BELOW TO VIEW FORM AT LAST 10 WIMBLEDONS (2009-18)

Twitter: Andy Swales@GolfStatsAlive
Last 10 Grand Slam Performances
| Player | F19 | A19 | U18 | W18 | F18 | A18 | U17 | W17 | F17 | A17 |
| --- | --- | --- | --- | --- | --- | --- | --- | --- | --- | --- |
| Ashleigh Barty | Won | QF | Rd-4 | Rd-3 | Rd-2 | Rd-3 | Rd-3 | Rd-1 | Rd-1 | Rd-3 |
| Naomi Osaka | Rd-3 | Won | Won | Rd-3 | Rd-3 | Rd-4 | Rd-3 | Rd-3 | Rd-1 | Rd-2 |
| Karolina Pliskova | Rd-3 | SF | QF | Rd-4 | Rd-3 | QF | QF | Rd-2 | SF | QF |
| Serena Williams | Rd-3 | QF | RU | RU | Rd-4 | | | | | Won |
| Kiki Bertens | Rd-2 | Rd-2 | Rd-3 | QF | Rd-3 | Rd-3 | Rd-1 | Rd-1 | Rd-2 | Rd-1 |
| Angelique Kerber | Rd-1 | Rd-4 | Rd-3 | Won | QF | SF | Rd-1 | Rd-4 | Rd-1 | Rd-4 |
| Petra Kvitova | | RU | Rd-3 | Rd-1 | Rd-3 | Rd-1 | QF | Rd-2 | Rd-2 | |
| Simona Halep | QF | Rd-4 | Rd-1 | Rd-3 | Won | RU | Rd-1 | QF | RU | Rd-1 |
| Elina Svitolina | Rd-3 | QF | Rd-4 | Rd-1 | Rd-3 | QF | Rd-4 | Rd-4 | QF | Rd-3 |
| Sloane Stephens | QF | Rd-4 | QF | Rd-1 | RU | Rd-1 | Won | Rd-1 | | |
| Garbine Muguruza | Rd-4 | Rd-4 | Rd-2 | Rd-2 | SF | Rd-2 | Rd-4 | Won | Rd-4 | QF |
| Aryna Sabalenka | Rd-2 | Rd-3 | Rd-4 | Rd-1 | Rd-1 | Rd-1 | | Rd-2 | | |
| Anastasija Sevastova | Rd-4 | Rd-4 | SF | Rd-1 | Rd-1 | Rd-2 | QF | Rd-2 | Rd-3 | Rd-3 |
| Belinda Bencic | Rd-3 | Rd-3 | Rd-1 | Rd-4 | Rd-2 | Rd-2 | | | | Rd-1 |
| Caroline Wozniacki | Rd-1 | Rd-3 | Rd-2 | Rd-2 | Rd-4 | Won | Rd-2 | Rd-4 | QF | Rd-3 |
| Qiang Wang | Rd-2 | Rd-3 | Rd-3 | Rd-1 | Rd-3 | Rd-1 | Rd-1 | Rd-2 | Rd-1 | Rd-1 |
| Venus Williams | Rd-1 | Rd-3 | Rd-3 | Rd-3 | Rd-1 | Rd-1 | SF | RU | Rd-4 | RU |
| Marketa Vondrousova | RU | Rd-2 | Rd-4 | Rd-1 | Rd-1 | Rd-2 | Rd-1 | Rd-1 | Rd-2 | |
| Madison Keys | QF | Rd-4 | SF | Rd-3 | SF | QF | RU | Rd-2 | Rd-2 | |
| Julia Goerges | Rd-1 | Rd-1 | Rd-2 | SF | Rd-3 | Rd-2 | Rd-4 | Rd-1 | Rd-1 | Rd-2 |
| Johanna Konta | SF | Rd-2 | Rd-1 | Rd-2 | Rd-1 | Rd-2 | Rd-1 | SF | Rd-1 | QF |
| Anett Kontaveit | Rd-1 | Rd-2 | Rd-1 | Rd-3 | Rd-4 | Rd-4 | Rd-1 | Rd-3 | Rd-2 | Rd-1 |
| Elise Mertens | Rd-3 | Rd-3 | Rd-4 | Rd-3 | Rd-4 | SF | Rd-1 | Rd-1 | Rd-3 | |
| Donna Vekic | Rd-4 | Rd-2 | Rd-1 | Rd-4 | Rd-2 | Rd-2 | Rd-3 | Rd-2 | Rd-1 | Rd-2 |
| Caroline Garcia | Rd-2 | Rd-3 | Rd-3 | Rd-1 | Rd-4 | Rd-4 | Rd-3 | Rd-4 | QF | Rd-3 |
| Petra Martic | QF | Rd-3 | Rd-1 | Rd-1 | Rd-2 | Rd-4 | Rd-1 | Rd-4 | Rd-4 | |
| Bianca Andreescu | Rd-2 | Rd-2 | | | | | | Rd-1 | | |
| Amanda Anisimova | SF | Rd-4 | Rd-1 | | | | | | Rd-1 | |
| Maria Sharapova | | Rd-4 | Rd-4 | Rd-1 | QF | Rd-3 | Rd-4 | | | |
| Sofia Kenin | Rd-4 | Rd-2 | Rd-3 | Rd-2 | Rd-1 | Rd-1 | Rd-3 | | | |
| Su-Wei Hsieh | Rd-2 | Rd-3 | Rd-2 | Rd-4 | Rd-1 | Rd-4 | | Rd-1 | Rd-3 | Rd-2 |
| Daria Kasatkina | Rd-2 | Rd-1 | Rd-2 | QF | QF | Rd-2 | Rd-4 | Rd-2 | Rd-3 | Rd-1 |
| Carla Suarez Navarro | Rd-3 | Rd-2 | QF | Rd-3 | Rd-2 | QF | Rd-4 | Rd-2 | Rd-4 | Rd-2 |
| Maria Sakkari | Rd-2 | Rd-3 | Rd-2 | Rd-1 | Rd-3 | Rd-1 | Rd-3 | Rd-3 | Rd-1 | Rd-3 |
| Lesia Tsurenko | Rd-3 | Rd-2 | QF | Rd-2 | Rd-4 | Rd-2 | Rd-1 | Rd-3 | Rd-3 | Rd-1 |
| Danielle Collins | Rd-2 | SF | Rd-1 | Rd-1 | Rd-1 | | | | | |
| Jelena Ostapenko | Rd-1 | Rd-1 | Rd-3 | SF | Rd-1 | Rd-3 | Rd-3 | QF | Won | Rd-3 |
| Dayana Yastremska | Rd-1 | Rd-3 | Rd-1 | | | | | | | |
| Aliaksandra Sasnovich | Rd-1 | Rd-3 | Rd-3 | Rd-4 | Rd-2 | Rd-3 | Rd-2 | Rd-1 | Rd-2 | Rd-1 |
| Katerina Siniakova | Rd-4 | Rd-1 | Rd-3 | Rd-3 | Rd-3 | Rd-2 | Rd-1 | Rd-1 | Rd-1 | Rd-1 |
| Yulia Putintseva | Rd-1 | Rd-2 | Rd-1 | Rd-2 | QF | Rd-2 | Rd-2 | Rd-1 | Rd-3 | Rd-2 |
| Dominika Cibulkova | Rd-1 | Rd-1 | Rd-4 | QF | Rd-1 | Rd-1 | Rd-2 | Rd-3 | Rd-2 | Rd-3 |
| Camila Giorgi | | Rd-3 | Rd-2 | QF | Rd-3 | Rd-2 | Rd-1 | Rd-3 | Rd-1 | Rd-1 |
| Victoria Azarenka | Rd-2 | Rd-1 | Rd-3 | Rd-2 | Rd-1 | | | Rd-4 | | |
| Saisai Zheng | Rd-1 | Rd-1 | | Rd-2 | Rd-1 | | Rd-2 | Rd-1 | Rd-1 | Rd-1 |
| Anastasia Pavlyuchenkova | Rd-1 | QF | Rd-1 | Rd-1 | Rd-2 | Rd-2 | Rd-1 | Rd-1 | Rd-2 | QF |
| Viktoria Kuzmova | Rd-3 | Rd-2 | Rd-1 | Rd-1 | Rd-2 | Rd-1 | Rd-1 | | | |
| Mihaela Buzarnescu | Rd-1 | Rd-1 | | Rd-3 | Rd-4 | Rd-1 | Rd-1 | | | |
| Kristina Mladenovic | Rd-2 | Rd-1 | Rd-2 | Rd-3 | Rd-1 | Rd-1 | Rd-1 | Rd-2 | QF | Rd-1 |
| Ajla Tomljanovic | Rd-1 | Rd-1 | Rd-2 | Rd-1 | Rd-1 | Rd-1 | Rd-2 | | Rd-1 | |
| Barbora Strycova | Rd-1 | Rd-1 | Rd-3 | Rd-3 | Rd-4 | Rd-4 | Rd-2 | Rd-2 | Rd-2 | Rd-4 |
| Shuai Zhang | Rd-2 | Rd-3 | Rd-1 | Rd-1 | Rd-2 | Rd-2 | Rd-3 | Rd-1 | Rd-3 | Rd-2 |
| Ekaterina Alexandrova | Rd-3 | Rd-1 | Rd-1 | Rd-1 | Rd-1 | Rd-2 | Rd-2 | Rd-1 | Rd-2 | Rd-1 |
| Monica Puig | Rd-3 | Rd-1 | Rd-2 | | | Rd-2 | Rd-1 | Rd-1 | Rd-2 | Rd-2 |
| Alison Riske | Rd-1 | Rd-1 | Rd-1 | Rd-2 | Rd-1 | Rd-1 | Rd-1 | Rd-3 | Rd-1 | Rd-3 |
| Alize Cornet | Rd-1 | Rd-2 | Rd-1 | Rd-1 | Rd-2 | Rd-3 | Rd-2 | Rd-1 | Rd-4 | Rd-2 |
| Yafan Wang | Rd-1 | Rd-2 | Rd-2 | Rd-1 | Rd-1 | | | | | |
| Alison Van Uytvanck | Rd-1 | Rd-1 | Rd-1 | Rd-4 | Rd-2 | Rd-1 | Rd-1 | Rd-1 | Rd-2 | |
| Veronika Kudermetova | Rd-3 | Rd-1 | | | | | | | | |
| Tamara Zidansek | Rd-1 | Rd-2 | Rd-1 | | | | | | | |
| Margarita Gasparyan | Rd-1 | Rd-2 | Rd-1 | | | | | | | |
| Ons Jabeur | Rd-1 | Rd-1 | Rd-1 | Rd-2 | | Rd-1 | Rd-2 | Rd-1 | Rd-3 | |
| Iga Swiatek | Rd-4 | Rd-2 | | | | | | | | |
| Jennifer Brady | Rd-2 | | Rd-1 | Rd-2 | Rd-2 | Rd-1 | Rd-4 | Rd-2 | Rd-1 | Rd-4 |
| Tatjana Maria | Rd-1 | Rd-1 | Rd-2 | Rd-2 | Rd-1 | Rd-1 | Rd-2 | Rd-2 | Rd-2 | |
| Rebecca Peterson | Rd-2 | Rd-2 | Rd-3 | Rd-2 | Rd-2 | | Rd-1 | | | |
| Kateryna Kozlova | Rd-2 | Rd-1 | Rd-1 | Rd-1 | Rd-2 | Rd-1 | Rd-2 | | Rd-1 | Rd-1 |
| Karolina Muchova | Rd-2 | Rd-1 | Rd-3 | | | | | | | |
| Andrea Petkovic | Rd-3 | Rd-1 | Rd-1 | Rd-2 | Rd-3 | Rd-2 | Rd-1 | Rd-1 | Rd-1 | Rd-2 |
| Anastasia Potapova | Rd-2 | Rd-2 | | | | | Rd-1 | | | |
| Kaia Kanepi | Rd-4 | Rd-1 | Rd-4 | Rd-1 | Rd-1 | Rd-3 | QF | | | |
| Sorana Cirstea | Rd-2 | Rd-1 | Rd-2 | Rd-2 | Rd-1 | Rd-2 | Rd-2 | Rd-3 | Rd-2 | Rd-4 |
| Daria Gavrilova | Rd-1 | Rd-1 | Rd-2 | Rd-3 | Rd-3 | Rd-2 | Rd-2 | Rd-1 | Rd-1 | Rd-4 |
| Eugenie Bouchard | Rd-1 | Rd-2 | Rd-2 | Rd-2 | | Rd-2 | Rd-1 | Rd-1 | Rd-2 | Rd-3 |
| Kirsten Flipkens | Rd-1 | Rd-1 | Rd-2 | Rd-2 | Rd-2 | Rd-2 | Rd-2 | Rd-2 | Rd-2 | Rd-1 |
| Pauline Parmentier | Rd-1 | Rd-1 | Rd-1 | Rd-1 | Rd-3 | Rd-1 | Rd-1 | Rd-1 | Rd-2 | Rd-2 |
| Laura Siegemund | Rd-2 | Rd-2 | Rd-1 | | Rd-1 | | | | | Rd-1 |
| Anna Blinkova | Rd-3 | Rd-1 | Rd-1 | Rd-2 | | Rd-1 | Rd-1 | Rd-1 | | Rd-2 |
| Timea Bacsinszky | | Rd-3 | Rd-1 | | | | | Rd-3 | SF | Rd-3 |
| Aliona Bolsova | Rd-4 | | | | | | | | | |
| Kristyna Pliskova | Rd-1 | Rd-2 | Rd-1 | Rd-1 | Rd-1 | Rd-1 | Rd-2 | Rd-2 | Rd-1 | Rd-3 |
| Lauren Davis | Rd-2 | | | | | Rd-3 | Rd-1 | Rd-1 | Rd-1 | Rd-1 |
| Mona Barthel | Rd-1 | Rd-1 | Rd-1 | | Rd-1 | Rd-2 | Rd-1 | Rd-1 | Rd-1 | Rd-4 |
| Svetlana Kuznetsova | Rd-1 | | Rd-1 | | Rd-1 | | Rd-2 | QF | Rd-4 | Rd-4 |
| Ekaterina Makarova | | Rd-1 | Rd-3 | Rd-4 | Rd-2 | Rd-1 | Rd-3 | Rd-2 | Rd-2 | Rd-4 |
| Vera Lapko | Rd-1 | Rd-1 | Rd-2 | Rd-2 | | | | | | |
| Aleksandra Krunic | Rd-2 | Rd-2 | Rd-3 | Rd-1 | Rd-1 | Rd-1 | Rd-3 | | | |
| Heather Watson | | Rd-1 | Rd-1 | Rd-1 | Rd-2 | Rd-1 | Rd-1 | Rd-3 | | Rd-2 |