Wimbledon 2018: Form guide for this year's men's singles championship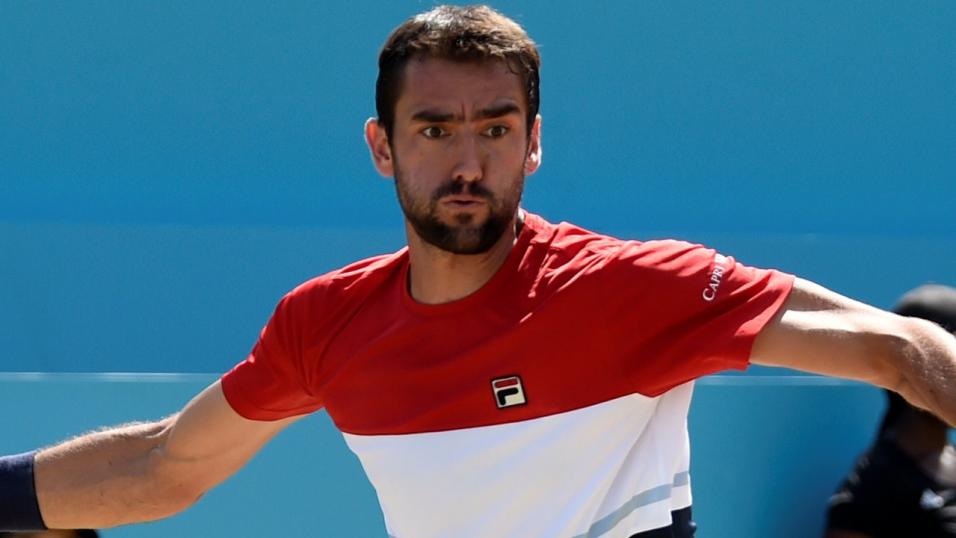 Can Marin Cilic break the Grand Slam stranglehold of Roger Federer and Rafa Nadal?
Andy Swales analyses the form of the key contenders for the Wimbledon Men's Singles Championship, which starts on Monday ...
"The 2014 US Open champion is comfortable at the top table, having taken a few more years than expected to finally fulfil his potential."
The oldies are dominating men's tennis right now and there seems no reason why this unusual trend will not continue at Wimbledon over the coming two weeks.
The last seven Grand Slam singles tournaments were won by players over 30, and none of the most recent 25 champions were under the age of 25.
The Times Are A Changing
If you look back at tennis history pre-2000, most champions tended to be under 25 when at the peak of their powers.
Bjorn Borg's 11th and final slam success came in the month he turned 25, while John McEnroe's seventh and last win arrived at 25 and seven months.
The 10th of Pete Sampras's 14 slams was won before his 26th birthday, while Mats Wilander secured his concluding seventh title just a few weeks after turning 24.
Other multi-major winners, such as Stefan Edberg and Boris Becker, completed their collection before reaching 27, while between 1973 and 1999, only five of the 108 grand slam singles tournaments were won by a player who had passed his 30th birthday.
Andre Agassi won five of his eight after his 29th birthday and that seemed unheard of until the current crop of stars descended on the sport.
Roger Federer and Rafa Nadal have shared the last six slams between them, and a quick scan of those competing at SW19 in July seems to suggest that this year's winner will probably have already celebrate his 27th birthday.
The Likely (Lads) Men Of 2018
Roger Federer: Remains the player to beat on grass, as he approaches his 37th birthday. In two pre-Wimbledon events on grass, won the title in Stuttgart before losing the final at Halle.
Rafa Nadal: The king of clay has not reached the last eight at Wimbledon for seven years. However, he is a two-time champion in London and the longer he survives the better he will become. But he is likely to start behind Federer, Marin Cilic and possibly Novak Djokovic in the pecking order.
Marin Cilic: Appears to be the most likely non-former Wimbledon champion to be crowned on Centre Court on Sunday, July 15. The Croatian will be 30 in September and during the past 12 months has become one of the most consistent performers in the game. Runner-up at Wimbledon last year and winner at Queen's Club last week. The 2014 US Open champion is comfortable at the top table, having taken a few more years than expected to finally fulfil his potential.
Novak Djokovic: Following a difficult couple of years, the Serbian is once again a serious threat. Had a strong clay court season which ended at the quarter-final stage at Roland Garros, while losing in three sets to Cilic in the final at Queen's.
Grigor Dimitrov: At 27, should be ready to claim a slam title but still appears to be brittle mentally. Despite his obvious talent, has only reached two slam semi-finals, which included Wimbledon of 2014 when he knocked-out reigning champion Andy Murray. Doubts still remain about his ability to go all the way.
Juan Martin del Potro: The US Open champion from 2009 seems to be injury-free at last. The 29-year-old has reached the semi-finals in two of the most recent three slam events. His best performance at Wimbledon came five years ago when he took Djokovic to five sets at the semi-final stage, which proves he can certainly play well on grass.
Dangerous Opponents
Kevin Anderson: The tall 32-year-old lost last year's US Open final and always a threat because of his huge serve.
John Isner: Similar to Anderson in his physique and will be dangerous whoever he faces. Six-foot, 10-inches tall, the 33-year-old American is in the best form of his life.
Dominic Thiem: Excellent on clay, on which he reached the final at Roland Garros this year, although grass is another proposition entirely.
Alexander Zverev: The 21-year-old German has improved with each visit to Wimbledon but unlikely to hold the trophy aloft this year.
Milos Raonic: Beaten finalist two years ago and a quarter-finalist in 2017.
Nick Kyrgios: The often troubled Australian most certainly has the ability to reach the very top in the men's game. At his first Wimbledon in 2014, beat Nadal en route to the last eight but is yet to improve on that performance. Grass certainly suits his game and at 23 is still young by modern standards.
Borna Coric: The 21-year-old Croat beat Federer in Halle. Was that just a huge shock or the shape of things to come?
CLICK THE LINK BELOW TO VIEW FORM AT LAST 10 GRAND SLAM EVENTS
Men_Grand_Slam_Form_Wimbledon_2018.pdf
Twitter: Andy Swales@GolfStatsAlive
Last 10 Wimbledon Performances
| Player | 2017 | 2016 | 2015 | 2014 | 2013 | 2012 | 2011 | 2010 | 2009 | 2008 |
| --- | --- | --- | --- | --- | --- | --- | --- | --- | --- | --- |
| Roger Federer | Won | SF | RU | RU | Rd-2 | Won | QF | QF | Won | RU |
| Rafa Nadal | Rd-4 | | Rd-2 | Rd-4 | Rd-1 | Rd-2 | RU | Won | | Won |
| Marin Cilic | RU | QF | QF | QF | Rd-2 | Rd-4 | Rd-1 | Rd-1 | Rd-3 | Rd-4 |
| Novak Djokovic | QF | Rd-3 | Won | Won | RU | SF | Won | SF | QF | Rd-2 |
| Alexander Zverev | Rd-4 | Rd-3 | Rd-2 | | | | | | | |
| Juan Martin del Potro | Rd-2 | Rd-3 | | | SF | Rd-4 | Rd-4 | | Rd-2 | Rd-2 |
| Andy Murray | QF | Won | SF | QF | Won | RU | SF | SF | SF | QF |
| Dominic Thiem | Rd-4 | Rd-2 | Rd-2 | Rd-1 | | | | | | |
| Grigor Dimitrov | Rd-4 | Rd-3 | Rd-3 | SF | Rd-2 | Rd-2 | Rd-2 | | Rd-1 | |
| Kevin Anderson | Rd-4 | Rd-1 | Rd-4 | Rd-4 | Rd-3 | Rd-1 | Rd-2 | Rd-1 | | Rd-1 |
| David Goffin | | Rd-4 | Rd-4 | Rd-1 | Rd-1 | Rd-3 | | | | |
| John Isner | Rd-2 | Rd-3 | Rd-3 | Rd-3 | Rd-2 | Rd-1 | Rd-2 | Rd-2 | | Rd-1 |
| Kei Nishikori | Rd-3 | Rd-4 | Rd-2 | Rd-4 | Rd-3 | Rd-3 | Rd-1 | Rd-1 | | Rd-1 |
| Sam Querrey | SF | QF | Rd-2 | Rd-2 | Rd-1 | Rd-3 | | Rd-4 | Rd-2 | Rd-1 |
| Milos Raonic | QF | RU | Rd-3 | SF | Rd-2 | Rd-2 | Rd-2 | | | |
| Diego Schwartzman | Rd-1 | Rd-1 | Rd-1 | | | | | | | |
| Borna Coric | Rd-1 | Rd-1 | Rd-2 | | | | | | | |
| Pablo Carreno Busta | | Rd-1 | Rd-1 | Rd-1 | | | | | | |
| Roberto Bautista Agut | Rd-4 | Rd-3 | Rd-4 | Rd-3 | Rd-2 | | | | | |
| Jack Sock | Rd-2 | Rd-3 | Rd-1 | Rd-2 | | | | | | |
| Fabio Fognini | Rd-3 | Rd-2 | Rd-2 | Rd-3 | Rd-1 | Rd-2 | | Rd-3 | Rd-2 | Rd-1 |
| Kyle Edmund | Rd-2 | Rd-1 | Rd-1 | Rd-1 | Rd-1 | | | | | |
| Nick Kyrgios | Rd-1 | Rd-4 | Rd-4 | QF | | | | | | |
| Lucas Pouille | Rd-2 | QF | Rd-1 | | | | | | | |
| Hyeon Chung | | | Rd-1 | | | | | | | |
| Denis Shapovalov | Rd-1 | | | | | | | | | |
| Stan Wawrinka | Rd-1 | Rd-2 | QF | QF | Rd-1 | Rd-1 | Rd-2 | Rd-1 | Rd-4 | Rd-4 |
| Adrian Mannarino | Rd-4 | Rd-2 | Rd-2 | Rd-2 | Rd-4 | | Rd-2 | | Rd-1 | |
| Philipp Kohlschreiber | Rd-1 | Rd-1 | Rd-1 | Rd-2 | Rd-1 | QF | Rd-1 | Rd-3 | Rd-3 | Rd-1 |
| Gilles Muller | QF | Rd-2 | Rd-1 | Rd-2 | | Rd-1 | Rd-3 | | Rd-1 | |
| Filip Krajinovic | | | Rd-1 | | | | | | | |
| Richard Gasquet | Rd-1 | Rd-4 | SF | Rd-2 | Rd-3 | Rd-4 | Rd-4 | | | Rd-4 |
| Damir Dzumhur | Rd-2 | Rd-2 | Rd-1 | | | | | | | |
| Marco Cecchinato | Rd-1 | | | | | | | | | |
| Fernando Verdasco | Rd-1 | Rd-1 | Rd-3 | Rd-1 | QF | Rd-3 | Rd-2 | Rd-1 | Rd-4 | Rd-4 |
| Andrey Rublev | Rd-2 | | | | | | | | | |
| Stefanos Tsitsipas | Rd-1 | | | | | | | | | |
| Leonardo Mayer | | Rd-1 | Rd-3 | Rd-4 | Rd-2 | Rd-1 | | Rd-1 | Rd-2 | |
| Albert Ramos-Vinolas | Rd-3 | Rd-3 | Rd-2 | | Rd-1 | Rd-1 | | | | |
| David Ferrer | Rd-3 | Rd-2 | | Rd-2 | QF | QF | Rd-4 | Rd-4 | Rd-3 | Rd-3 |
| Peter Gojowczyk | Rd-2 | | | | | | | | | |
| Karen Khachanov | Rd-3 | | | | | | | | | |
| Gael Monfils | Rd-3 | Rd-1 | Rd-3 | Rd-2 | | | Rd-3 | Rd-3 | | |
| Steve Johnson | Rd-3 | Rd-4 | Rd-2 | Rd-1 | Rd-1 | | | | | |
| Andreas Seppi | Rd-2 | Rd-2 | Rd-3 | Rd-1 | Rd-4 | Rd-1 | Rd-2 | Rd-2 | Rd-3 | Rd-3 |
| Jo-Wilfried Tsonga | Rd-3 | QF | Rd-3 | Rd-4 | Rd-2 | SF | SF | QF | Rd-3 | |
| Robin Hasse | Rd-1 | Rd-2 | Rd-2 | Rd-2 | Rd-1 | Rd-1 | Rd-3 | Rd-2 | | Rd-1 |
| Yuichi Sugita | Rd-2 | | Rd-1 | Rd-1 | | | | | | |
| Feliciano Lopez | Rd-1 | Rd-3 | Rd-2 | Rd-4 | Rd-3 | Rd-1 | QF | Rd-3 | Rd-1 | QF |
| Joao Sousa | Rd-1 | Rd-3 | Rd-1 | Rd-1 | | | | | | |
| Benoit Paire | Rd-4 | Rd-2 | Rd-2 | Rd-1 | Rd-3 | Rd-3 | Rd-1 | | | |
| Jeremy Chardy | Rd-1 | Rd-2 | Rd-1 | Rd-4 | Rd-3 | Rd-2 | Rd-1 | Rd-3 | Rd-1 | Rd-2 |
| Maximilian Marterer | | | | | | | | | | |
| Matthew Ebden | | | Rd-2 | Rd-1 | Rd-1 | Rd-1 | | | | |
| Ivo Karlovic | Rd-1 | Rd-2 | Rd-4 | Rd-1 | | Rd-2 | Rd-2 | | QF | Rd-1 |
| Gilles Simon | Rd-2 | Rd-2 | QF | Rd-3 | Rd-1 | Rd-2 | Rd-3 | Rd-3 | Rd-4 | Rd-3 |
| Dusan Lajovic | Rd-2 | Rd-1 | Rd-1 | Rd-2 | | | | | | |
| Ryan Harrison | Rd-2 | | | Rd-1 | Rd-1 | Rd-2 | Rd-2 | | | |
| John Millman | Rd-1 | Rd-3 | Rd-2 | | | | | | | |
| Jan-Lennard Struff | Rd-1 | Rd-1 | Rd-1 | Rd-1 | Rd-2 | | | | | |
| Mischa Zverev | Rd-3 | | | | | | Rd-1 | | Rd-2 | Rd-3 |
| Cameron Norrie | Rd-1 | | | | | | | | | |
| Alijaz Bedene | Rd-3 | Rd-1 | Rd-2 | Rd-1 | Rd-1 | | | | | |
| Pablo Cuevas | | Rd-1 | Rd-1 | Rd-1 | | | | | Rd-2 | |
| Nikoloz Basilashvili | Rd-2 | | Rd-3 | | | | | | | |
| Bernard Tomic | Rd-1 | Rd-4 | Rd-3 | Rd-2 | Rd-4 | Rd-1 | QF | Rd-1 | | |
| Jiri Vesely | Rd-2 | Rd-4 | Rd-2 | Rd-3 | | | | | | |
| Horacio Zeballos | Rd-1 | Rd-1 | Rd-1 | | Rd-1 | | | Rd-1 | | |
| Donald Young | Rd-2 | Rd-2 | Rd-1 | Rd-1 | | Rd-1 | Rd-1 | | | Rd-1 |
| Martin Klizan | Rd-1 | Rd-1 | Rd-1 | Rd-1 | Rd-1 | Rd-2 | | | | |