Wimbledon 2017: Roger Federer to harvest eighth title thanks to grass seeding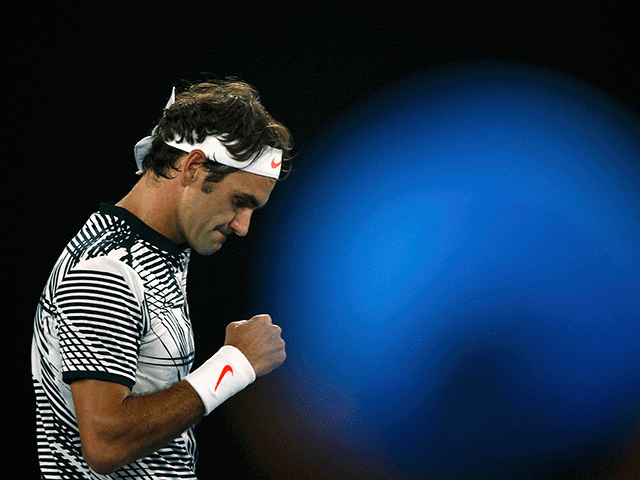 A favourable seeding and out-of-form opposition makes Federer look like a champion-in-waiting
Wimbledon loves to be contrary, writes Jack Houghton, and the way they seed hands a huge advantage to seven-time champion, Roger Federer...

"In his career, Federer has gone on to win 46% of the Grand Slams in which he's reached the last-four."
Wimbledon loves to be different. The dress code is stricter; there's no advertising around the court; and it has royal patronage. It also seeds differently to other tournaments.

Not satisfied with the ATP rankings, Wimbledon takes the top 32 players and then doubles the ATP points scored in grass tournaments in the preceding 12 months, before adding another 75% for those in the year preceding that. What results are 32 seeds, re-jigged according to their recent grass prowess.

Wimbledon would argue that there is justification for this. After all, it is a universally-held truth that playing on grass - here we go again - is different, and so it's right that the seeding reflects this.

How much that justification holds up to scrutiny, though, is debatable. Although it is true that the correlation between overall Elo ratings and grass-specific Elo ratings is lower than when running the same correlation analysis for hard and clay courts, it is not significantly different, and anyway, much of that difference is likely accounted for by the smaller data set: the grass season consists of eight tournaments played within the space of seven weeks.

More anecdotally, although there are some players who have a woeful record on grass - Stan Wawrinka being the most obvious (he only just creeps into the top 30 in the world when looking at grass-only play) - and some who significantly outperform their overall ranking when on grass - like Florian Mayer and Ivo Karlovic - those who fill the latter stages of Wimbledon tournaments are all the same names who go far whatever the surface.

Whether the approach is justified or not, though, four players - and one especially - will be delighted with this seeding oddity.

Roger Federer, ranked fifth in the world on ATP rankings, will instead switch places with countryman Stan Wawrinka and take on the mantle of third-seed. This might not seem especially significant, but it makes Federer's path to the semi-finals dramatically easier.

Seeded fifth, by my projections, Federer would be around 2.001/1 to reach the semi-finals. Seeded third, those odds shorten to around 1.558/15. By contrast, Wawrinka's odds lengthen from around 7.006/1 to around 15.0014/1. Poor old Stan. He has a hard-enough time on grass as it is, now they do this to him.

Seeding isn't the only topic that Federer fans will enjoy talking about. Uppermost in their minds will be the shakiness of Federer's most likely challengers. While the likes of Andy Murray, Rafa Nadal and Novak Djokovic will be happy that Federer's seeding-switch mean they cannot now face him until the semi-finals, they will nonetheless doubt their own chances of getting there at all.

Murray boasts a catalogue of health scares this year - shingles, colds, sore elbows, and now a sore hip which has seen him abandon an exhibition match in recent days - that must be hiking up his medical insurance premiums.

Meanwhile, Nadal has just lost an exhibition match at the Hurlingham club to out-of-form Thomas Berdych, and the Spaniard has already suggested that his knees are not expected to hold up to the rigours of the Wimbledon fortnight.

That leaves Djokovic, who has only reached two (lowly) finals this year, and whose form seems to be in freefall. The reasons for Djokovic's descent into relative mediocrity can remain the currency of internet gossip, but what's clear is that none of Federer's fellow big-four seem likely to play anywhere near their rating, suggesting that when he gets to the semi-final, which Wimbledon has been so helpful in near-ensuring, his task will be even easier than the ratings suggest it should be.

Not that Federer has need to worry about his odds of converting a semi-final berth into his eighth Wimbledon title. In his career, he has gone on to win 46% of the Grand Slams in which he's reached the last-four. Only Nadal betters that - on 60% - but if the French Open is taken out of the figures, Nadal drops to 33%, behind Djokovic on 40%, with Murray a paltry 14%.

At around 3.4012/5, Federer looks a stonking bet, if for no other reason than he is unlikely to have to exert himself before the end of the second week.
Discover the latest articles