Wimbledon 2016: Some young pretenders to upset the big four?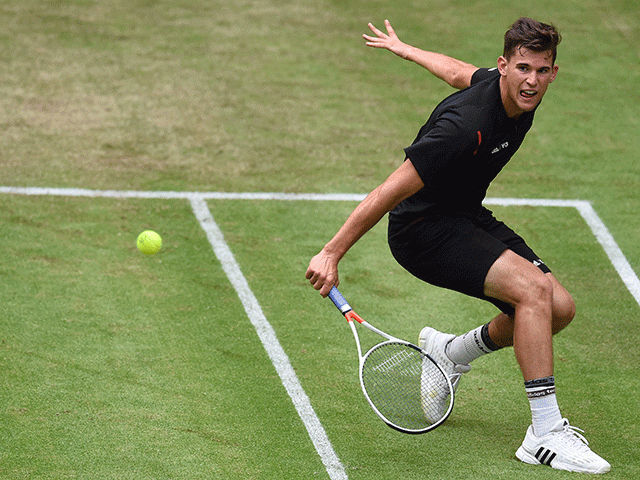 Youngsters like Dominic Thiem don't have much to find to beat the very best in the world
Jack Houghton laments the difficulties that a dominant Djokovic presents for statisticians like himself, but thinks he may have come across four interesting youngsters who can cause upsets at Wimbledon.
"As a punter, the problem with dominance is that we can very easily, and very wrongly, translate it into certainty..."
I've felt in recent years as if writing about the men's game is a tough gig. When your brief is to come up with unusual statistical angles to provide insight as to the likely winners of tournaments, it's made more difficult when the same players keep winning everything.

Although many may have lamented the slow dulling of the dominance of Federer and Nadal, it at least gave hope that a sideways statistical enquiry could provide some interesting angles.

Then Djokovic happened.

Trawling around and playing with spreadsheets over the last few days to try and come up with something interesting to say about Wimbledon, one thing that keeps jumping out from the data is just how dominant Djokovic has become.

Using Elo ratings as a measure of that supremacy (whether my own or the ratings of various others that can be found on the internet), it's interesting that Djokovic now has an all-surface rating that is higher than either Federer or Nadal managed at their peak.

As a punter, the problem with dominance, though, is that we can very easily, and very wrongly, translate it into certainty.

We might not do this towards the end of tennis tournaments - we know that Djokovic might get beaten by the likes of Murray, Federer and Wawrinka, albeit not regularly - but we can become so accustomed to the likes of Djokovic sailing through the early rounds of tournaments that we assume it will always happen.

Take this example. If Djokovic is playing, let's say, Juan Monaco, in the third round of a grand slam, it is likely that Djokovic will be around a 1.051/20 shot. For many punters, this is a match to avoid: the outcome is obvious, but the return is not attractive enough to warrant a bet.

What we can easily forget is that even these short odds imply that Djokovic will still lose one in every 20 similar match-ups with Monaco. So whilst a third-round exit for Djokovic may be a surprise to the media, it won't be statistically that remarkable.

Predicting when these major upsets might occur is very difficult. One interesting technique, though, is to try and find players who have the potential to outperform their current Elo rating.

One way of doing this is to look for youth. Data tells us that male tennis players typically reach their peak in their mid- to late-20s. In stands to reason, then, that a young player has a greater chance of having a better game than their rating implies, than an older player would have.

With this in mind, I used my Elo ratings to pick out the best four, young male tennis players who are scheduled to appear at Wimbledon. If any of them come up against more established names in the early rounds - and we will know the draw by the weekend - then they might be value to cause the big upset.

Alexander Zverev. Arguably the most exciting prospect in the men's game at the moment, the 19-year-old had a brilliant warm-up tournament in Halle and is an enormous triple-figure price to win the tournament outright. He looks an interesting back-to-lay prospect, and I'll certainly be having a few quid on if he is second favourite to a more established player.

Nick Kyrgios. A relative late starter in the professional ranks, Kyrgios is remarkable for how few matches he played before reaching the top 100 and, presumably on the back of his quarter-final appearance in 2014, he has been seeded in the top 16 this time around. This will keep him away from the very best until at least the fourth round, but were he to play someone like Berdych, Wawrinka or Raonic - matches in which he would be the outsider - I would view him as value to cause an upset.

Dominic Thiem. An interesting 22-year-old because, although he is hardly an unknown - the ATP currently ranks him as the eighth-best in the world - according to my ratings he is the fifth-best, and it would be no big surprise to see him overturn one of the big four at Wimbledon.

Jack Sock. The oldest of my quartet at nearly 24 and the least well-known. This is partly because his short career was interrupted in 2015 as he recovered from hip surgery. Given that he has only played 125 professional matches - and, crucially, only 12 on grass - it is fairly remarkable that I make him a top-20 player, especially as the ATP have him at 26. He's got the game for Wimbledon and would be better value than any higher-ranked opponents who are more at home on other surfaces.

Discover the latest articles