Wimbledon 2014: Defending champ Murray to edge past Dimitrov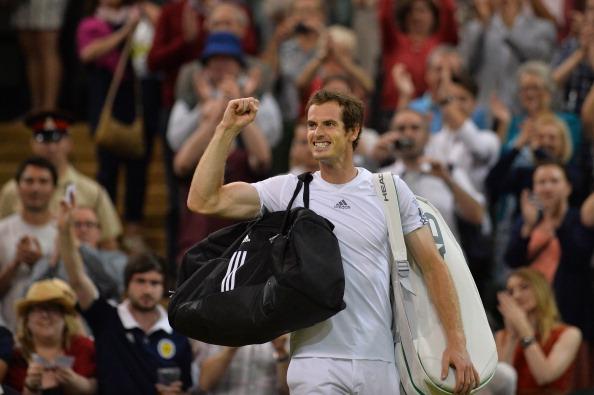 Andy Murray can continue his title defence at the expense of Dimitrov
Andy Murray is in quarter final action at Wimbledon today and tennis expert Sean Calvert expects another win for the Brit and tie breaks between Milos Raonic and Nick Kyrgios...
"Dimitrov is still just 3-14 against top-five ranked opposition lifetime and he's never produced what I would class as a big win in a major, with no wins against top-10 players at Grand Slams as yet."
Tuesday was a disappointing one at Wimbledon, with my bet of the day on Kei Nishikori going down after another injury problem for the Japanese.
I said yesterday that Kei should prove too classy off the ground for Milos Raonic and it seemed to be the case in set one, with Nishikori easily outmanoeuvring the Canadian before the trainer made his usual appearance at Kei's side.
Kei soldiered on, but he clearly couldn't push on his left side due to a foot problem and was unable to produce his best in the face of some fine serving from Raonic.
Wednesday sees my outright pick in the Men's Singles take to Centre Court, with Andy Murray facing his toughest task of the tournament in the form of Grigor Dimitrov.
This is surely a match that will polarise opinion and my contention is that Andy will get through this one in probably four sets.
Grigor has had a fine grass swing so far and he did well to back up the five set win over Alex Dolgopolov by easing past what could have been a tricky match with Leonardo Mayer in three sets, but how much is left in him mentally and physically?
We've seen a definite improvement in both facets of his game this year, but on the big stage in big matches he still has a bit to prove before we can start lumping him in the same bracket as the elite men's players.
He's still just 3-14 against top-five ranked opposition lifetime and he's never produced what I would class as a big win in a major, with no wins against top-10 players at Grand Slams as yet.
These may well come, but for now I am much happier putting my faith in Murray in this situation than Grigor, who has just one prior Slam quarter final appearance to his name.
Their meeting in Acapulco when Dimitrov won in a final set tie breaker came when Andy was inching his way back after surgery and holds little relevance to today and I think the best Grigor will do here is take one set.
Murray hasn't dropped a set yet, but he probably will today and the 3-1 feels about right at a price of around about 3.613/5.
The final match on No.1 Court today sees Raonic take on new sensation Nick Kyrgios, who followed in the footsteps of Lukas Rosol and Steve Darcis by taking down Rafa Nadal on Centre Court yesterday.
The obvious bet in that one today is to back Raonic, but I can't and won't do that at a price like 1.51/2 on grass, despite the likely physical and mental let down in the offing from Kyrgios.
I'm not going to back Kyrgios either and for me the clear choice is to side with one or the other to win set one on a tie break.
We landed the same bet with John Isner in his match with Feli Lopez and for me this pair are almost as likely to go to tie breaks as Isner and Lopez.
The Aussie may well hit the wall at some point though, so the over total games is not an option for me, but he'll surely be at it in set one and it looks a tie break all day long to me if they serve as they have been.
Kyrgios recorded an amazing 83% of first serve points won against an opponent like Rafa yesterday and landed 37 aces, so the chances of Milos breaking him early are rather slim.
Between them this tournament they've played nine breakers already, but two servers of this stature look sure to produce one in set one for me.
Kyrgios is better value at 4.47/2 and Raonic is 3.7511/4, so take your pick there. I'm siding with the Aussie on a Cash Out basis.

Recommended Bet
Back Murray to beat Dimitrov 3-1 at 3.613/5
Best Cash Out Opportunity
Back Kyrgios to win set one 7-6 at 4.47/2
Wimbledon 2014 profit and loss
Staked: £210.00 (Based on a £10 stake per bet)
Return: £304.00
Profit: +£94.00

Discover the latest articles