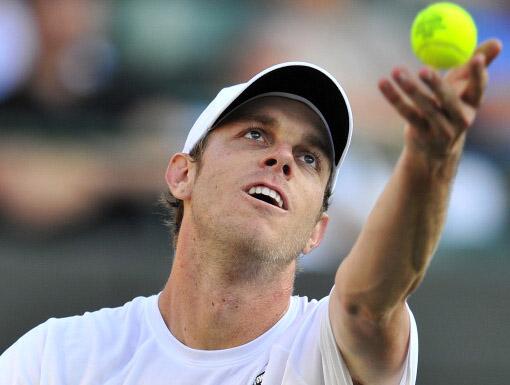 Sam Querrey and Marin Cilic are likely to play a tight match...
Friday's action at Wimbledon is men's singles semi-finals day, and with Roger Federer looking imperious, our tennis columnist, Dan Weston, assesses both of today's matches at SW19...

"However, despite this head to head looking dominant, assessing the scorelines indicates that this is not the case, with all head to head four clashes easily covering the over line on the game totals markets."
Murray and Djokovic exits make Federer a clear favourite

On Wednesday, we saw the shock exits of both Andy Murray and Novak Djokovic, at the hands of Sam Querrey and Tomas Berdych, respectively, although it could also have been said that the heavy favourites were beaten by their injuries, as opposed to directly by their opponents.

The defeats of the world's top two ranked players has had a profound effect on the men's outright market, with Roger Federer an overwhelming [1.38] favourite to take the title, and Marin Cilic [5.4] his main contender, with both Querrey and Berdych still considered long-shots by the market.

Unsurprisingly, the outright market favouritism of Federer and Cilic over Querrey and Berdych is manifested in today's match prices, with both strong favourites to make the final, against weaker opposition. Both matches are available via Betfair Live Video.
Cilic favoured by market to get past Querrey

In the first match, at around 1pm UK time, Cilic is a [1.34] favourite, with Querrey taking to the court in his first Grand Slam semi-final. Cilic, managed to oust Rafa Nadal's conqueror, Gilles Muller, in a fifth set on Thursday, as the man from Luxembourg finally gave in to accumulated fatigue.

Indeed, Querrey had only made one Grand Slam quarter-final prior to this year - a four set defeat to Milos Raonic at this venue in 2016 - and this really is uncharted territory for the American.
Cilic with extra experience at this stage

Conversely, this is Cilic's fourth Slam semi-final, although he won't remember his previous one fondly - a thrashing at the hands of Novak Djokovic at the US Open in 2015, where he won a mere three games - and there is little doubt that he will have an experience advantage this afternoon.

Also, Cilic's issues against elite level players is yet to manifest itself, with the draw opening up for the Croat, and Roberto Bautista-Agut (19) is the highest ranked player that he has faced at the event so far and he will be grateful he isn't facing a top player (either Murray or Nadal were seeded to face him here) at this stage.
Head to head scorelines far from dominant

Cilic also has a head to head advantage, with a 4-0 record over Querrey, including two five-set wins at Wimbledon, including a 17-15 epic final set in 2012.

However, despite this head to head looking dominant, assessing the scorelines indicates that this is not the case, with all head to head four clashes easily covering the over games line on the game totals markets, and Cilic winning deciding sets in three of the four, and winning in two straight tie-breaks in the other.

With match winner market prices in line with my model for both matches today, backing over 42.5 games at [1.84] for a small stake probably looks the best proposition.

With both players having a high projected hold percentage, a serve-orientated match is probable, and my numbers make the likelihood of there being no tiebreak played in a four set match just a 29% chance. Given this, four sets will be very likely indeed to cover this line.
Berdych with woeful record against Federer and elite

In the second semi-final, Roger Federer takes a seven match head to head winning run into his clash with Berdych, and the Swiss has claimed 18 of the 24 matches played between the two overall.

As mentioned on Thursday against Djokovic, Berdych has a woeful record against elite level opponents overall, and against top 10 opponents when a heavy 6.00+ priced underdog in his career, he is a horrific 1-21 in his career, with his solitary win actually coming against Federer at the US Open in 2012.

Considering this awful career record when facing significantly better opponents, it's no surprise that the market is heavily in favour of the Swiss legend, pricing him at a current [1.15] to advance to Sunday's final.

I made this a little short, but nothing which particularly warrants any attention, and I'd be very surprised if Federer walked off court tonight without a place in the final being assured.

Recommended Bets
Back Over 42.5 games between Cilic and Querrey at [1.84]

***

Follow Dan on Twitter @TennisRatings
New on the Betfair Sportsbook – Tennis Player Stats
Now it's possible to see a player's age, nationality, height, ranking, previous tournament record and head-to-head record! Just click on the 'Player Stats' tab on the match pages.