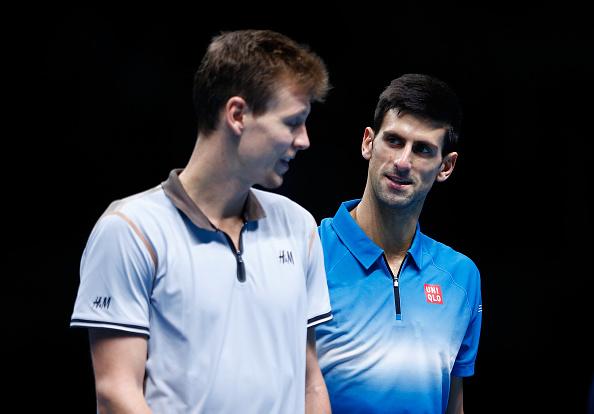 Tomas Berdych has a horrific head to head record against Novak Djokovic...
It's men's quarter final day on Wednesday at Wimbledon, and with matches available on Betfair Live Video, our tennis columnist, Dan Weston, previews each quarter-final in detail...

"First of all, though, I need to mention the elephant in the room - the head to head record - which Djokovic leads 25-2."
Nadal defeat improves Murray's outright chances

After some open-looking matches on Monday in the last-16, we saw the demise of Rafa Nadal, with the King of Clay again proving that he is a mere mortal on grass, succumbing to Gilles Muller, who fully deserved his victory, creating many more openings on return in the final set, which ended 15-13 in favour of the big-server from Luxembourg.

This had a huge impact on the outright market, with around 25% implied win percentage needing to be redistributed, and this had a positive effect on Andy Murray's chances, as the main beneficiary of Nadal's defeat, given that the Scotsman was in the same half of the draw as the Spaniard.

In the outright winner market, Murray is now into [4.7] co-second favourite, with Novak Djokovic, while Roger Federer, at [2.56], maintains his status as the tournament favourite. Marin Cilic, who is still yet to drop a set in the event, is the only other player with odds below [30.0], and is currently available at [8.4].
Cilic favoured by the market to beat potentially fatigued Muller

Muller's reward for dumping Nadal out of the event is a quarter-final with Cilic, due to start at 1pm UK time, and it is the Croat who is a heavy [1.24] favourite to progress to the semi-finals. My model made this match-up in these conditions having just below a 50% chance of a first set tiebreak, but that would assume that Muller was in standard condition following his marathon match against Nadal, which lasted just shy of five hours.

In any case, the Evens at the Sportsbook represents an accurate price, and while I do feel that the match will be rather serve-orientated, this line doesn't indicate any value whatsoever.

Interestingly, despite having the second lowest service points won at Wimbledon 2017 (70.68%) among the last eight contenders, Muller has saved the most break points (82.86%), and therefore he's either been incredibly clutch when facing break points, or variance is extremely in his favour.

Cilic, on the other hand, has saved the lowest percentage of break points of the remaining eight contenders here this year (64.29%), despite having won all 12 sets he has competed in, and if these tournament trends continue, Muller has a chance. If mean-reversion kicks in today, however, this should be a facile win for Cilic. My model made no value at market prices.

In fact, there was no pre-match value, above the 4% implied win percentage that I require, for any match today, although there is a trading angle I like in one of the later matches.
Murray's strong return game likely to be too much for Querrey

At the same time as Cilic v Muller, home favourite Andy Murray takes on Sam Querrey, with the Scotsman the shortest priced favourite today, at [1.18]. Murray has an excellent record against big-servers in general, and takes a 7-1 head to head lead into this match, although suspicions that he isn't quite 100% fit still surround him, and it's worth noting that at SW19, he's won the lowest percentage (70.59%) of service points of the players remaining in the event, although his return points won percentage (44.96%) is one of the best.

I'd imagine that Murray's strong return game will be enough to create enough chances against the American, who has dropped more sets (5) than any of the last eight, and as the odds indicate, it would be a major surprise if Querrey progressed to the semi-finals.

Not before 3pm UK time, the second set of semi-finals commence, from the bottom half of the draw, and I expect that Milos Raonic's clash with Roger Federer will be the more serve-orientated of the two later matches.
Federer expected to edge serve-orientated encounter with Raonic

Federer, in particular, with a projected hold percentage of 95.4%, is unlikely to face much pressure on his serve, and he brings a 9-3 head to head record to the courts today, although I must point out that Raonic has won their last two meetings.

Further giving weight to the expectation that this match will be very much dominated by strong serving is the fact that in the four matches each have played here in the last fortnight, these two (Federer 76.90%, Raonic 76.19%) have the highest service points won of the remaining players, although Federer's saving of break points leaves something to be desired, and Raonic's woeful 22.22% conversion also needs dramatic improvement.

With Federer currently trading at [1.24], my model made this price pretty accurate, and again, there is no pre-match edge.
Berdych with a woeful head to head record against Djokovic

However, there is a trading angle that I would like to discuss in the remaining quarter-final, between Novak Djokovic and Tomas Berdych.

First of all, though, I need to mention the elephant in the room - the head to head record - which Djokovic leads 25-2. Berdych is frequently accused of being beaten even before he walks on court against Djokovic and other elite opponents, and if you believe this, the current line of [1.27] about the Serb should be considered. Despite this, my model, despite making this a few ticks on the generous side, didn't make it enough value to warrant any pre-match interest.

It may be of interest to readers that Djokovic has the best stats at Wimbledon 2017 of all the players left in the draw. Along with Cilic and Federer, he is yet to drop a set, and he also has the highest game win percentage (67.37%) - a figure over 4% greater than any rival. Not only this, Djokovic has the highest tournament combined serve and return points won percentage (118.62%) and is also running bad on break points, being -7.66% below expectation in these key spots.

For anyone supporting Berdych, these numbers all look ominous, and any faith in the Czech surely has to surround Djokovic's slight shoulder injury, which he claims is manageable.
Berdych fits the vulnerable front-runner profile

With Berdych having a low projected hold percentage (77.8%) and Djokovic the best on tour, with numbers in excess of 60%, at recovering break deficits, as well as the mental strain that Berdych takes into these types of match-ups, the obvious trading entry point would be to oppose Berdych in-play if he trades considerably lower than the starting prices.

My preferred entry points which fit this criteria would be to lay Berdych in-play if he leads by either a set and break, 2-0 and a break, 2-1 and a break, or if he's serving for the match when leading by a single break.

Recommended Bets
Lay Tomas Berdych if he leads by either a set and break, 2-0 and a break, 2-1 and a break, or if he's serving for the match when leading by a single break.

***

Follow Dan on Twitter @TennisRatings
New on the Betfair Sportsbook – Tennis Player Stats
Now it's possible to see a player's age, nationality, height, ranking, previous tournament record and head-to-head record! Just click on the 'Player Stats' tab on the match pages.