US Open 2019: Form guide for the women's singles in New York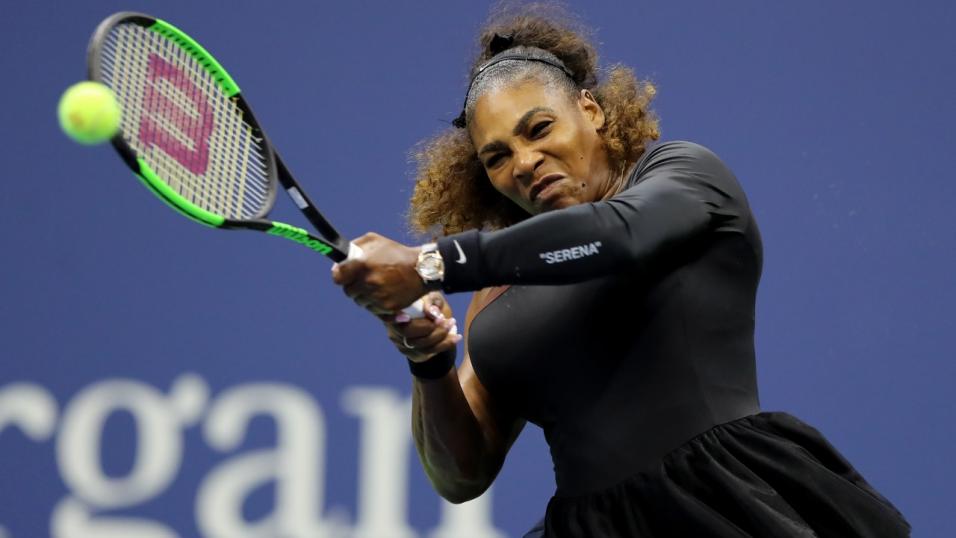 Can Serena Williams finally claim a record-equalling 24th Grand Slam title on home soil?
Before placing a bet on the forthcoming US Open at Flushing Meadows, check out our women's singles form guide compiled by Andy Swales...
"Williams will also feel frustrated that, during the past 15 months, she has reached three Grand Slam finals, only to lose all of them in straight sets."
Next week's US Open will be Serena Williams's last Grand Slam before she turns 38 in September, another reminder that time maybe running out in her quest to become the most decorated player in the history of the women's game.
The American currently has 23 Slam titles in her locker, one short of the all-time record held by Margaret Court who claimed her 24 victories between 1960 and 1973.
Williams not only wants to equal the total of Australia's Court but also overtake it, but to do so would have to become the oldest Slam champion in more than 60 years.
Williams will also feel frustrated that, during the past 15 months, she has reached three Grand Slam finals, only to lose all of them in straight sets.
She has actually lost five of her last seven Slam finals, having never previously lost two in a row between 1999 and 2015.
Since returning to competitive action following the birth of her first child, she has completely reduced her schedule, which may be one of the reasons why she has failed to finally achieve her ambitions.
One thing in her favour on this occasion, as she heads to Flushing Meadows, is that she did reach the final of the Rogers Cup in Toronto only a few weeks ago.
However, she was forced to retire from the match after just four games, suffering from back spasms.
Hopefully, she will be fully recovered and rested ahead of the US Open which begins on Monday.
Serena's Challengers
As with the men's game right now, it seems that the younger generation of women players are finding it increasingly more difficult to retain top form for long periods of time.
This probably highlights the competitive nature of world tennis, with so many talented new players flooding the circuit each year.
The newest star in the women's game is teenage Canadian Bianca Andreescu, who wasn't even born when Williams claimed her first slam title 20 years ago.
Andreescu has come from nowhere to win two Premier level titles during 2019, both on hard court, while racing up the WTA World Ranking from 178 on January 1st, to her current position of No 15.
The forthcoming US Open will only be the fourth slam event of her career but she will head to New York full of confidence with few expectations on her shoulders.
Check out latest betting for the women's singles championship at the US Open
Another player who should be riding high is Madison Keys who sneaked back into the world's top 10 last week by winning the Premier 5 event in Cincinnati.
The 24-year-old American was a beaten finalist in New York two years ago, and reached the semi-finals here in 2018.
Karolina Pliskova and Anastasija Sevastova are the only players to have reached the quarter-final stage in each of the last three US Opens, while Naomi Osaka, Ashleigh Barty and Simona Halep are also obvious contenders in the Big Apple.
Defending champion Ozaka has failed to reach a final on the WTA Tour since winning her second Slam in Melbourne during January but, at 21, is most definitely one of the stars of the future.
As for Britain's Johanna Konta, the Sydney-born player appears to have completely lost confidence since suffering a shock quarter-final defeat at Wimbledon to doubles-specialist Barbora Strycova of the Czech Republic.
Click here to view 10-year form at US Open
Twitter: Andy Swales@GolfStatsAlive
Key For Women's Slams Events: 1 - '19 Wimbledon; 2 - '19 French Open; 3 - '19 Australian Open; 4 - '18 US Open; 5 - '18 Wimbledon; 6 - '18 French Open; 7 - '18 Australian Open; 8 - '17 US Open; 9 - '17 Wimbledon; 10 - '17 French Open

Last 10 Grand Slam Results (selected players)
| Player | 1 | 2 | 3 | 4 | 5 | 6 | 7 | 8 | 9 | 10 |
| --- | --- | --- | --- | --- | --- | --- | --- | --- | --- | --- |
| Naomi Osaka | Rd-1 | Rd-3 | Won | Won | Rd-3 | Rd-3 | Rd-4 | Rd-3 | Rd-3 | Rd-1 |
| Ashleigh Barty | Rd-4 | Won | QF | Rd-4 | Rd-3 | Rd-2 | Rd-3 | Rd-3 | Rd-1 | Rd-1 |
| Karolina Pliskova | Rd-4 | Rd-3 | SF | QF | Rd-4 | Rd-3 | QF | QF | Rd-2 | SF |
| Simona Halep | Won | QF | Rd-4 | Rd-1 | Rd-3 | Won | RU | Rd-1 | QF | RU |
| Bianca Andreescu | | Rd-2 | Rd-2 | | | | | | Rd-1 | |
| Serena Williams | RU | Rd-3 | QF | RU | RU | Rd-4 | | | | |
| Kiki Bertens | Rd-3 | Rd-2 | Rd-2 | Rd-3 | QF | Rd-3 | Rd-3 | Rd-1 | Rd-1 | Rd-2 |
| Petra Kvitova | Rd-4 | | RU | Rd-3 | Rd-1 | Rd-3 | Rd-1 | QF | Rd-2 | Rd-2 |
| Elina Svitolina | SF | Rd-3 | QF | Rd-4 | Rd-1 | Rd-3 | QF | Rd-4 | Rd-4 | QF |
| Aryna Sabalenka | Rd-1 | Rd-2 | Rd-3 | Rd-4 | Rd-1 | Rd-1 | Rd-1 | | Rd-2 | |
| Sloane Stephens | Rd-3 | QF | Rd-4 | QF | Rd-1 | RU | Rd-1 | Won | Rd-1 | |
| Anastasija Sevastova | Rd-2 | Rd-4 | Rd-4 | SF | Rd-1 | Rd-1 | Rd-2 | QF | Rd-2 | Rd-3 |
| Belinda Bencic | Rd-3 | Rd-3 | Rd-3 | Rd-1 | Rd-4 | Rd-2 | Rd-2 | | | |
| Angelique Kerber | Rd-2 | Rd-1 | Rd-4 | Rd-3 | Won | QF | SF | Rd-1 | Rd-4 | Rd-1 |
| Johanna Konta | QF | SF | Rd-2 | Rd-1 | Rd-2 | Rd-1 | Rd-2 | Rd-1 | SF | Rd-1 |
| Marketa Vondrousova | Rd-1 | RU | Rd-2 | Rd-4 | Rd-1 | Rd-1 | Rd-2 | Rd-1 | Rd-1 | Rd-2 |
| Qiang Wang | Rd-3 | Rd-2 | Rd-3 | Rd-3 | Rd-1 | Rd-3 | Rd-1 | Rd-1 | Rd-2 | Rd-1 |
| Madison Keys | Rd-2 | QF | Rd-4 | SF | Rd-3 | SF | QF | RU | Rd-2 | Rd-2 |
| Caroline Wozniacki | Rd-3 | Rd-1 | Rd-3 | Rd-2 | Rd-2 | Rd-4 | Won | Rd-2 | Rd-4 | QF |
| Anett Kontaveit | Rd-3 | Rd-1 | Rd-2 | Rd-1 | Rd-3 | Rd-4 | Rd-4 | Rd-1 | Rd-3 | Rd-2 |
| Petra Martic | Rd-4 | QF | Rd-3 | Rd-1 | Rd-1 | Rd-2 | Rd-4 | Rd-1 | Rd-4 | Rd-4 |
| Sofia Kenin | Rd-2 | Rd-4 | Rd-2 | Rd-3 | Rd-2 | Rd-1 | Rd-1 | Rd-3 | | |
| Elise Mertens | Rd-4 | Rd-3 | Rd-3 | Rd-4 | Rd-3 | Rd-4 | SF | Rd-1 | Rd-1 | Rd-3 |
| Caroline Garcia | Rd-1 | Rd-2 | Rd-3 | Rd-3 | Rd-1 | Rd-4 | Rd-4 | Rd-3 | Rd-4 | QF |
| Donna Vekic | Rd-1 | Rd-4 | Rd-2 | Rd-1 | Rd-4 | Rd-2 | Rd-2 | Rd-3 | Rd-2 | Rd-1 |
| Garbine Muguruza | Rd-1 | Rd-4 | Rd-4 | Rd-2 | Rd-2 | SF | Rd-2 | Rd-4 | Won | Rd-4 |
| Julia Goerges | Rd-3 | Rd-1 | Rd-1 | Rd-2 | SF | Rd-3 | Rd-2 | Rd-4 | Rd-1 | Rd-1 |
| Carla Suarez Navarro | Rd-4 | Rd-3 | Rd-2 | QF | Rd-3 | Rd-2 | QF | Rd-4 | Rd-2 | Rd-4 |
| Su-Wei Hsieh | Rd-3 | Rd-2 | Rd-3 | Rd-2 | Rd-4 | Rd-1 | Rd-4 | | Rd-1 | Rd-3 |
| Barbora Strycova | SF | Rd-1 | Rd-1 | Rd-3 | Rd-3 | Rd-4 | Rd-4 | Rd-2 | Rd-2 | Rd-2 |
| Dayana Yastremska | Rd-4 | Rd-1 | Rd-3 | Rd-1 | | | | | | |
| Maria Sakkari | Rd-3 | Rd-2 | Rd-3 | Rd-2 | Rd-1 | Rd-3 | Rd-1 | Rd-3 | Rd-3 | Rd-1 |
| Shuai Zhang | QF | Rd-2 | Rd-3 | Rd-1 | Rd-1 | Rd-2 | Rd-2 | Rd-3 | Rd-1 | Rd-3 |
| Lesia Tsurenko | Rd-1 | Rd-3 | Rd-2 | QF | Rd-2 | Rd-4 | Rd-2 | Rd-1 | Rd-3 | Rd-3 |
| Danielle Collins | Rd-3 | Rd-2 | SF | Rd-1 | Rd-1 | Rd-1 | | | | |
| Alison Riske | QF | Rd-1 | Rd-1 | Rd-1 | Rd-2 | Rd-1 | Rd-1 | Rd-1 | Rd-3 | Rd-1 |
| Katerina Siniakova | Rd-2 | Rd-4 | Rd-1 | Rd-3 | Rd-3 | Rd-3 | Rd-2 | Rd-1 | Rd-1 | Rd-1 |
| Saisai Zheng | Rd-1 | Rd-1 | Rd-1 | | Rd-2 | Rd-1 | | Rd-2 | Rd-1 | Rd-1 |
| Victoria Azarenka | Rd-3 | Rd-2 | Rd-1 | Rd-3 | Rd-2 | Rd-1 | | | Rd-4 | |
| Daria Kasatkina | Rd-1 | Rd-2 | Rd-1 | Rd-2 | QF | QF | Rd-2 | Rd-4 | Rd-2 | Rd-3 |
| Yulia Putintseva | Rd-2 | Rd-1 | Rd-2 | Rd-1 | Rd-2 | QF | Rd-2 | Rd-2 | Rd-1 | Rd-3 |
| Ekaterina Alexandrova | Rd-1 | Rd-3 | Rd-1 | Rd-1 | Rd-1 | Rd-1 | Rd-2 | Rd-2 | Rd-1 | Rd-2 |
| Monica Puig | Rd-2 | Rd-3 | Rd-1 | Rd-2 | | | Rd-2 | Rd-1 | Rd-1 | Rd-2 |
| Anastasia Pavlyuchenkova | Rd-1 | Rd-1 | QF | Rd-1 | Rd-1 | Rd-2 | Rd-2 | Rd-1 | Rd-1 | Rd-2 |
| Ajla Tomljanovic | Rd-2 | Rd-1 | Rd-1 | Rd-2 | Rd-1 | Rd-1 | Rd-1 | Rd-2 | | Rd-1 |
| Aliaksandra Sasnovich | Rd-1 | Rd-1 | Rd-3 | Rd-3 | Rd-4 | Rd-2 | Rd-3 | Rd-2 | Rd-1 | Rd-2 |
| Karolina Muchova | QF | Rd-2 | Rd-1 | Rd-3 | | | | | | |
| Svetlana Kuznetsova | Rd-1 | Rd-1 | | Rd-1 | | Rd-1 | | Rd-2 | QF | Rd-4 |
| Viktoria Kuzmova | Rd-1 | Rd-3 | Rd-2 | Rd-1 | Rd-1 | Rd-2 | Rd-1 | Rd-1 | | |
| Kristina Mladenovic | Rd-2 | Rd-2 | Rd-1 | Rd-2 | Rd-3 | Rd-1 | Rd-1 | Rd-1 | Rd-2 | QF |
| Camila Giorgi | Rd-1 | | Rd-3 | Rd-2 | QF | Rd-3 | Rd-2 | Rd-1 | Rd-3 | Rd-1 |
| Yafan Wang | Rd-1 | Rd-1 | Rd-2 | Rd-2 | Rd-1 | Rd-1 | | | | |
| Marie Bouzkova | Rd-2 | Rd-1 | | Rd-1 | | | | | | |
| Cori Gauff | Rd-4 | | | | | | | | | |
| Iga Swiatek | Rd-1 | Rd-4 | Rd-2 | | | | | | | |
| Jessica Pegula | Rd-1 | Rd-1 | | | | | | | | |
| Veronika Kudermetova | Rd-2 | Rd-3 | Rd-1 | | | | | | | |
| Jil Teichmann | Rd-1 | | | Rd-2 | | | | | | |
| Margarita Gasparyan | Rd-2 | Rd-1 | Rd-2 | Rd-1 | | | | | | |
| Alize Cornet | Rd-1 | Rd-1 | Rd-2 | Rd-1 | Rd-1 | Rd-2 | Rd-3 | Rd-2 | Rd-1 | Rd-4 |
| Ons Jabeur | Rd-1 | Rd-1 | Rd-1 | Rd-1 | Rd-2 | | Rd-1 | Rd-2 | Rd-1 | Rd-3 |
| Tamara Zidansek | Rd-2 | Rd-1 | Rd-2 | Rd-1 | | | | | | |
| Alison Van Uytvanck | Rd-2 | Rd-1 | Rd-1 | Rd-1 | Rd-4 | Rd-2 | Rd-1 | Rd-1 | Rd-1 | Rd-2 |
| Elena Rybakina | | Rd-1 | | | | | | | | |
| Venus Williams | Rd-1 | Rd-1 | Rd-3 | Rd-3 | Rd-3 | Rd-1 | Rd-1 | SF | RU | Rd-4 |
| Dominika Cibulkova | | Rd-1 | Rd-1 | Rd-4 | QF | Rd-1 | Rd-1 | Rd-2 | Rd-3 | Rd-2 |
| Tatjana Maria | Rd-1 | Rd-1 | Rd-1 | Rd-2 | Rd-2 | Rd-1 | Rd-1 | Rd-2 | Rd-2 | Rd-2 |
| Lauren Davis | Rd-3 | Rd-2 | | | | | Rd-3 | Rd-1 | Rd-1 | Rd-1 |
| Jennifer Brady | Rd-1 | Rd-2 | | Rd-1 | Rd-2 | Rd-2 | Rd-1 | Rd-4 | Rd-2 | Rd-1 |
| Fiona Ferro | Rd-1 | Rd-1 | Rd-1 | | | Rd-2 | | | | Rd-1 |
| Jelena Ostapenko | Rd-1 | Rd-1 | Rd-1 | Rd-3 | SF | Rd-1 | Rd-3 | Rd-3 | QF | Won |
| Kateryna Kozlova | | Rd-2 | Rd-1 | Rd-1 | Rd-1 | Rd-2 | Rd-1 | Rd-2 | | Rd-1 |
| Rebecca Peterson | Rd-1 | Rd-2 | Rd-2 | Rd-3 | Rd-2 | Rd-2 | | Rd-1 | | |
| Anastasia Potapova | Rd-2 | Rd-2 | Rd-2 | | | | | Rd-1 | | |
| Kaia Kanepi | Rd-2 | Rd-4 | Rd-1 | Rd-4 | Rd-1 | Rd-1 | Rd-3 | QF | | |
| Pauline Parmentier | Rd-2 | Rd-1 | Rd-1 | Rd-1 | Rd-1 | Rd-3 | Rd-1 | Rd-1 | Rd-1 | Rd-2 |
| Daria Gavrilova | Rd-1 | Rd-1 | Rd-1 | Rd-2 | Rd-3 | Rd-3 | Rd-2 | Rd-2 | Rd-1 | Rd-1 |
| Kristyna Pliskova | Rd-1 | Rd-1 | Rd-2 | Rd-1 | Rd-1 | Rd-1 | Rd-1 | Rd-2 | Rd-2 | Rd-1 |
| Timea Bacsinszky | Rd-1 | | Rd-3 | Rd-1 | | | | | Rd-3 | SF |
| Andrea Petkovic | Rd-1 | Rd-3 | Rd-1 | Rd-1 | Rd-2 | Rd-3 | Rd-2 | Rd-1 | Rd-1 | Rd-1 |
| Laura Siegemund | Rd-2 | Rd-2 | Rd-2 | Rd-1 | | Rd-1 | | | | |
| Irina-Camelia Begu | | Rd-3 | Rd-2 | Rd-2 | Rd-1 | Rd-3 | Rd-2 | Rd-1 | Rd-2 | Rd-1 |
| Anna Blinkova | | Rd-3 | Rd-1 | Rd-1 | Rd-2 | | Rd-1 | Rd-1 | Rd-1 | |
| Maria Sharapova | Rd-1 | | Rd-4 | Rd-4 | Rd-1 | QF | Rd-3 | Rd-4 | | |
| Aleksandra Krunic | Rd-1 | Rd-2 | Rd-2 | Rd-3 | Rd-1 | Rd-1 | Rd-1 | Rd-3 | | |
| Sam Stosur | Rd-1 | Rd-2 | Rd-1 | Rd-1 | Rd-2 | Rd-3 | Rd-1 | | | Rd-4 |
| Aliona Bolsova | | Rd-4 | | | | | | | | |
| Mona Barthel | Rd-1 | Rd-1 | Rd-1 | Rd-1 | | Rd-1 | Rd-2 | Rd-1 | Rd-1 | Rd-1 |
| Sorana Cirstea | Rd-1 | Rd-2 | Rd-1 | Rd-2 | Rd-2 | Rd-1 | Rd-2 | Rd-2 | Rd-3 | Rd-2 |