US Open Betting: The ladies who lack 'bottle'
US Open Betting

/ Gary Boswell / 29 August 2010 /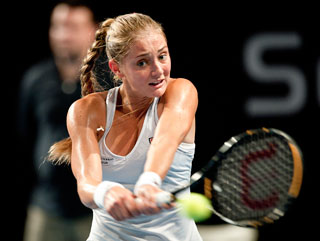 Panic appears to be written across Anna Chakvetadze's face
"If you are new to this, a £100 lay at [1.07] risks just £7 of your cash for a £100 return. And it happens even to the likes of the queen of head tennis, Serena Williams."
Gary Boswell is a fan of the in-running lay - but you've got to know who is likely to tie up with the winning line in sight - so here's his guide to the women to get against in the forthcoming US Open
For those who like their in-play betting, there's no sport quite like women's tennis. It's very much a momentum event - even at the worst of times - in a truly head-to-head sense. When one protagonist gets her head round the way the other plays it and finds the weakness, a flood of points can, and very often does, flow in one direction. That can happen at any point in a contest, even when the one player is on the cusp of victory, and whose in-play laying odds are extremely attractive in the minimum risk sense.
Who can forget Serena Williams at the Olympics in Beijing against Elena Dementieva? The Russian is an infamous circuit 'bottler' who notoriously cried her way through the famous freeze up in the 2004 French Open final. But, in Beijing, she stared down the barrel of quarter0final defeat against Serena and then won an incredible nine straight games. At one set and 4-0 up, in-play odds on a Serena victory were [1.07] and falling. And if you are new to this, a £100 lay at [1.07] risks just £7 of your cash for a £100 return. And it happens even to the likes of the queen of head tennis, Serena Williams. She lost the second set 6-4 and the third 6-3.
There are some cynical misogynists around who would argue that it can happen at any point to anyone in the game of women's tennis simply because it is played by women. That an in-play [1.07] should be taken as a matter of course. A system even - that profits more often than it loses. If you watch a lot of women's tennis, you'll know what they mean. It is a game charged with a plethora of highly emotional creatures and the dummy surely is to be seen regularly spat out of the pram.
I personally don't subscribe to the blanket lay at [1.07] theory though. I have a more informed (and respectfully researched) view of women's tennis from careful viewing over a number of years. I can appreciate that the stereotypical view could be easily held by the lazy or casual viewer, mind. It does happen a lot and can accurately be called a regular feature of the sport.
Personally, I have compiled a hit list of players who are vulnerable to the momentum swinging regularly against them. Perhaps because they are more prone to the emotional outburst that leads to easily throwing in of the towel but actually more likely because they are more prone to that well known sporting phenomenon that affects either sex - the nerve loss or 'bottle'. The one who has no natural urge for surging across the finish line. The one who thinks about it and starts to worry that they might blow it. The one who thinks at all instead of letting instinct play it out!

The athlete who gets tight as victory approaches in tennis, as in golf, is very self destructive.
Who should you be watching out for in the upcoming US Open? I've already mentioned Dementieva, although she has conquered it to some extent as the years have gone on. The gold medal in Beijing was a serious antidote. She's not totally cured though as she proved in this year's French Open not even bothering with a second set after she suffered it in the first set tie break against Francesca Schiavone.
French star Marion Bartoli can be a sufferer, Spaniard Carla Suarez-Navarro likewise. Our own Elena Baltacha is a well known 'win the first set and then fall into a hole' merchant as is Regina Kulikova. Estonian Kaia Kanepi had a classic bout in her Wimbledon QF against Petra Kvitova. Perhaps the best exponent of the 'bottling' trend in the modern game is young Russian Anna Chakvetadze whose game has been decimated by nerves over the last three years after initially rocketing into the top ten as a teenager.
It's all about the psychology. You have it in your make up or you haven't. Twice Grand Slam winner Svetlana Kuznetsova, aware of the tendency in her own game to suffer the detrimental momentum swing, has recently taken to extended toilet breaks and a change of clothes to give herself 'refocusing time' and to combat the downward spiral. It worked in her 2009 French Open semi against Serena. She came back from the break a 'new woman'!
Watch out for it this fortnight at the Meadow. Keep those fingers poised over the lay button as the known bottlers approach the finishing line!

'.$sign_up['title'].'
'; } } ?>