US Open Men's Day Ten Tips: Monfils value to get past Berrettini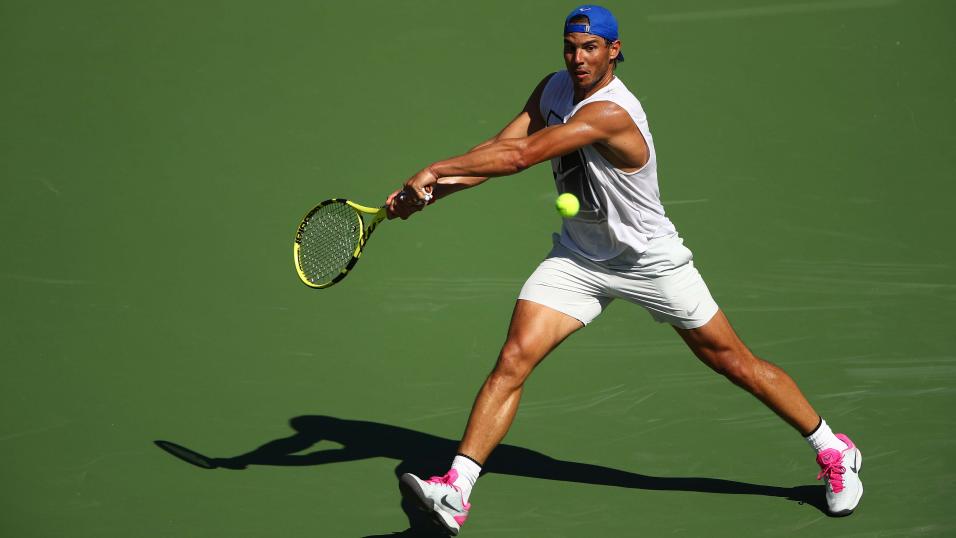 Rafa Nadal has had huge success on Diego Schwartzman's serve...
Men's quarter-final action at the US Open continues on Wednesday evening, and after picking up another winner on Tuesday night, our tennis columnist, Dan Weston, discusses tonight's clashes...
"This year on hard court in main tour matches, Monfils has a decent edge over Berrettini, with over a 4% edge on combined service/return points won and a much greater advantage based on hold/break numbers as well."
Medvedev wins despite market scepticism
Daniil Medvedev got us an underdog winner on Tuesday evening in what must be described as one of the strangest in-play markets witnessed in many years. The market was convinced that the Russian was injured, barely reducing his price even when 2-0 up in sets and only really believing that Medvedev would actually complete the win when leading by a break in the fourth set en route to a 3-1 victory.
This market faith in Wawrinka was extremely similar to the bizarre pre-match price, which went against all statistical rationale and pretty much assumed Medvedev was in barely any fit condition to compete. Purely from a statistical perspective, getting Medvedev at [2.28] was one of the bets of the year.
Federer dumped out by Dimitrov
However, this was only the starter to the main course with regards to drama on Tuesday night's schedule. Roger Federer, who started around [1.10] and had never lost to Grigor Dimitrov in seven matches, looked to be en route to the semi-finals after taking a 2-1 sets lead over the Bulgarian. Dimitrov roared back, though, taking the last two sets in deserved fashion (he had more break points on return in both sets) to cause a huge shock and really open up the top half of the draw, which now no longer contains either Djokovic or Federer.
Monfils with a strong statistical edge over Berrettini
Moving on to today's remaining quarter-finals, Gael Monfils faces Matteo Berrettini in the opening match, which is scheduled at not before 1830 UK time this evening.
My model likes Monfils here, with the enigmatic Frenchman priced at [1.58] by the market having received a few ticks of market support since the opening lines, and I actually think he's some value at these prices.
This year on hard court in main tour matches, Monfils has a decent edge over Berrettini, with over a 4% edge on combined service/return points won and a much greater advantage based on hold/break numbers as well.
Experience also in Monfils' favour
Monfils also has the edge in something less quantifiable - experience on the big stage. He's played in eight Grand Slam quarter-finals and while he's only won two, he's been a heavy underdog in most (facing the traditional elite four opposition in five of these) so no criticism can be given for Monfils for such a record - he's not far behind win expectation given starting prices in these matches.
Conversely, this is Berrettini's first Slam quarter-final and he's only made two quarter-finals in his career so far. In addition, he's never reached a quarter-final in a Masters 1000 event either. This is a big step up from the normal stage he plays at, and while it's impossible to know whether it will affect him, I'm of the mindset that Monfils' experience at this stage of big tournaments will be a positive as well. Monfils giving up a 3.5 game head start at [1.98] is today's recommendation.
Nadal likely to consistently pressure Schwartzman's serve
There's another interesting match-up in the second quarter-final, with Diego Schwartzman, our hero from Monday, now facing Rafa Nadal in the night match tonight.
Nadal looks short at [1.07] here, and it's interesting to note that Schwartzman has actually won a higher percentage of return points this year on hard court than Nadal. The main problem for Schwartzman is that he's far behind on service points won, which is obviously unsurprising given his noted strengths and weaknesses.
Head to head history suggests this will be Schwartzman's main issue tonight. Rafa has won all seven of their meetings (17-2 in sets) and has broken Schwartzman 45% of the time, winning 48% of return points on Schwartzman's serve.
These are clearly stunning return numbers and illustrate Rafa has been able to consistently pressure Schwartzman's serve, and I anticipate more of the same tonight here in New York. Schwartzman could well keep it closer than the market expects, but in a tournament which has seen several surprises, it's tough to foresee another shock result here.
***
Follow Dan on Twitter @TennisRatings
Dan's US Open P&L:-
15 Matches
10 Wins
15 Units Staked
22.43 Units Returned
49.53% ROI
Recommended bets
Back Gael Monfils -3.5 games at [1.98] to beat Matteo Berrettini