Women's US Open 2016: Serena can shoulder the pressure of becoming the greatest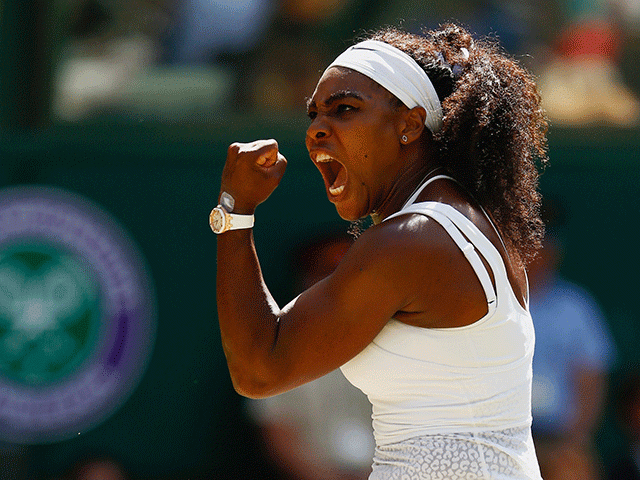 Wimbledon champions Serena Williams is looking to make history at the US Open
Serena Williams can make history at the US Open this week, but as Ralph Ellis explains the tournament favourite has an injury concern weighing on her shoulders, quite literally...

"But if you are wondering why she is 2.6813/8 to win the tournament and not odds-on, there is an answer. She may, or there again may not, have a shoulder injury."
The thing about Serena Williams is that you never really know. She looks injured and claims she's fit. She looks sick and claims she's well. Or at other times she looks well and it turns out she was feeling ill.

I've lost count of the number of times I've backed her to win tournaments in the last couple of years only to discover she was suffering some ailment, and equally the number of times I've opposed her at odds-on and then watched her wipe the floor with everybody.

All you do know for sure about the 34-year-old who has dominated women's tennis ever since the turn of the century is that she is cuter than cute when it comes to handling the media. Every interview is a chance to either promote her clothing, or to score a psychological blow against her next opponent.

She starts tonight at the US Open on her bid to win her 23rd Grand Slam title. It would be an achievement which would finally put her name out on its own - ahead of Steffi Graf who currently shares the record - as the greatest the women's game has known. Arguably the greatest the sport as a whole has witnessed.

But if you are wondering why she is 2.6813/8 to win the tournament and not odds-on, there is an answer. She may, or there again may not, have a shoulder injury.

That's believed to be what ruined her hopes of an Olympic gold medal in Rio, where she lost to Elina Svitolina (who?) in the third round. It's certainly why she pulled out of playing in Cincinnati straight after.

Chris Evert believes it is still affecting her. America's Fed Cup captain Mary Jo Fernandez says she's definitely not right. But when somebody asked Serena in one of many promotional appearances in Manhattan this week, it was a different story. "I'm really fit right now. I can hit aces when I want to."

Is that the truth? We'll find out. Even if she's fibbing a bit, you still feel there's enough other aspects to her game, not least the way her reputation intimidates her opponents, that backing her at 1.728/11 to win her quarter of the draw is a bit of a steal.

Simona Halep, 4.03/1 to win the quarter and 11.521/2 for the tournament, was my tip for Wimbledon and is the obvious danger. Sadly I learned to my cost then that the Romanian, despite all the improvement in her mental approach under the coaching of Darren Cahill, is still vulnerable under pressure.

William though still has the ability to bully the other girls, and shoulder injury or no shoulder injury should cruise past Ekaterina Makarova when she starts her campaign tonight. (She is 1.211/5 to win and 1.548/15 in straight sets)

Winning Wimbledon took a load off Serena's mind. She'd spent a year desperately trying to match Steffi's record, putting herself under pressure and effectively beating herself in New York last year and then in both Australia and Paris. Now she's ready to make history on her own - shoulder or no shoulder.
Discover the latest articles